Smartphone World Cup: Groups G and H
Peter, 21 June 2018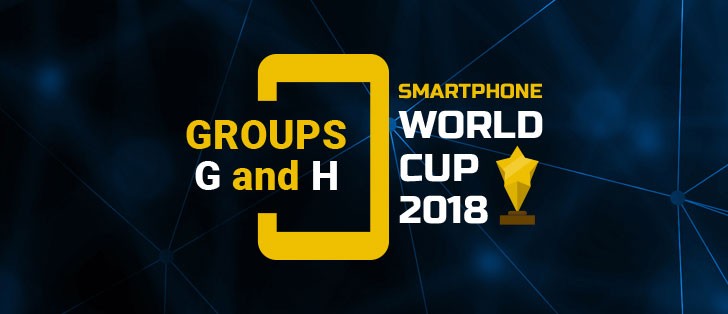 These are the last two groups, the group stage will end this weekend and we'll kick off the Round of 16. As a reminder, you can vote once per day, the top two phones of each group move forward (but it's single elimination from then on).
Group G
This group sees two rival neighbors face off. The LG V30S ThinQ is looking good after its sibling, the G7 ThinQ, scored a surprise victory in Group A. The two share most of their hardware, but the older V30S appeals more to fans of OLED screens - especially ones without notches. The Snapdragon 835 chipset is last year's best, but the two phones are essentially equal in the camera department. One of the few wide-angle secondary cameras is on board (main cam is 70°, wide one is 120°). You get Dolby Vision/HDR10 for the screen, a Quad DAC for the 3.5 mm headphone jack, all in one rugged package (IP68, MIL-STD-810G).
The Samsung Galaxy S9+ is also on Team OLED, though this panel is larger and taller. It is HDR10-enabled and there's an IP68 rating, so these two are fairly similar. However, the dual camera here has a telephoto lens and the main shooter has a changeable aperture (f/1.5 and f/2.4). Plus, it offers higher frame rate modes at 2160p (60 fps) and 1080p (240 fps).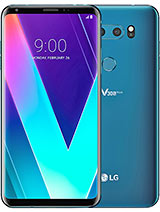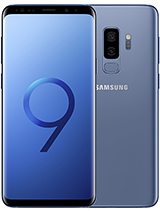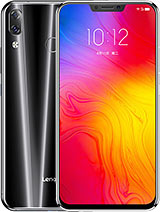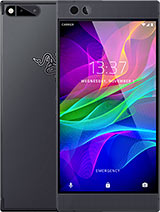 LG V30S ThinQ • Samsung Galaxy S9+ • Lenovo Z5 • Razer Phone
The teasers for the Lenovo Z5 promised to be the first true "all-screen" phone, but reality is slightly different. The bezels are indeed quite thin, though with a notch and a chin. This is more of a mid-range offering with a Snapdragon 636 chipset and has an affordable price to match. It checks quite a few boxes: Oreo (customized), tall screen (6.2" 1080p+), dual camera (16 + 8 MP), fast charging (18 W) and more.
Then there's a wildcard entry - the Razer Phone. One of the first of the new breed of gaming phones to launch, it is still the only mobile with a 120 Hz display (and it has a wide color gamut). With powerful stereo speakers (with Dolby Atmos and THX-certified amps) plus a large 4,000 mAh battery with 24 W quick charging, this phone is built for lengthy AAA gaming sessions. The older Snapdragon 835 chipset is a bit of a drawback, though.
Group H
This is basically sibling rivalry. The OnePlus 6 is a curated flagship experience - it keeps the pricing sane by avoiding "kitchen sink" moments. It's the first notched phone from the company after the tall screened 5T, a display that covers the DCI-P3 gamut. Some of the missing features are things like wireless charging, but the company argues that the 20 W Dash charge is all you need. And it was adamant about keeping the 3.5 mm headphone jack. The chemically-etched glass back has a unique feel and OnePlus is always good for heaps of memory.
Compare that to the Oppo R15 Pro. Where the OnePlus offers clean Android, the Oppo has Color OS. The S845 chip gave way to a Snapdragon 660, which is quite capable, but can't record 2160p at 60 fps (despite being connected to the same dual camera). The R15 Plus has things going for it - like IP67 water resistance, which has become pretty standard on flagships and many mid-rangers, but also a ceramic back instead of glass. And maybe it's the chipset, maybe it's the slightly larger battery, but the Oppo put in an Endurance rating 10 hours better than its sibling.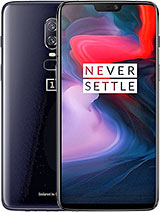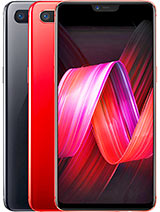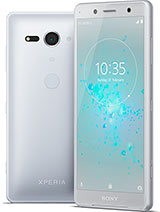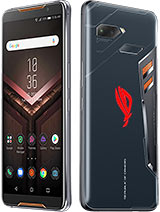 OnePlus 6 • Oppo R15 Pro • Sony Xperia XZ2 Compact • Asus ROG Phone
We debated including the regular XZ2, but the Sony Xperia XZ2 Compact is just as capable and unique - it's small! Most phones in the groups are 6" and above, the Compact screen is 5" (and with HDR BT.2020 support). The phone is IP68 water proof and has stereo speakers - things that Sony was doing before it was cool - it has the full-fat Snapdragon 845 chipset, speedy software updates from Sony and a single 19MP camera based around a large 1/2.3" sensor.
The final wildcard went to the Asus ROG phone, a gaming phone with unique features. First of, it has a binned Snapdragon 845 (the CPU is clocked 200 MHz higher) and beefed up cooling (and an accessory for active cooling). Its 6" AMOLED display has a 90 Hz refresh rate, wide color gamut and HDR support. There are 3 ultrasonic areas that act like shoulder buttons (Asus pre-cofigured games to work with them). And - get this! - it has two USB-C ports for accessories (e.g. a dock for gaming on a monitor and keyboard). The 4,000 mAh battery and 20 W fast charging are a given, the RGB backlit logo on the back is a bonus.
Results from Group C and D
Not a huge surprise, the iPhone X ran away with the victory in Group A. And well deserved too, Apple often gets mocked for "inventing" things, but the 3D facial scanning is (almost) one of a kind and the X is the only bezel-less phone without a chin.
The Xiaomi Black Shark snatched second place from Zenfone 5z's grasp. As you know, gave wildcard spots to four gaming phones. We wondered if there would be any interest and the answer seems to be "yes".
Group D was conquered by the Huawei P20 Pro - the only triple camera phone on the market and it's quite a camera. The Leica-branded cam is untouchable in the dark.
Then there's the vivo NEX S in second place, a push back against the notch movement. The motorized pop-up camera is quite a sight to see, rivaled only by the under display fingerprint reader in the "coolness" factor.
The ZTE nubia Red Magic, another gaming phone, ended up last, way behind the others, which makes Black Shark's score even more impressive. The Sony Xperia XZ2 Premium lost out to the vivo, the 4K HDR screen and 4K HDR camera proved not enough.
Here's the bracket, half of the Round of 16 matches are now clear: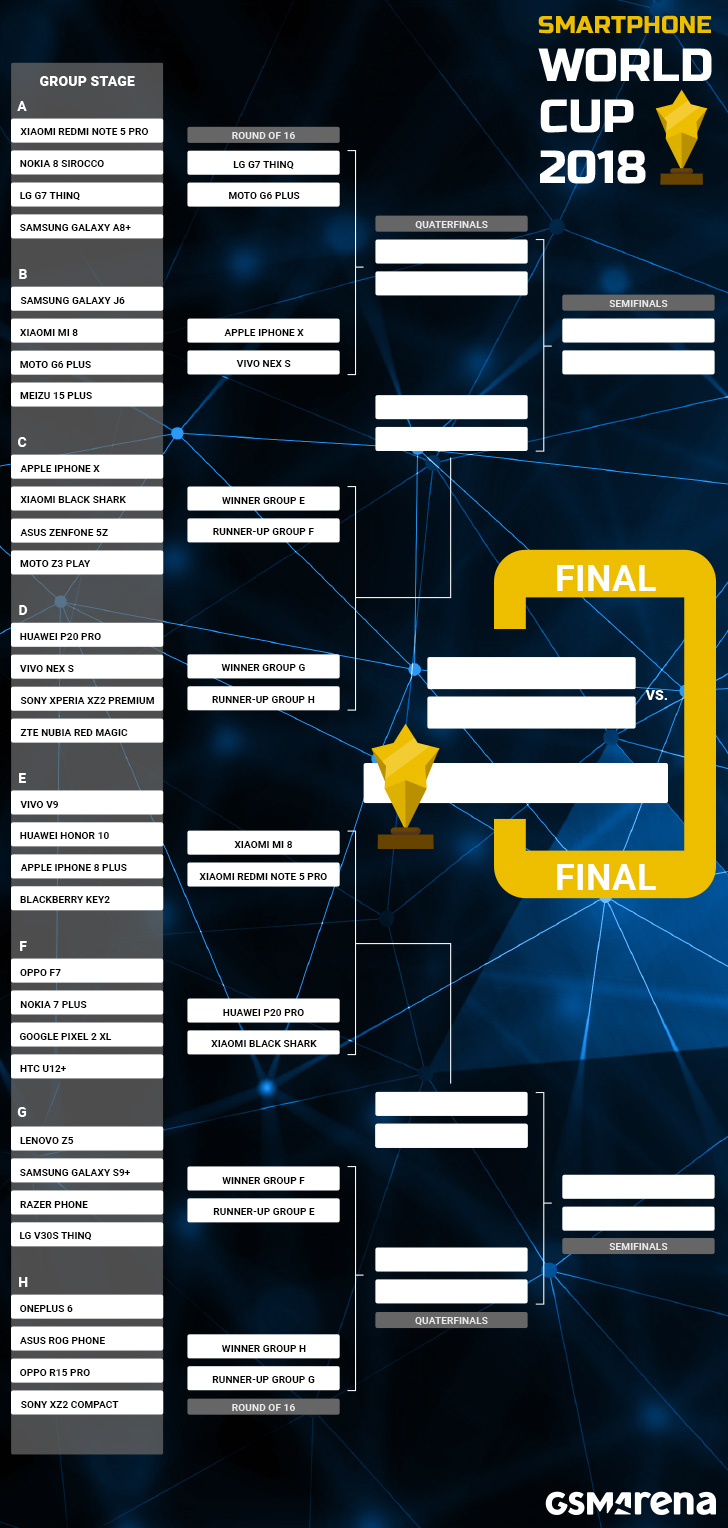 Related
Gsm arena mentioned They added gaming phones for pretty much offering flagship specs and they completely right. Like Rog or Black Shark, offers top notch hardware this some impressive displays, a lot of people would use it for their daily drivers and...
Group G has some flagships all around but to be honest not much comoetition for S9+ most logical choice there, as for group H it's between Rog and one plus 6. Both capable devices but one plus 6 wins with much better price
This is smartphone world cup and not gaming world cup.....for gaming anyway android platform is nowhere near PC and consoles.
Popular articles
Popular devices