Snapdragon 835 benchmarked: impressive GPU, multi-core results
Peter, 22 March 2017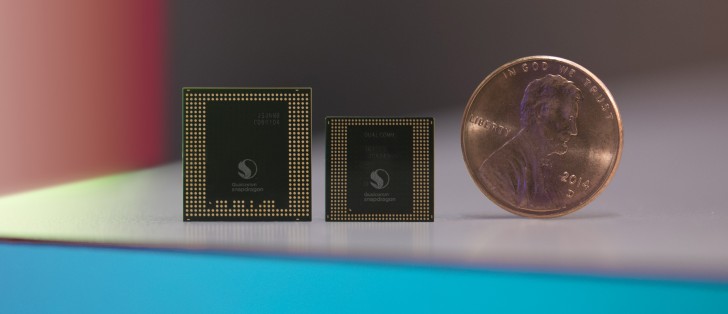 We keep hearing about the Snapdragon 835 - mostly about how lack of availability means few phones will have it until the summer. But how much are you missing out if you get an early 2017 flagship that opted for the 821 or a different chipset?
There are no phones with the 835 yet, the first one to hit the market should be the Samsung Galaxy S8. Still, Qualcomm has a reference platform that can be benchmarked.
First, let's quickly cover the differences between the Snapdragon 835 and 821 since they are quite significant. The 821 used four fully custom cores, while the 835 has eight cores but they are mostly ARM-based - four modified Cortex-A73s serve as the big cluster and four unmodded A53s form the little cluster. Going from four to eight cores should boost multi-core performance, but Qualcomm's custom Kryos were big and fast so single-core performance shouldn't change much.
And Geekbench shows pretty much that. Snapdragon 835 tops the multi-core chart, beating even the Huawei P10. The P10 is powered by Kirin 960, which uses stock A73 and A53 cores. Single-core performance is up slightly but not a significant amount compared to the Huawei.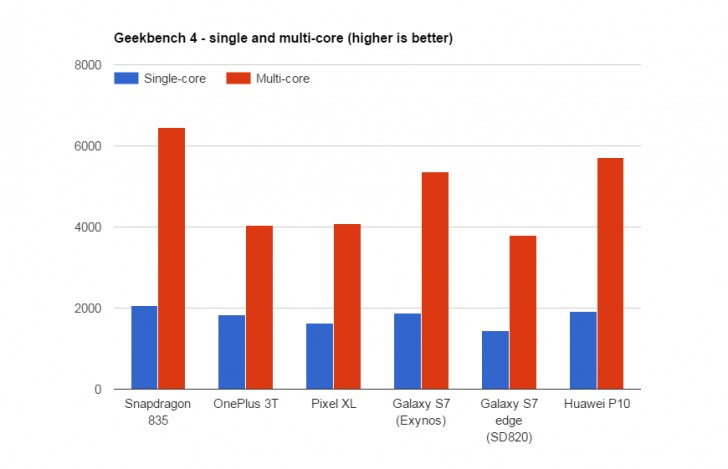 AnTuTu again gives the performance crown to the 835 chip, but the 821 isn't far behind - the faster version in the OnePlus 3T getting closer than the AB version in the Pixel XL (the AB version uses lower clock speeds, equal to the 820 chip).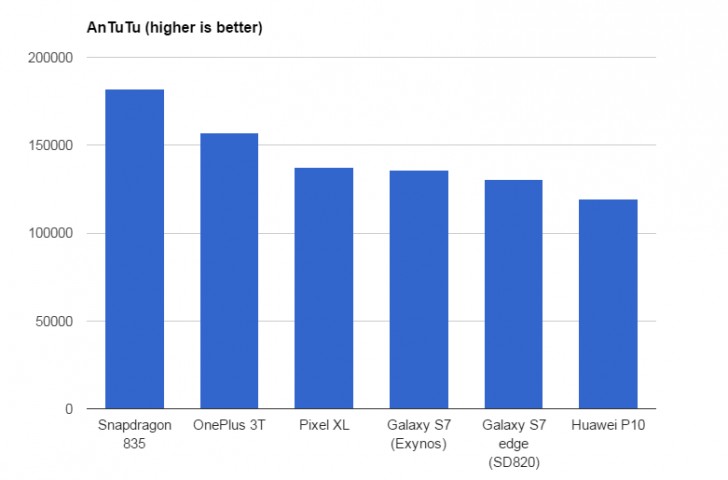 The Snapdragon 835 also comes with a new GPU - Adreno 540 - which promises around 25% better graphics performance compared to its predecessor. And indeed the chipset edges out the competition, including the Huawei P10, which uses ARM's latest GPU generation. Also, Snapdragon 821 (OnePlus 3T, Pixel XL) performed significantly better than the 820 (Galaxy S7).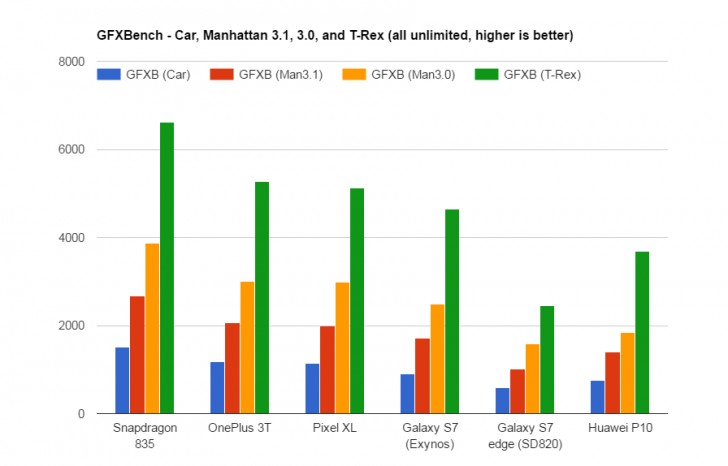 Switching from GFX Bench over to 3DMark, however, melts the difference between the older 8-series Snapdragons.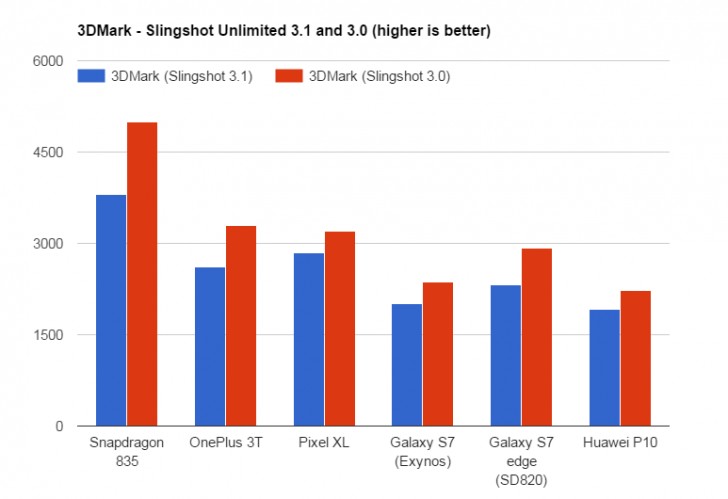 Keep in mind that these results are not definitive. For one, a reference platform is not a retail product so it doesn't have to worry about things like proper cooling or decent battery life. To be fair, phone makers aren't always honest with how well their products perform either.
Related
krupepe55
22 Sep 2017
60H
AnonD-8311
26 Mar 2017
NuU
gud thing those are not facts but just your opinions
Anonymous
25 Mar 2017
4Js
Nice try but no dice
Popular articles
Popular devices
Electric Vehicles