Snapdragon 845 benchmarks show an incredible GPU, faster CPU
Peter, 12 February 2018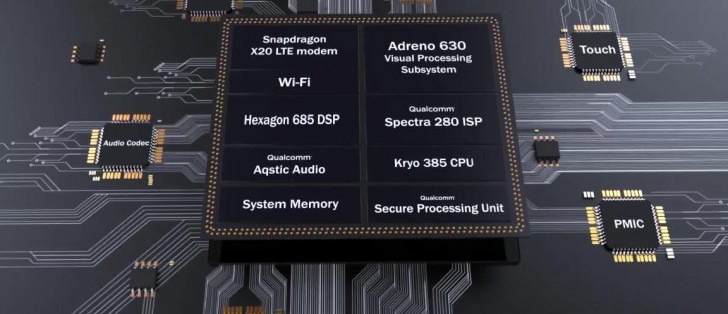 Before phones with the Snapdragon 845 chipset hit the market, Qualcomm is offering a taste of its performance with a Qualcomm Reference Design platform.
The new chip uses new CPU core designs based on Cortex-A75 and A55. There's four of each in the Snapdragon 845, but they are no longer split in two separate clusters. This is the first SoC to support DynamIQ, which allows for a finer voltage/frequency control.
The max frequency was increased to 2.8GHz (for the big cores), up from 2.47GHz on the Snapdragon 835. No maker ran the 835 at max clock speed though and we expect the same this year (the last few hundred megahertz are rarely worth it in terms of battery cost).
So, clock speeds aside, the Snapdragon 845 processor shows major improvements in both integer and floating point tasks. This chip is built on a 10nm LPP process, which should allow for slightly higher clock speed for similar power usage so the real world difference between the S845 and S835 should be even more pronounced.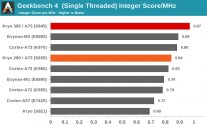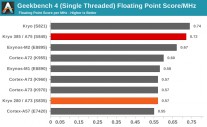 Snapdragon 845 Geekbench 4 score (normalized to MHz): Single-core • Multi-core
Benchmarks by AnandTech. The CPU benchmark scores are normalized to MHz to account for varying clockspeeds.
The new GPU – Adreno 630 – is quite impressive as well. GFXBench puts it and Apple's latest GPU in a class of their own. The Reference Design device traded blows with the iPhone X, both left a sizable gap to other Androids (including Huawei's Kirin 970-powered Mate 10 Pro).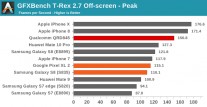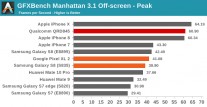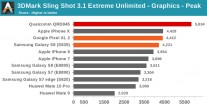 Snapdragon 845 GPU benchmarks: GFX 2.7 • GFX 3.1 • 3D Mark Sling Shot
Impressive stuff from Qualcomm, the Snapdragon 845 is currently the fastest chipset to be used in Android phones. Of course, Samsung is yet to let people benchmark its Exynos 9810.
Related
Hi ,i have a think in mind,if it correct say correct plz, i watched a gameplay of oneplus 6 ,the game called as brightridge ,in techutopia channel, he was playing at 60fps and after 2 min,it reaches to 45 degree Celsius,and frame dropped to 20fps,so...
Weaker GPU? To do what? From what I seen the difference between the 2 versions i minor. Whats it going to do with the extra GPU push out how many pixels?? The exynos CPU could at least do 4k 60 fps video recording beating the Iphone X but...
Popular articles
Popular devices