Sony Ericsson Vivaz review: Viv A-to-Z
Viv A-to-Z
GSMArena team, 09 February 2010.
File manager
The Symbian file management system has been top notch for quite a while now, and it's difficult to imagine what needs to change. The application can basically do anything you can think of with your files - moving, copying renaming, sorting or sending - you name it. You can also password-protect your memory card if you see fit.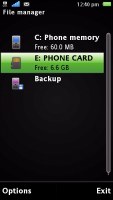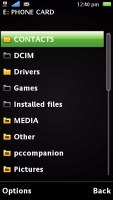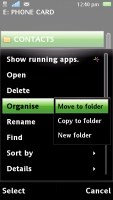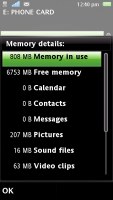 The file manager has extensive functionality
Searching for a specific file or directory is also available on the phone. All you need to remember is a part of the desired name and where it was located (phone memory or memory card) Vivaz will find it for you in no time. There's also a dedicated Search app, which searches through more than just files - it will sift through your notes, contacts, pretty much anything on the phone.
Media center: Sony Ericsson know their drill
The Sony Ericsson Vivaz Media center is a replica of what you usually find on the company's feature phones (and Sony Playstations, mind you) - an attractive and convenient way of accessing the media content on your phone.
Sony Ericsson used the tight Media layout just like in the Satio, and there are only the three essential shortcuts to make up the main media center menu - Photo, Music and Video.
As you may've already guessed, the first one will lead you to the main gallery with all its various options available. The second give access to the Walkman player and all playlists. Finally, the third one will take you to all the video clips stored on the Vivaz.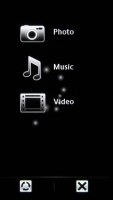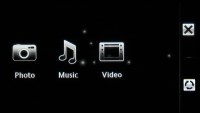 The media center in portrait and landscape mode
Image gallery
The photo gallery is the same as in the Satio and definitely among the best we've seen: with great customization capabilities and features aplenty. Some of those options include: one-click access to the latest snapshot you've taken, timeline view for your images and tags.
Tags are a very helpful feature offering better ways to make albums - a photo can have multiple tags, which you can't do with folders.
Viewing photos is a joy with the Vivaz, especially when browsing images fullscreen. When you want to go to the next in line, it doesn't simply pop up but instead slides in from left or right. The selected photo expands smoothly to fill the screen.
You can reveal all the available options by tapping on the screen - delete, edit, use as, assign to contact, slideshow, print tag, rotate, information, etc.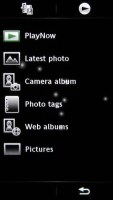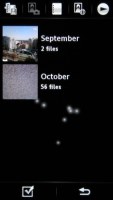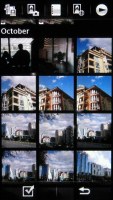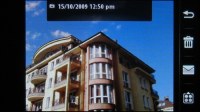 The image gallery • landscape mode
There is also a Pictures section, which stores all the preloaded images that were not taken with the phone's inbuilt camera.
Walkman on Symbian really works
The Sony Ericsson Vivaz comes with the Walkman music player with all the implied features but not all the usual eye-candy. Much like the rest of the media menu, the accelerometer is used here for automatic rotation of the display.
Naturally, the music player also offers step-by-step filtering of the tracks you want to listen to. The "Now playing" screen is simple but offers all the needed controls and information. The tracks are controlled by comfortably large and thumbable on-screen keys at the bottom.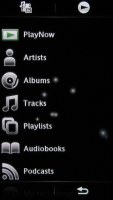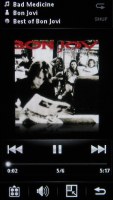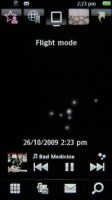 Music menu • Walkman music player • the homescreen controls
Strangely enough, the Vivaz offered neither equalizers nor alternative visualizations.
Video player plays HD, but doesn't have DivX/XviD support
The video player on the Sony Ericsson Vivaz has pretty limited functionality compared to the one found on the company's features phones. It has neither slow-mo playback nor screenshot capabilities.
Our real grudge with the video player however is that there's no DivX and XviD support - what can we say, LG and Samsung handsets have definitely spoiled us.
With the missing support for the extremely popular codecs, either you'll have to buy a new application for video playback or you'll have to convert all your videos by using MediaGo (with all the imposed limitations).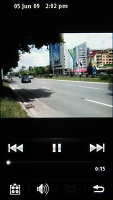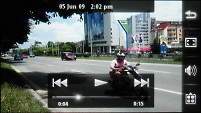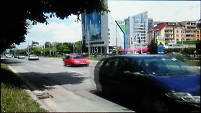 The video player could have used DivX support
When it comes to the watching experience itself, the Vivaz is nothing short of flawless. High resolution, excellent image quality and 16:9 aspect ratio make for a really nice video combo indeed.
FM radio
The integrated FM radio of the Sony Ericsson Vivaz has memory for 20 stations and dones not support RDS. It has a nice interface and makes great use of the TrackID music recognition service. The radio can be minimized in the background much like the music player.
Decent audio quality
The Sony Ericsson Vivaz isn't the loudest of them handset as far as headphones volume is concerned. However when subjected to our traditional audio quality test it showed a decent overall performance with even a few excellent marks here and there.
The noise level, dynamic range and stereo crosstalk are particularly impressive, while the distortion levels are both pretty decent.
The cut-off extreme bass frequencies are the only slight shortfall of the Vivaz frequency response. However it is excellent for the rest of the audible range so no biggie.
Here go the results so you can see for yourselves.
| | | | | | | |
| --- | --- | --- | --- | --- | --- | --- |
| Test | Frequency response | Noise level | Dynamic range | THD | IMD + Noise | Stereo crosstalk |
| Sony Ericsson Vivaz | +0.39, -1.94 | -86.2 | 85.7 | 0.011 | 0.143 | -85.7 |
| Sony Ericsson Satio | +0.37, -2.02 | -87.0 | 86.3 | 0.011 | 0.125 | -84.3 |
| Samsung i8910 Omnia HD | +1.29 -2.74 | -87.6 | 86.6 | 0.0023 | 0.255 | -85.2 |
| Sony Ericsson W902 | +7.31, -2.18 | -81.7 | 84.1 | 0.0039 | 0.020 | -85.4 |
| HTC Hero | +1.04 -2.13 | -91.3 | 92.3 | 0.458 | 0.902 | -95.8 |
| Sony Ericsson W910 | +0.25, -1.25 | -81.5 | 82.7 | 0.0071 | 0.028 | -81.9 |
| Nokia N97 | +0.04, -0.27 | -90.7 | 90.7 | 0.0048 | 0.896 | -89.5 |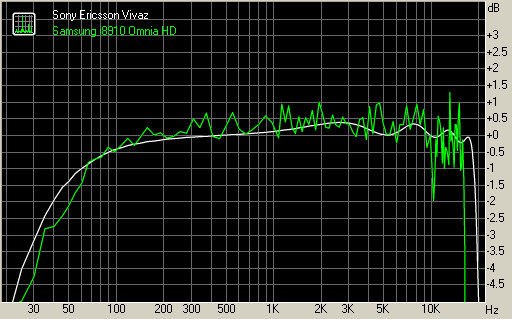 Sony Ericsson Vivaz vs Samsung i8910 Omnia HD
You can find more info about the testing procedure and more results here.
I am really sorry to say I got a bitter exprience with this soney ericsson vivaz phone. Its make me me worried always. For example, it download automaticly files and applications when i use internet. Its touch screen is very bad not working properly....
Is it dual sim set or single
Nizam_katak hijau
31 Dec 2013
PA8
very good