Sony Ericsson XPERIA X10 (Android 2.1) review: Eclairs for dinner
Eclairs for dinner
GSMArena team, 15 November 2010.
Introduction
With a large high-res screen, a Snapdragon CPU and ample amount of RAM the XPERIA X10 is nothing short of the top-end Android smartphones currently on the market. However its outdated Android version was holding it back and it found it hard to compete in the top tier.
Android 1.6 Donut wasn't terribly bad for its time but it's no match for either the functionality or the performance of Eclair and Froyo. That's why we felt that the recent Eclair update it received was significant enough to justify a new article, rather than just update the old review.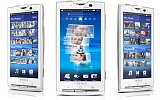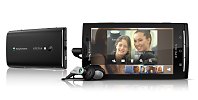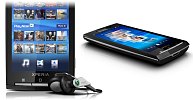 Sony Ericsson XPERIA X10 official photos
Of course we aren't going to repeat everything and we are going to focus on the new stuff only. If you feel like reading about the hardware we suggest you check out our original review.
Now let's start with the XPERIA X10 update changelog so you know what to expect here.
720p HD video recording
Continuous auto focus in video recording
5 homescreens
Live wallpapers
HTML5 support in web browser
Backup and restore app
New lock screen
Now these are only the big ones – the ones you notice straight after powering the phone on. There are also a few dozens of minor tweaks including new system fonts, a thicker notification bar, etc.
There are also a couple of notable absentees from the list. Multi-touch and 16M color support are still a no-go on the XPERIA X10, even after the Eclair update, which got Sony Ericsson quite a lot of critics already.




The Sony Ericsson XPERIA X10 is back at the office
Now those two aren't deal-breakers in isolation, but they certainly matter and give the X10 somewhat of an uneven start. They have basically reduced the XPERIA X10 error margin to a minimum so let's hope all the rest of it works as promised.
The testing starts right after the break.
Anonymous
27 Mar 2015
sxt
it can upgrade android version???
does sonyericsson x10i acepts bbm, can it be upgraded to android 4.1
AnonD-194696
09 Oct 2013
tZ0
Opening sucartiy lock