Sony PlayStation 5 to start at $399, arriving November 12
Prasad, 16 September 2020
Sony today announced the pricing and availability for its PlayStation 5 console during its PlayStation 5 Showcase that was streamed online.
The console will be available in two versions. The standard version with the disc drive is priced at $500/€500/₤450 while the Digital Edition without the disc drive is priced at $400/€400/₤360.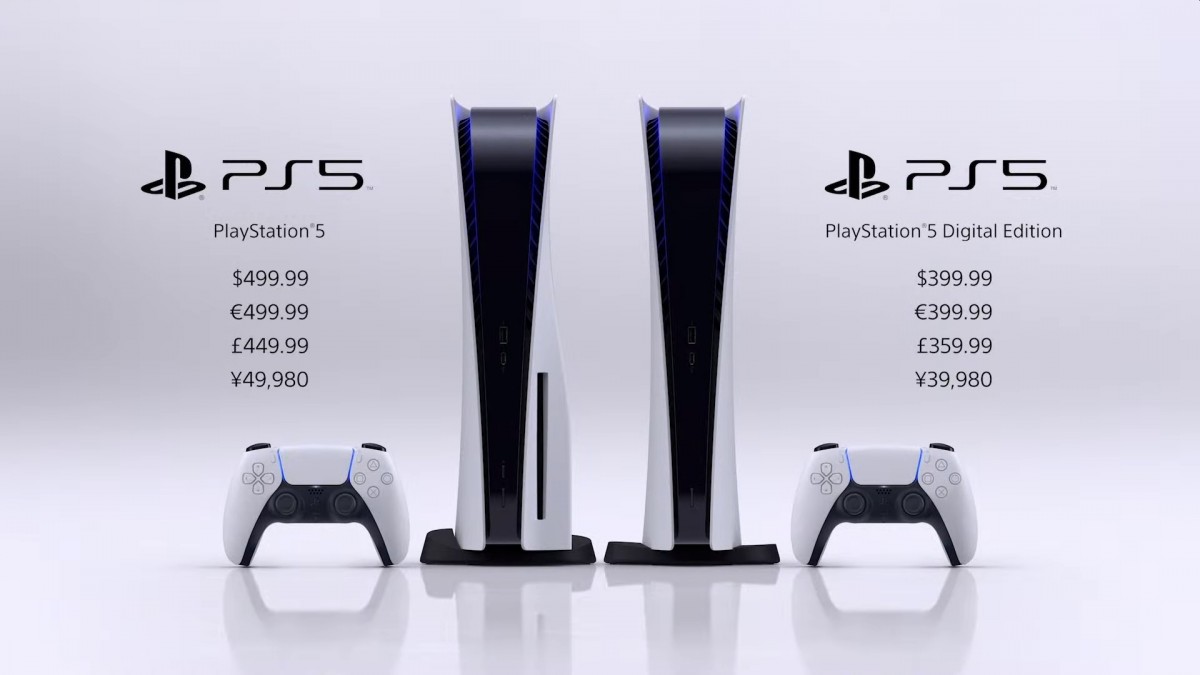 The console will be available starting November 12 in US, Japan, Canada, Mexico, Australia, New Zealand, and South Korea. The rest of the world (except China) will get it a week later on November 19. The Chinese launch date is yet to be finalized and will be announced at a later date.
Sony also announced the PlayStation Plus Collection, an additional PlayStation Plus benefit for PlayStation 5 customers. Through this feature, PlayStation 5 players will get a selection of PlayStation 4 titles as part of their PlayStation Plus subscription. This includes titles like God of War, The Last of Us Remastered, Uncharted 4, Battlefield 1, Monster Hunter World, Fallout 4, Final Fantasy XV, The Last Guardian, Ratchet & Clank, Infamous Second Son, Days Gone, Bloodborne, Detroit Become Human, Batman Arkham Knight, Mortal Kombat X, Persona 5, Until Dawn, and Resident Evil Biohazard. Players will be able to download and play all of these games at launch on the PlayStation 5.
Sony also showed off additional gameplay footage for some of the titles that it showcased back in June, including new Spider-Man Miles Morales, Call of Duty Black Ops Cold War, Deathloop, Demon's Souls, while also showcasing some new titles like Final Fantasy XVI, Hogwarts Legacy, Devil May Cry 5 Special Edition, and Five Nights at Freddy's Security Breach. Sony also showed some footage of Fortnite running on the PlayStation 5. And last but not the least, the event was closed with a very brief teaser for the next God of War game, presumably titled Ragnarok.
And that's pretty much it. The cat and mouse game is over and we finally know what both consoles from Sony and Microsoft cost and when they will be available, along with a fairly decent idea of what the launch titles are going to be. With most of these titles also coming to the PC, NVIDIA dropping its RTX 3080 today, and new CPU and GPU coming from AMD next month, PC players have a lot to look forward to as well. It's a great time to be a gamer right now.
Related
all crap from a fanboy like you. so hear this now 3d sounds no load times. this is the difference about gpu and frame rate? are you a joke? consoles are not PC the frame rate is capped Mr. Genius!!! there is absolutely no gain in any term i...
Anonymous
19 Oct 2020
49J
Wrong. Gpu affects game play. Omg you loaded 2 or let's say even 20 secs faster, so what. I get a better game play , because my frame rate is higher , my game play is smother. That loading time doesn't mean crap. Better graphic or ...
Anonymous
19 Oct 2020
49J
Wow. Such fan boy talk. No it doesn't work like that. Better gpu power is better than the SSD for a game. Ssd will help less than what the gpu will. If one had an hdd this would be a different conversation. Do you think a pc gamer would take ...
Popular articles
Popular devices
Electric Vehicles