Sony Store offers freebies with Xperia Z1 Compact pre-orders
10 January, 2014

The Sony Xperia Z1 Compact is already up for pre-order in Europe, but if you're thinking of getting one, you should check the offers by Sony's own web store as there are some enticing offers.
XperiaBlog.net checked the regional stores and made a list of the available promotions – the most popular option seems to be the Sony Wireless Headset DR-BTN200M, which would typically set you back €100.
The better offer, however, is for the UK – pre-orders get a free Sony SmartWatch 2, normally a £130 gadget. The phone itself is priced £450. Also in the UK, Phones4u is offering on-contract deals with carriers and throwing in a £120 wireless speaker and up to £65 in movies and music.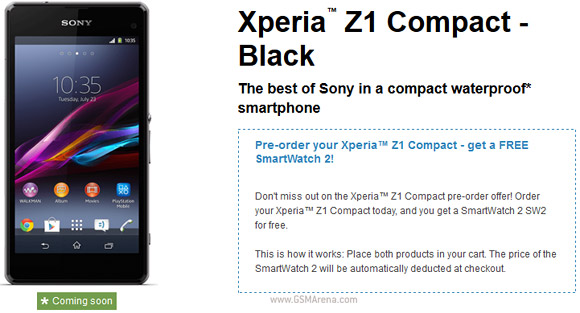 In other countries you can snag the NFC and Bluetooth-enabled headset for 1 of your local currency (euro, zloty, krona, whatever the case may be) with an Xperia Z1 Compact pre-order. Here's the list of countries to get it plus the Z1 Compact off-contract prices:
France is getting a more modest offer – a €50 rebate on the €550 price of the phone. That's still better than the Netherlands where users will have to pay the full €550 price and get nothing.
Related
Hello, When its will get launch & what will be the price for Xperia Z1 Compact.
When wil release in Indi?
You obviously haven't heard of the term, market penetration pricing have you? Firstly the phone is new, secondly the phone is priced like that because its supposed to be. An Expensive phone mark identity is pricing. People who don't want an expensive...
Popular articles
Popular devices