Sony WH-1000XM5 review
Prasad, 23 October 2022
Sony's ridiculously named WH-1000X series has been a massive success. The original model launched back in 2016 and had the uphill battle of going against the industry standard that was Bose. While the first model showed promise, it was the relentless iterations over the years that solidified Sony's position in the segment and helped it take the crown for the most effective noise cancellation on the market.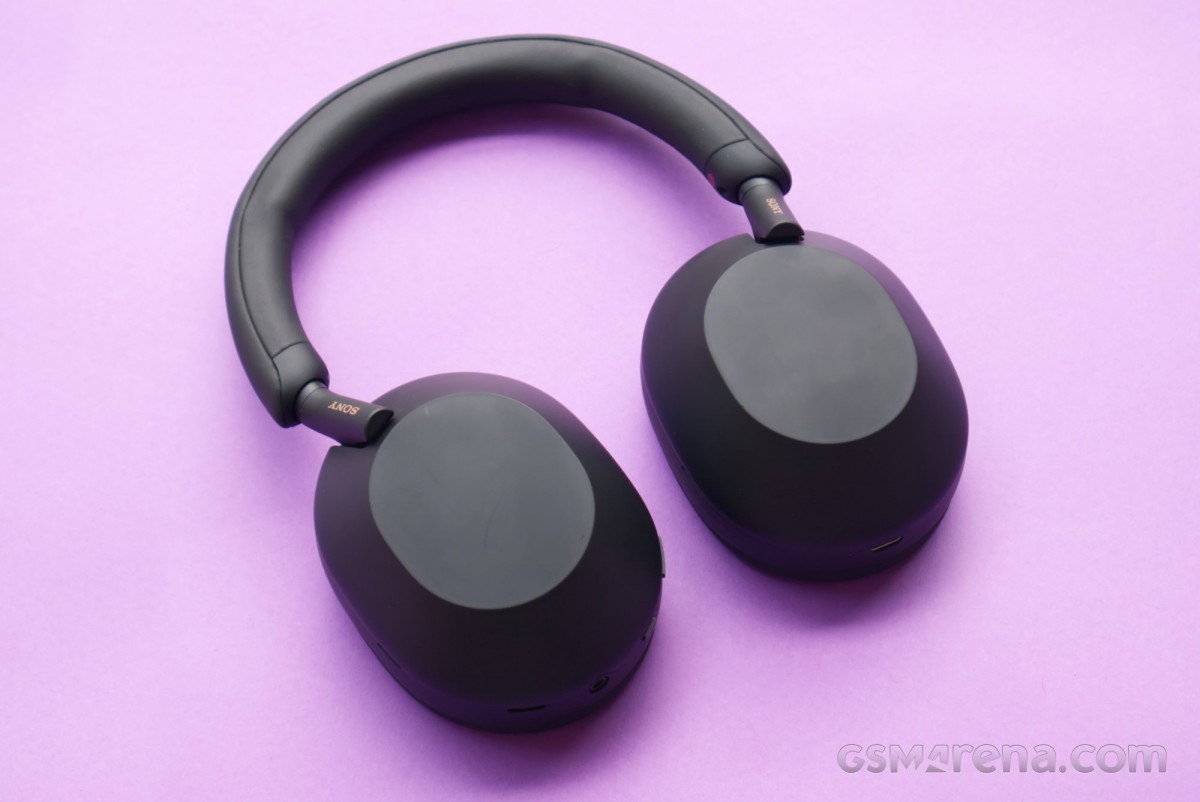 It's been several years since and the market has matured quite a bit. The latest generation WH-1000XM5 enters a more crowded arena, with the likes of Bose, Apple, Sennheiser, Beats, B&O, JBL, and AKG, all breathing down Sony's neck from both ends of the price spectrum. Does the new model have what it takes to remain competitive in this market? It's time to find out.
Design and Comfort
The WH-1000XM5 showcases the first major redesign for the series, which until now has had only iterative changes. The bulky yokes and thick headbands of the previous generations have paved the way to a lithe, delicate design.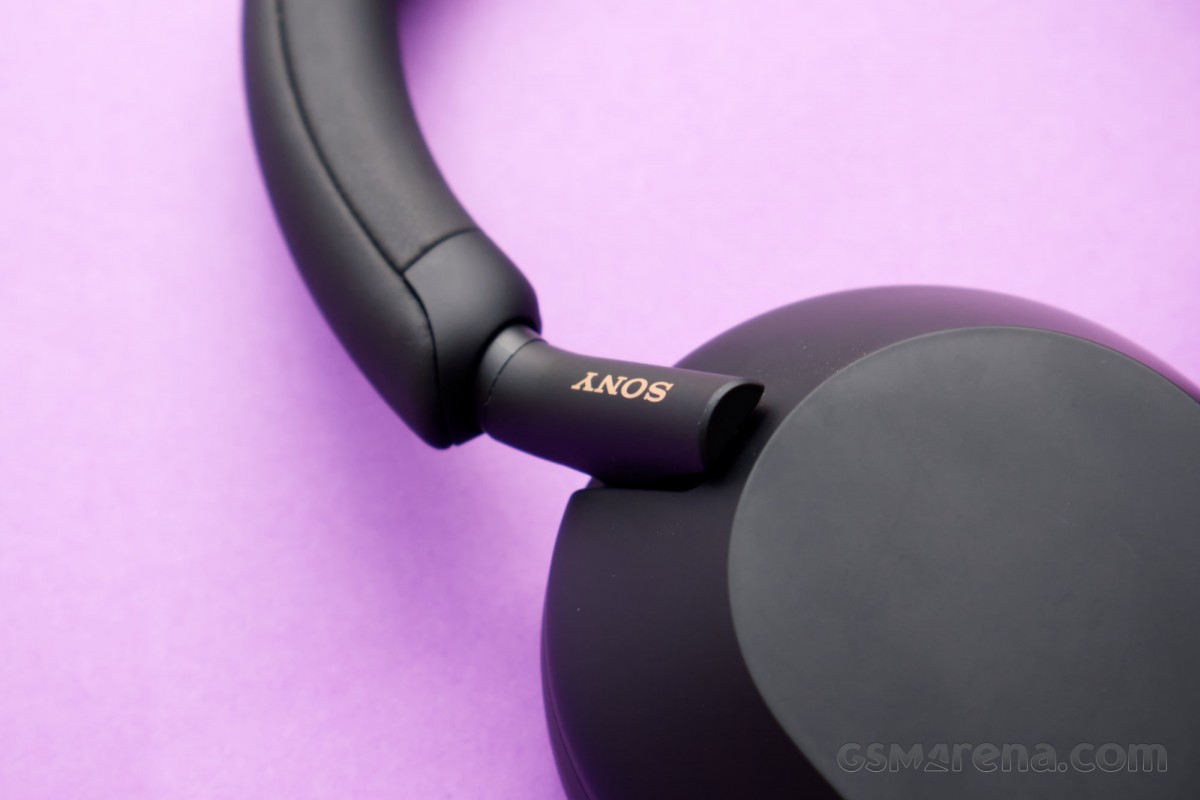 The earcups, which still retain the signature flattened dome shape, are now suspended directly by the headband, which terminates in a single point of contact. The hinge for the attachment is hidden and allows for some vertical swivel. The ear cups can also swivel sideways in both directions, although they can only lie flat facing away from the wearer.
The headband now also features a step-less slider for adjusting the length. I'm not personally a fan of this as it makes it impossible to have perfectly even length on both sides but those with less obsessive-compulsive disposition would think nothing of it.
One disadvantage of the new design is that the earcups no longer collapse inwards within the headband as they did on the previous models. This results in a rather larger frame for the headphones, which then necessitates a larger case. It's not dramatically larger than the previous case design but it's still more free real estate that you can do without while traveling. The case flattens to half its thickness when empty so you can save some space in at least one dimension.
Getting back to the headphones, the earcups are littered with ports on the sides for the four microphones placed on each side. The left earcup has buttons to power on or to pair the headphones, and another to switch the ANC modes. There's also a port for connecting the analog audio cable. The right earcup has a USB-C charging port, which cannot be used for audio like on the Shure Aonic 50. The right earcup also supports gestures, but more on that later.
The earcups are padded with leather-covered foam. The speaker grille also has a thick foam pad covering it. The visible proximity sensor on the WH-1000XM4 has been replaced with a more covert sensor underneath the padding.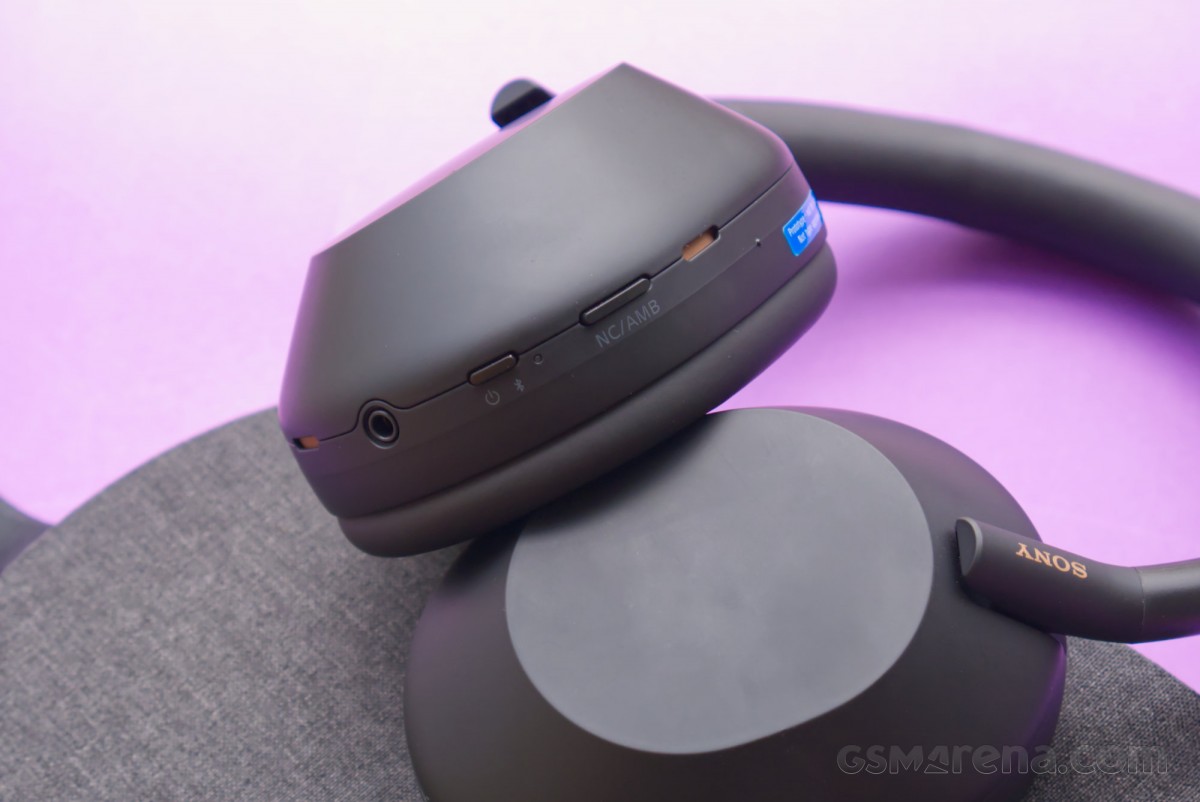 Comfort on the WH-1000XM5 was mediocre for my ears. While the earpads are plush and sit comfortably against your head, the earcups do not have sufficient depth to avoid the padding on the speaker grille from pressing against your ears. I have fairly sensitive ears and it was impossible for me to wear these headphones for more than a couple of hours at a stretch, and fatigue would set in much before that. And as is the case for all earpads for ANC headphones, breathability is non-existent, so your ears tend to get boiled in their own sweat in hotter climates.
While the situation can be remedied with aftermarket ear pads — Dekoni already has deeper pads in development for the WH-1000XM5 — it does come at the cost of changes to audio performance and reduction in the effectiveness of the active noise cancellation. If you already own these headphones and have trouble with comfort then this is something you can look into.
In terms of build quality, the WH-1000XM5 are well made. While the exterior is almost entirely made out of plastic, everything has a luxurious soft-touch feel to it. The moving parts also have a well-damped feel with smooth actuation. The only drawback to all the matte black plastics is that it gets covered in oil and smudges from your skin and hair extremely easily.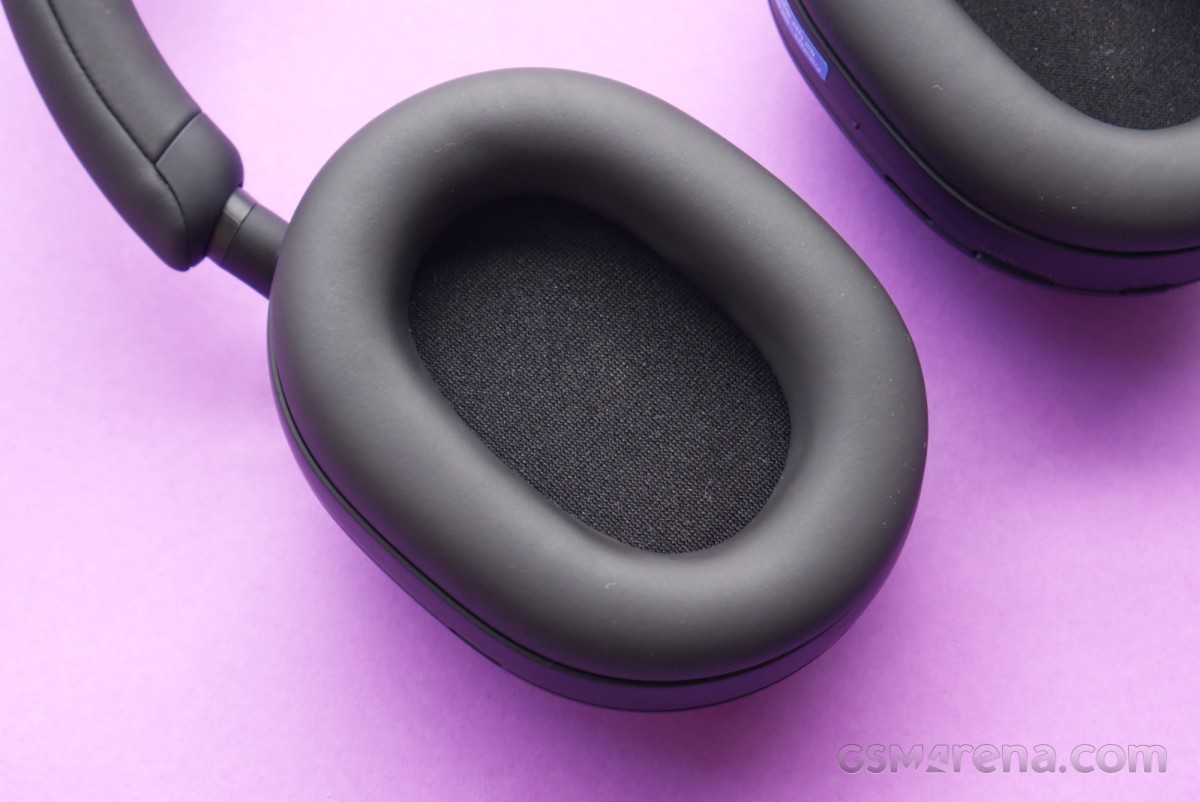 As with most other noise-canceling headphones designed for travel, the WH-1000XM5 are not water-resistant. I do not foresee this to be a problem for their intended use case nor do I feel it is a requirement for this class of headphones but if it is something that is important to you then you should consider getting in-ear models. Or an umbrella.
Software and Features
The WH-1000XM5 are compatible with the same tried and tested Sony Headphones Connect app that is used for all Sony headphones. The app has gained a lot of features over the years (depending upon the headphones connected) but has, unfortunately, also become quite a chore to set up. Just look at the time and process required to get to the main app screen after installing the app.
Once you get through all that, the main app UI should be familiar to anyone who has used Sony headphones in the past. From the main screen, you can control the Adaptive Sound Control feature and also playback of the currently playing music. The second section is where you adjust all the audio-related features, including the ANC, EQ, 360 Reality Audio setup, and DSEE Extreme. The third section lets you control the various button presses and gestures.
Here's a quick rundown of some of the features found here. The Adaptive Sound Control feature detects your movements and location and adjusts the ANC accordingly. The Speak-to-Chat feature will detect when you start speaking and turn down the volume as well as enable Ambient Sound mode.
360 Reality Audio is Sony's simulated surround sound feature, which works only with content mastered for it. You first need to set it up, which involves scanning your ears so it can create a head-related transfer function for you, and then customize the sound accordingly. Then you can install the created profile for one of the compatible apps that offer content in this format, which includes Amazon Music, Tidal, Deezer, nugs.net, and PeerTracks.
Since none of these are available in my region, there was no way for me to test this feature with the WH-1000XM5. However, I have used it previously with a different pair of Sony headphones and the effect is not too different from using Dolby Atmos on most other headphones these days.
Sony also has its DSEE Extreme, which is Sony's AI-based audio reconstruction technology, which is designed to restore lost detail in compressed music. Although this is supposed to work on low bit-rate sources, it only works when you use SBC or AAC on the headphones and not LDAC. This means it is seemingly restoring data lost by Bluetooth compression and not within the original audio file. Either way, it doesn't seem to do much.
Sony also has an EQ built into the app, which features 5-bands as well as a Clear Bass slider, which essentially acts as a sixth band. There are also custom presets to save your settings, as well as preset sound profiles. All testing here was done with the EQ and DSEE Extreme disabled.
As mentioned before, the headphones support touch-based gestures on the right earcup. While this may seem commonplace these days, it was quite unique back in 2016 when the WH-1000X debuted with it.
The gestures work more or less as you'd expect. You double-tap to play/pause, swipe forward and backward to go to the next and previous sony, and swipe up and down to increase and decrease the volume. The gestures work well and over the years it has become less goofy to tickle your headphones in public. It's just a shame that the gestures only work on one side so you are forced to use your right hand to use them.
The app also includes Spotify Tap, which lets you launch the app and start playing by assigning one of the buttons to it.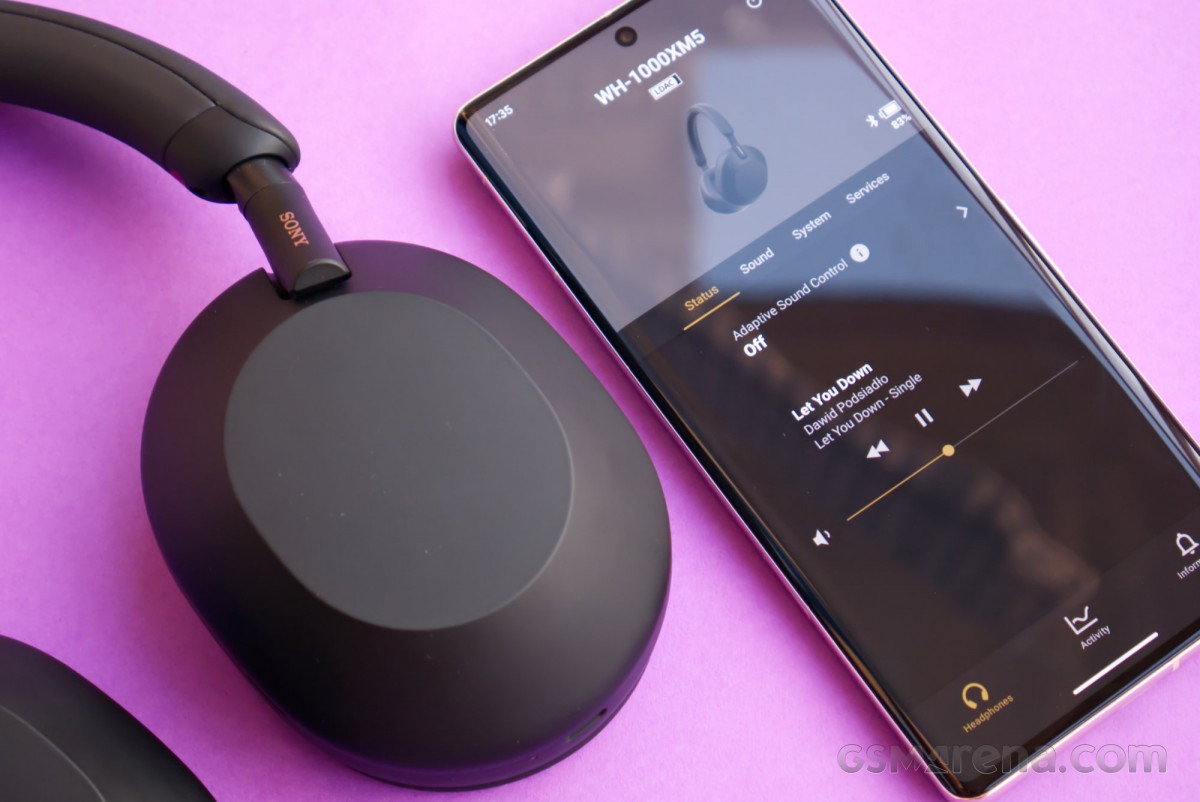 Like the previous generation model, the WH-1000XM5 are capable of automatically pausing and playing when you remove or wear the headphones. They can also turn off automatically after some time if you don't wear them. However, my unit had a hard time telling when they were removed from the head and the audio often kept playing for a long time or sometimes never paused.
My understanding is that the new sensor buried under the foam somewhere on the right side of the left earcup often gets covered by the compressed earpad and has a hard time telling when it's not being blocked by an actual ear. When the earpad was manually pulled apart the headphones would pause just fine. I'm not sure how prevalent this issue is on retail units.
Finally, the WH-1000XM5 support multipoint connection, which allows them to be paired to two devices simultaneously. This mostly works as you'd expect and you even see the two devices within the app. The only issue is that you are downgraded to SBC or AAC on both devices and LDAC is unavailable.
Performance
Audio Quality
The WH-1000XM5 have single 30mm dynamic drivers, which are smaller than the 40mm drivers on the WH-1000XM4 but made with a softer edge and stiffer carbon fiber composite dome. Aside from that, the headphones support SBC, AAC, and LDAC codecs over a Bluetooth 5.3 connection.
The WH-1000XM5 have lackluster audio quality for a premium pair of headphones. It's the same sort of dull, bassy sound that the series is known for and there hasn't been any notable improvement on that front.
The sound is dominated by a wide bass shelf that spans the low and mid-bass regions, spilling over into the lower mid-range. This unrefined, indiscriminate approach to bass boost makes all sounds in the lower regions of the audio spectrum have a muddy, lumpy quality that feels ponderous to listen to. It also washes over the lower mid-range, which then also takes on a boomy tone, affecting male vocals and causing them to sound congested.
The upper mid-range is thankfully spared from this and generally sounds quite decent. While it cannot make up for the distorted timber and cloudy vocals, instruments and female vocals at least have a good presence in the mix and aren't drowned out in the background.
The lower treble performance is also decent, which helps instruments like cymbals and upper harmonics for vocals, including the 's' and 't' sounds, to sound fleshed out. The upper treble rolls off aggressively and sounds quite muted. This results in diminished air frequencies, which gives the entire audio spectrum a dark, boxed-in tonality.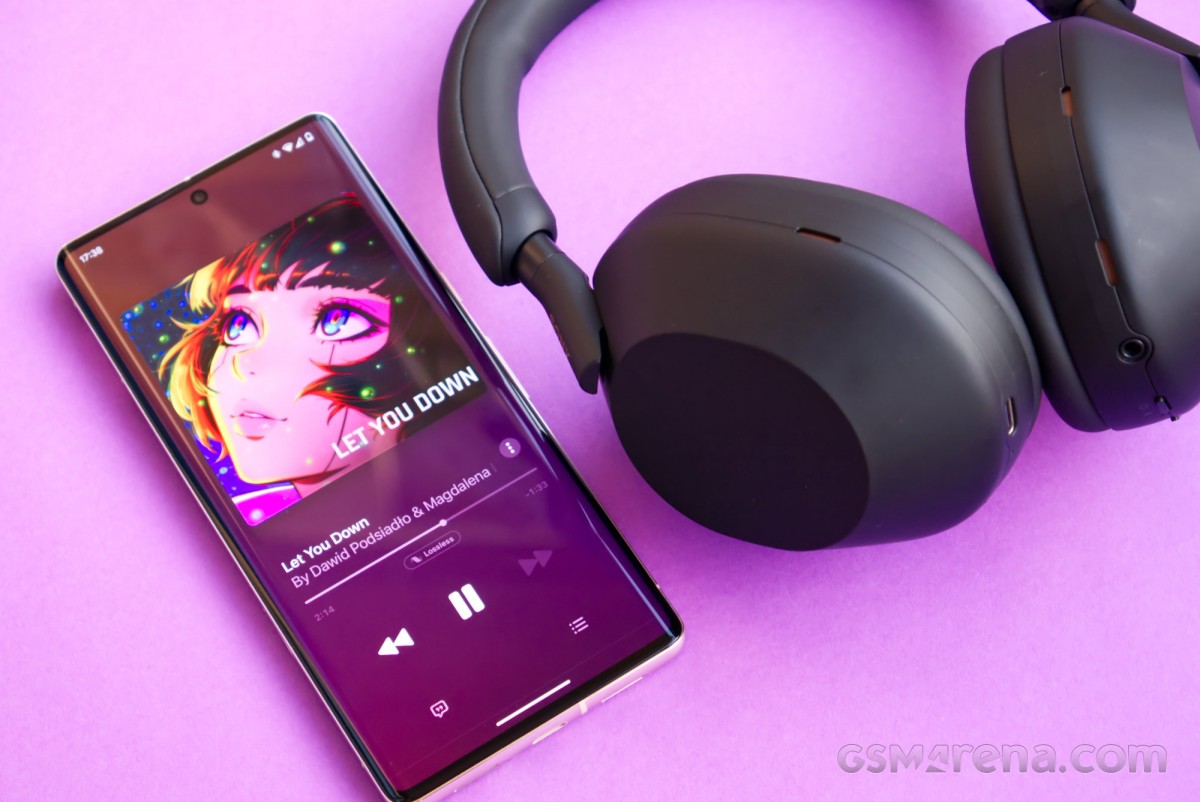 The result is audio that does not sound natural. If you are used to higher quality, more balanced sounding headphones, the congestion in the WH-1000XM5 sound feels claustrophobic. It feels compressed down to a very narrow band of the audible frequency spectrum, most of which consists of the bloated bass and lower mid-range. After a few minutes of listening, your ears beg for a more fleshed-out treble response or at least some semblance of detail and clarity in the sound. Also, while the imaging performance is good, the soundstaging is lackluster.
The sound can be improved to some extent with judicious use of the EQ within the app, starting with turning down the Clear Bass setting. This can improve the tonality but cannot make up for the lack of resolution or detail from the drivers, which once again are lackluster. Just plug the headphones in with the bundled cable and used them in powered-down mode to hear what the drivers actually sound like without the aid of digital signal processing. It's the stuff of nightmares.
My genuine belief with the WH-1000X series is that Sony has never prioritized audio quality and that the focus has always been on ANC performance. Sony is quite capable of producing good quality headphones when it wants to but either does not believe that is necessary for its more mainstream products or prefers to spend those resources elsewhere.
Incidentally, almost all of the competitors have a better handle on this situation. Both Bose and Apple have vastly superior tuning for their competing headphones and even relatively smaller brands like JBL and AKG have some absolute gems in their lineup that will outperform almost any mainstream Sony headphones. My expectation with the WH-1000XM5 was that Sony will finally care about the audio quality in the face of stiff competition but that has not come to pass.
Microphone
The Sony WH-1000XM5 have good microphone performance. In an ideal quiet room, the voice quality is good by Bluetooth headset standards with clear, pleasant tonality but lacks the natural tone and fullness of wired and non-Bluetooth wireless headsets. The vocals are still mostly mid-forward and could use more detail in the upper frequencies. For voice calls, this is not an issue as your callers can still hear you clearly.
In noisy environments, the noise reduction algorithm works really well; some of the recordings I made in a noisy environment could pass for having been recorded in a quiet room. The only difference is that my voice sounded a bit quieter compared to the quiet room recording. Your callers may not even realize you are outdoors.
The only issue with the recordings regardless of where they were made was a persistent background noise that was added by the headphones. It is quite unmistakable and plagues every call or recording you make, so it never quite sounds like you are in a completely quiet environment. It's most likely something that Sony could fix in a software update, or may even be an issue with my unit.
Noise cancellation
The WH-1000XM5 have good noise canceling performance. They provide comprehensive cancellation of background noise across the frequency spectrum, something that cheaper models often struggle with. The earpads themselves block a lot of mid and high-frequency noise and then the ANC kicks in and gets rid of the lower frequencies as well.
Admittedly, I did not do a comprehensive test of these headphones in all environments. Most notably, I was unable to carry out any testing on an aircraft and cannot report how well they would work for frequent travelers. I also did not have the previous generation WH-1000XM4 or any of the competing headphones at hand to compare.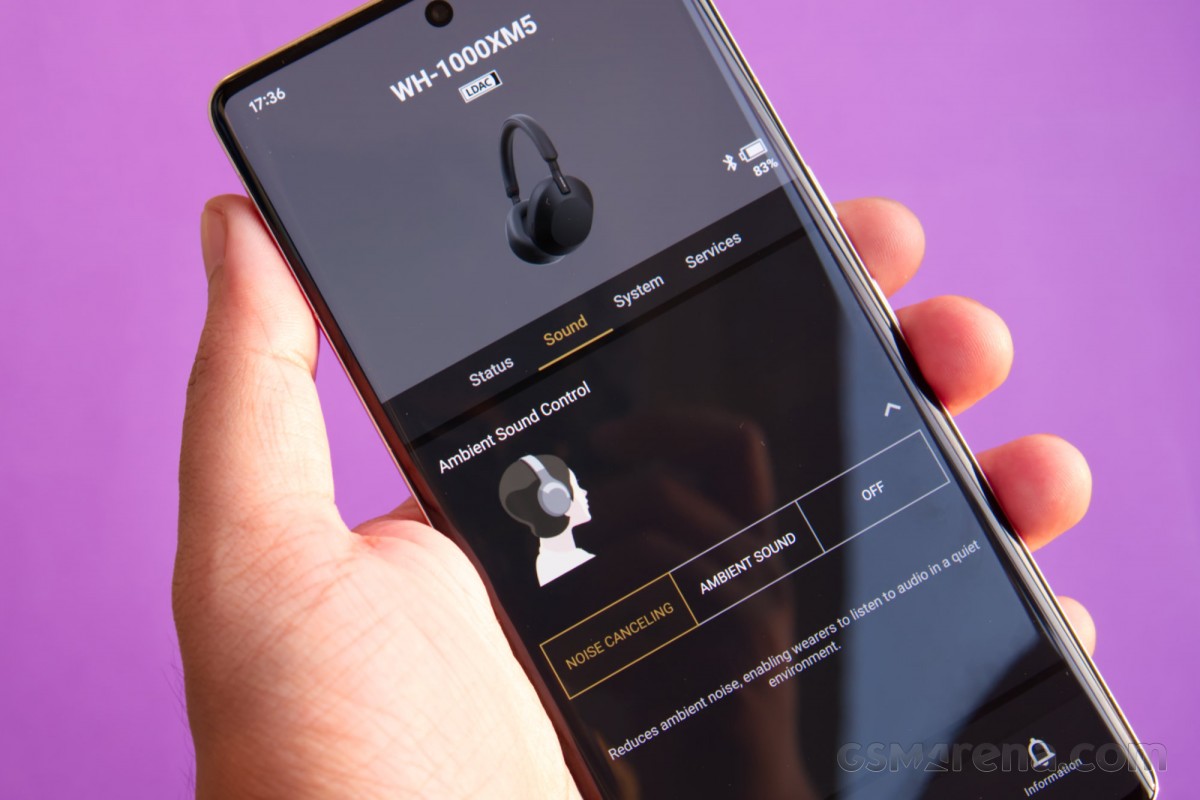 One notable change with the WH-1000XM5 compared to its predecessors is that the ANC can no longer be manually tuned by the user. The WH-1000XM5 automatically dial in the amount of noise reduction based on your surroundings. Whether this is a battery-saving measure or if Sony truly believes its algorithm is foolproof, I'm not sure. I did not have any reasons to fault the system as it was always working as expected in my test environments but I have heard reports of users complaining that it is inconsistent or not as effective as the previous generation model.
The ANC has improved in some ways over the WH-1000XM4. The WH-1000XM4 would occasionally just play random background noise through the speakers, like the sound of aircraft flying above you, which seemed to defeat the purpose of ANC. There would also be the occasional fluttering of the sound when ANC was on while wearing the headphones or moving around in them. In comparison, the WH-1000XM5 ANC was rock solid and always worked as intended.
Lastly, the Ambient sound mode also works well enough. Sony either doesn't aim for a natural sound or can't achieve it unlike Apple but the result is sound that is less accurate and more functional. If you just want to hear stuff around you briefly, this works well enough. If you want to walk around with it enabled and want to feel like you aren't even wearing headphones then this doesn't quite achieve that.
Latency
The WH-1000XM5 have good latency performance for watching videos. The delay is mostly imperceptible and in most cases indistinguishable from using wired headphones. It's also adequate for casual gaming although you may still want to stick to wired headsets for competitive gaming, especially if you plan on using voice chat.
Connectivity
The WH-1000XM5 had decent connectivity performance. For the most part, there were no dropped connections although there were a few instances where the sound stuttered or skipped forward a bit while listening to music. This also happened with the source device at arm's length so it wasn't a case of long-distance or obstructions causing disruptions.
Battery Life
The WH-1000XM5 have a claimed battery life of 30 hours with ANC enabled. Sony does not elaborate on whether this is using SBC/AAC or LDAC and in the past I have found that the claim was mostly when using SBC/AAC. So once again, I decided to test both.
When using AAC, the headphones played for 31 hours, and 50 minutes, which is a fair bit over the official claim. Switching over to LDAC and manually locking it to 990kbps, I got 29 hours, and 53 minutes, which is very close to the official claim and also surprisingly close to the AAC figure. The WH-1000XM4, for reference, had a 10-hour difference in its AAC and LDAC figures.
Sony also claims a 3-minute charge will provide 3 hours of usage. Testing with AAC I got 4 hours, and 24 minutes, and with LDAC I got 3 hours, and 40 minutes, so a good bit more in either case.
From previous experiences with Sony headphones, I also know that the DSEE feature takes a good chunk out of the battery life. However, in the interest of time, I was unable to run a test with this feature enabled. I also did not test with ANC disabled as it didn't make much sense to test in this mode.
Conclusion
The Sony WH-1000XM5 are a good pair of noise-canceling headphones for those who spend a lot of time outdoors or traveling. The active noise cancellation continues to be a strong suit of this series and coupled with good microphone performance and long battery life, I was quite happy using them outdoors.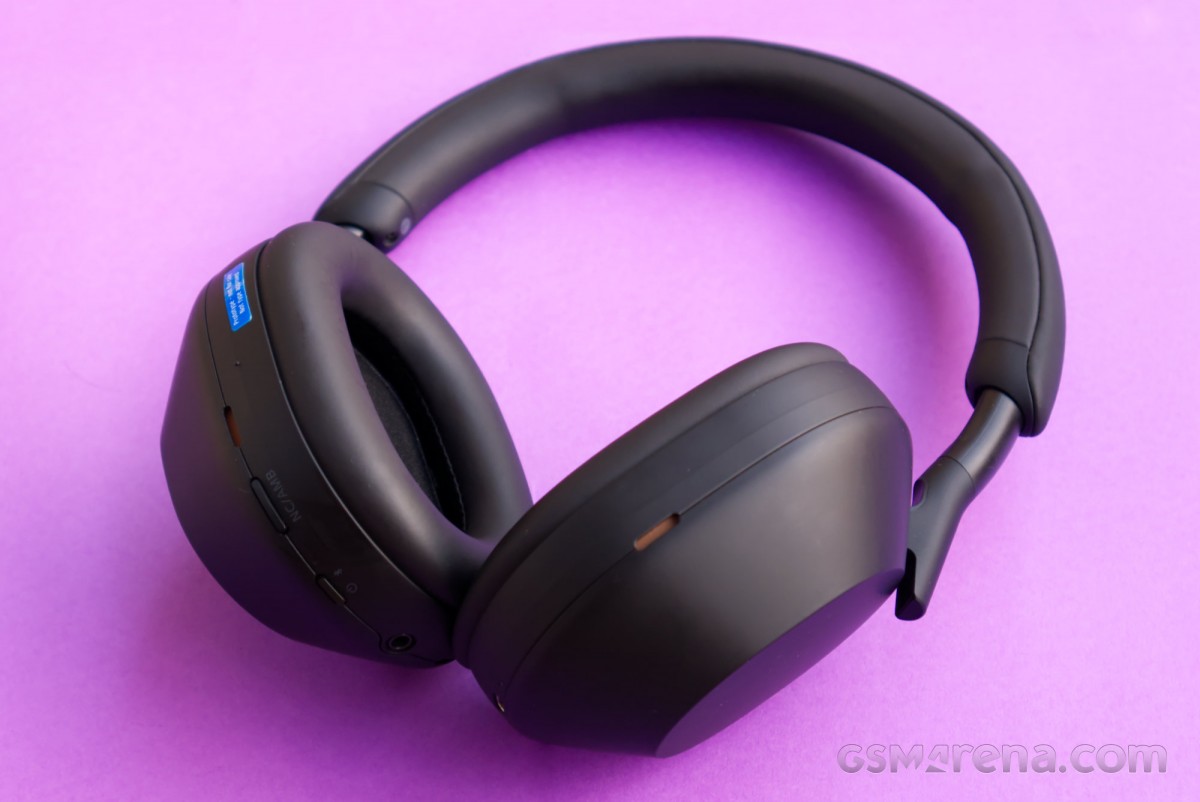 What I was not happy with was the audio quality for critical listening. The sound is perfectly fine for use outdoors but at home, it was easy to notice all the pitfalls compared to even vastly cheaper wired headphones. If you just want to listen to something at home, I recommend a good pair of wired headphones instead, like the HiFiMan Sundara or the Sennheiser HD 560S.
Even among its wireless peers, the WH-1000XM5 come out at the bottom, as those wanting to actually focus on and enjoy their music would be better served by the Bose 700, AirPods Max, or the Sennheiser Momentum 4. Or they could spend a lot less and get a pair of AKG K371BT and give almost all of these more expensive models a run for their money. It doesn't help that the WH-1000XM5 aren't even particularly comfortable for extended listening, at least for my ears.
Overall, the WH-1000XM5 are good travel headphones but if you are looking for a single pair of headphones for all your needs then you should look elsewhere.
Related
Anonymous
11 Sep 2023
Ki1
Every person has different hearing, likes, and dislikes. Some people prefer more bass, some people prefer less bass. The most accurate way to find out how good it is, is to try it for yourself.
Yeah, these are people who reviews phones. Not audiophiles. They're just randoms who writes for a living.
Nicknogger
30 May 2023
TwY
Funny how differently the audio quality of headphones is rated. You say the Sony xm5 doesn't sound good, other magazines say it sounds particularly good. The xm5 is declared the test winner here and criticized there. All of you people who test h...
Popular articles
Popular devices
Electric Vehicles