Sony Xperia 1's Cinema Pro app put to the test: shooting a cinematic video
GSMArena team, 23 June 2019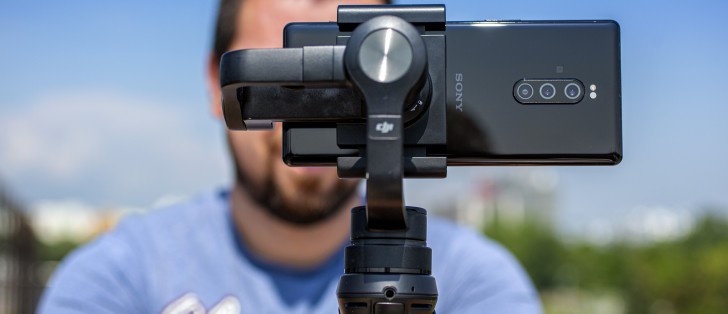 The Sony Xperia 1 boasts features co-developed with Sony's professional divisions – CineAlta (which makes cameras for Hollywood movies) and Alpha (which makes Sony's top mirrorless cameras). The culmination of this is the Cinema Pro app, which leverages the three cameras and the finely-tuned screen to turn the phone into a serious videographer's tool.
That's the promise, anyway, we took the app for a spin and shot the cinematic video below. In the process, we learned what the app does well and where it falls short.
Before you ask, we shot all segments featured in this video mostly handheld using the default Venice CS color mode but we did tweak contrast and colors to taste in post-production. The default rendering is just too flat.
We used a DJI Osmo Mobile gimbal for some of the shots, while in others we relied on the camera's built-in stabilization.
The good
The app UI is quite simple, it fits everything on the same screen, so you can set up your shot without digging through menus. The 21:9 screen helps fit everything without feeling cluttered.
The color profile selection is great most of the time. The Xperia 1 records 10-bit HDR video encoded in H.265, which captures more information than the typical smartphone. As a result, the dynamic range is excellent for a phone.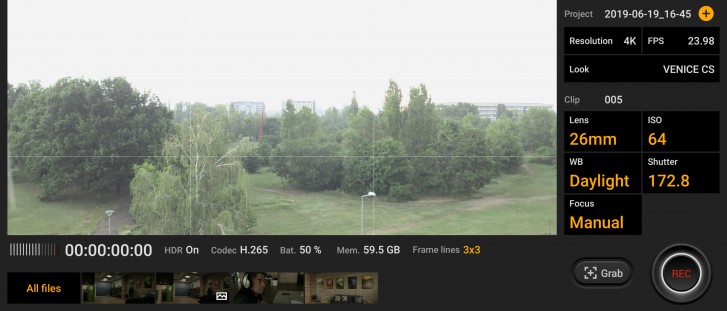 The video stabilization also works well, it's as good (if not better) than what the regular camera app achieves. In manual focus mode, there's an option to put a mark on the focus slider - handy if you're doing rack focus (e.g. changing the focus from a nearby subject to one further back).
The sound captured through the phone's microphones is high quality as well.
The bad
It's important to note that this is just a video recording app, there's no editing feature - you'll need a separate app for that. Sony didn't preload one on the Xperia 1, so it's up to you to find something that can handle 4K HEVC 10-bit footage.
Despite how it sounds, a "project" is more suitable for shooting a single scene than the whole movie. An annoying limitation is that you can't change the color profile per video, instead there's one profile selected for the whole project. This forces you to create new projects every time you need a different profile.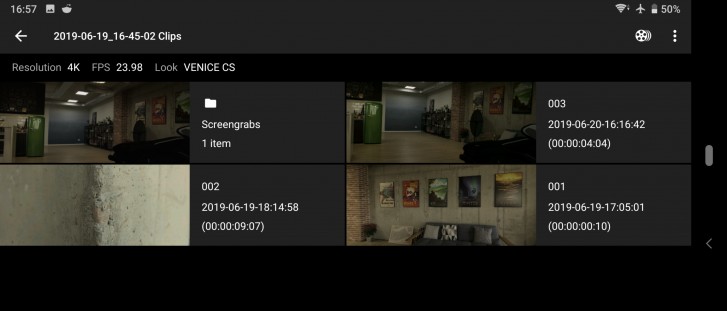 The settings are limited in other ways too. You can't shoot slow-mo or time-lapse videos, you only have a choice of 23.96fps or 29.97fps (switching to 2.5K resolution doesn't enable extra frame rate options). The manual white balance is limited to a few presets (there's no way to set the color temperature in Kelvins), you can't use a gray or white card either.
There's autofocus, but for some reason, it works only for the center of the frame. It doesn't use the Eye AF feature that's unique to this phone and there is no tap to focus functionality either. As for manual focus, it lacks focus peaking, which means you have to pay extra attention, even on this super-sharp screen.
The main camera can drop its ISO to 64, the other two can go down to 40. They have different apertures too, f/1.6 for the main and f/2.4 for the other two. So, if you're going to mix footage from the same scene from two or more cameras, you will have to adjust the exposure by changing the ISO and shutter speed every time you switch cameras to get a consistent look, which can be a hassle, especially considering the clunky interface which requires you to confirm the selection of each option by hitting "Set" every time.
An automatic compensation for the different aperture and ISO options would have been appreciated.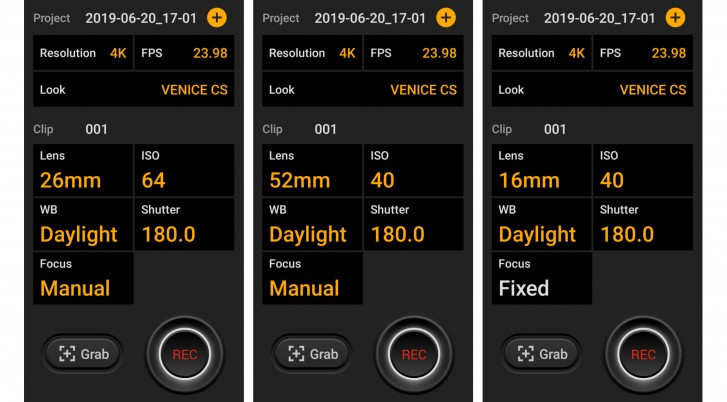 A dual aperture solution would have helped here, as there's no way to shoot during the day without going with a fast shutter speed, which inevitably gives the video that "smartphone" look. And that's not what we're trying to achieve here.
Okay, there is one way to avoid that – by using ND filters. A tool any videographer has, but Sony has omitted providing. We're not even talking about a built-in filter like some phones of old had, we would have been happy with an official accessory. We do have a case that lets you attach an ND filter, but that's a DIY accessory.
The verdict
Sony's Cinema Pro app on the Xperia 1 has the pretense of being a professional tool, but it is just too stripped down. There's no way you'll be able to complete anything but a very simple project on the phone itself. And certainly not with just this app – for trimming videos or shooting a timelapse, for example, you'll have to use another app.
There's a simplicity to this app we can appreciate, however, it's not very welcoming to newcomers. We know it's not very "professional", but some semi-auto mode could have helped novice users get comfortable before jumping into the deep end of the pool.
This doesn't leave many people as the potential user base for this app – it's not capable enough for pros, it's too intimidating for those still learning. Right now, it feels like an unfinished product. Sony could fix at least some of these issues with an update, but until then, the Cinema Pro app is not Xperia 1's killer feature.
Related
1080p video stabilisation is almost perfect so you not need use a gimbal!! While 4K recording stabilisation isn't well but you can use a gimbal for 4K recordings, 4K on other brands also not perfect, a gimbal still needed. Cinema Pro give the user a ...
Please compare with new phone not my 5~6 year Xperia Z2, but I know you can't do that because you can't even have one latest Xperia!
Anonymous
03 Feb 2020
y}%
LMAO You bashed Parker Walbeck, but you couldn't take satai photo correctly.
Popular articles
Popular devices
Electric Vehicles