Sony Xperia 1 in for review
Peter, 03 June 2019
The Sony Xperia 1 is now available in Europe and will launch in the US in a couple of weeks. This is hands-down the most capable phone Sony ever made, but the competition hasn't been sleeping since its introduction at the MWC months ago.
Still, no one has managed to deliver another 4K OLED display – actually, there are no other 4K displays, save for Sony's older "Premium" phones. And despite its singular name, the Xperia 1 is a heir to the Premium family.
This 6.5" screen is one of the few to feature a 21:9 aspect ratio, which Sony argues is better for both video watching (e.g. Netflix and Amazon Video) as well as browsing (you can fit more text vertically). It's great for split-screen multitasking too.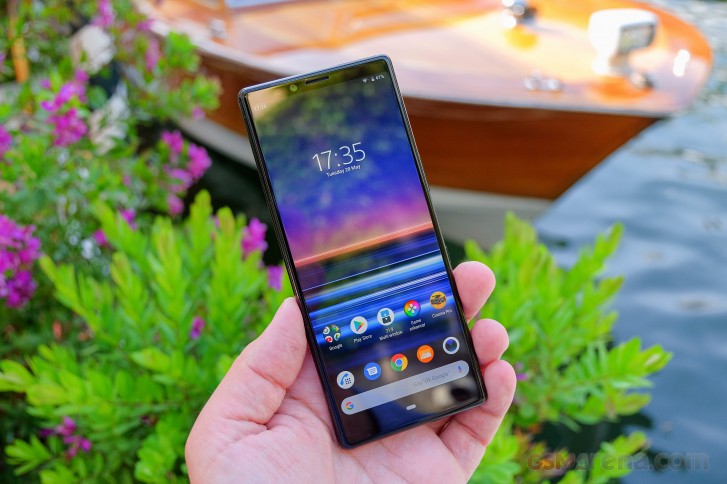 Sony Mobile borrowed expertise from Sony's professional outfits and cinema buffs may recognize some names. For example, engineers from CineAlta helped ensure the display offers perfect color accuracy. Even if you haven't heard the name before, you've definitely seen films shot on CineAlta professional-grade cameras - Avatar and Tron: Legacy are among them.
The Xperia 1 also benefits from Sony's experience in building Master Monitors (the kind that directors watch when shooting the movie). This led to the creation of Creator Mode, which promises professional-grade 10-bit color rendering (DCI-P3 and BT2020 standards are supported). This mode can be enabled constantly or automatically when the content can benefit from it.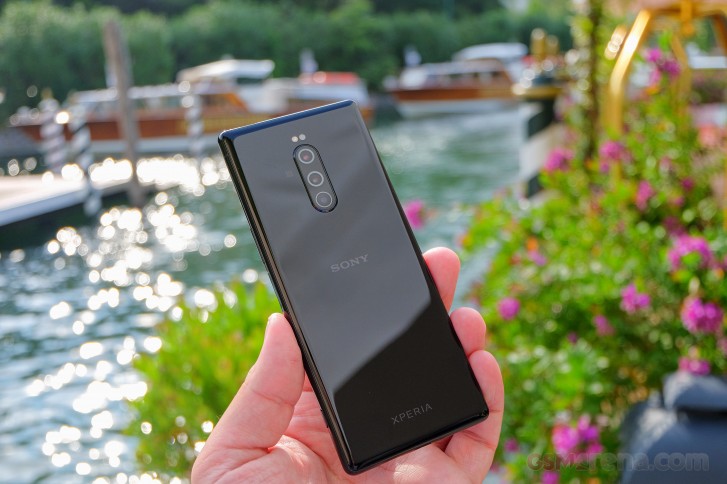 The triple camera on the rear of the phone is Sony's first. It combines three 12MP cams: ultra-wide (16mm), wide (26mm) and 2x tele (52m). Both the wide and tele cameras feature Optical SteadyShot – a combination of optical and electronic image stabilization for superior smoothness.
The pros were called in once again, this time the team behind the BIONZ X image processor inside the Alpha cameras. This enables the brand new Eye autofocus and can do auto focus and exposure at 10fps.
In low light, the Xperia 1 puts its main camera into action. The image sensor has large 1.4µm pixels, a bright f/1.6 lens and OIS. Noise reduction tech was borrowed from Alpha cams. Both the main camera has Dual Pixel autofocus for faster focusing too.
The Cinema Pro app ("powered by CineAlta", of course), can shoot 21:9 videos to match the display. And it can record at 24fps for that cinematic feel, plus it offers several professional color presets for those who want to edit their videos later. Videos are shot in HDR, naturally.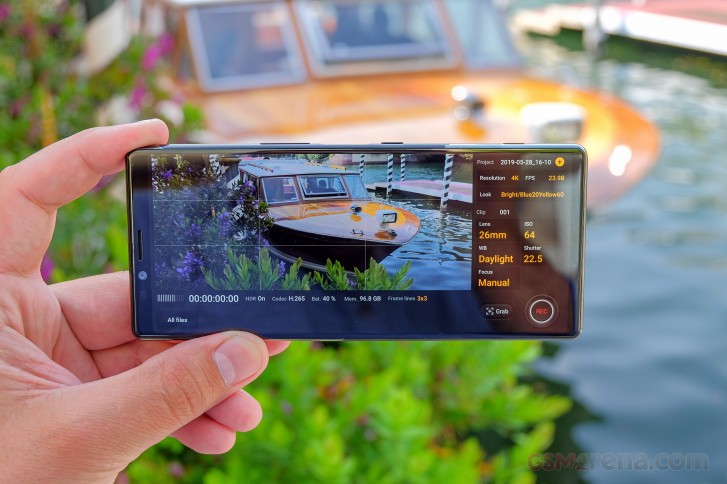 The second half of the "audio-visual" equation is covered by built-in stereo speakers with a Dynamic Vibration system that simulates bass (in games too, not just music and movies). Audio is rendered in high-quality thanks to Dolby Atmos and LDAC (there's no headphone jack, unfortunately).
The phone has IP65 and IP68 ratings, no surprise as Sony was among the first to start waterproofing its phones. The front and back of the handset are panes of Gorilla Glass 6, sandwiching the aluminum frame.
After all these superlatives, the flagship Snapdragon 855 chipset feels almost trivial. Unlike the Xperia 1's other features, most other flagships can easily match it.
With the Xperia 1, Sony is finally jumping on the fast charging bandwagon – the 3,300mAh battery can take in up to 18W of power (USB Power Delivery 2.0). This phone also marks the return of the side-mounted fingerprint reader, though the design here is unusual – the reader is separate from the power button.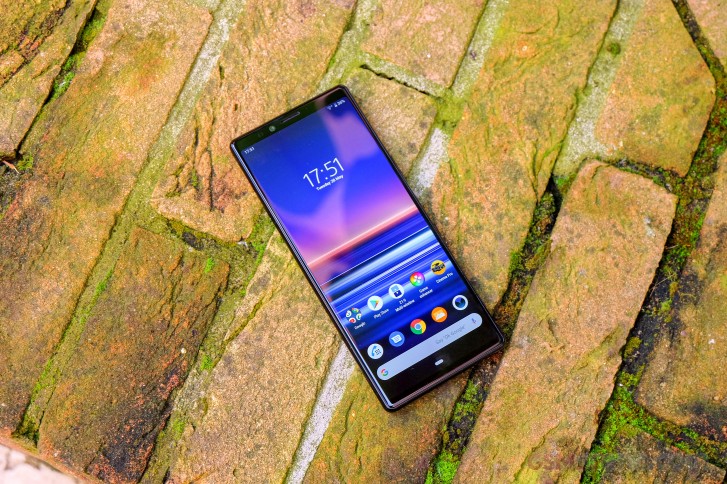 So, that was the short version of Sony Xperia 1's story – a €950/£850 phone that has "professional" written over almost every square inch of it. The long version, complete with detailed tests of the screen and camera, is coming soon as we're already working on a full review.
Related
Probably worst flagship for this price. Screen is just pure gimmicks, simple cameras, no 3.5 jack, very small battery and so on. All thos names to advertise means nothing. This is not desktop monitor or computer. Those names means nothing on in a mob...
No. They are actually in the same negative way. Ridiculous fans