Sony Xperia acro S review: Daring droid
Daring droid
GSMArena team, 03 September 2012.
Display
The screen on the Sony Xperia acro S promises great things and it delivers - it's mesmerizingly sharp, with punchy colors and very good contrast. It's backed by the BRAVIA engine which, as we've seen before, does very well on screens with high pixel-density - and the Xperia acro S display is one of the most pixel-dense at 342ppi.
The only downside (and it's not a minor one) is the sub-par viewing angles.
Display test
50% brightness
100% brightness
Black, cd/m2
White, cd/m2
Contrast ratio
Black, cd/m2
White, cd/m2
Contrast ratio
Sony Xperia acro S
-
-
-
0.61
625
1022
LG Optimus 4X HD
0.34
369
1077
0.68
750
1102
HTC One S
0
177
∞
0
386
∞
LG Prada 3.0
0.19
184
993
0.81
835
1031
Sony Xperia S
-
-
-
0.48
495
1038
LG Optimus Black
0.27
332
1228
0.65
749
1161
Apple iPhone 4S
0.14
205
1463
0.52
654
1261
Samsung Galaxy Nexus
0
112
∞
0
247
∞
Sunlight legibility on the Xperia acro S screen is good, if unspectacular, as shown by the readings in our dedicated test.
Contrast ratio
Nokia 808 PureView
4.698
Samsung I9300 Galaxy S III
3.419
Samsung Omnia W
3.301
Samsung Galaxy S
3.155
Nokia N9
3.069
Samsung Galaxy Note
2.970
HTC One S
2.901
Samsung Galaxy S II
2.832
Huawei Ascend P1
2.655
Nokia Lumia 900
2.562
Apple iPhone 4S
2.269
HTC One X
2.158
Nokia N8
2.144
Sony Xperia acro S
2.119
Apple iPhone 4
2.016
Sony Ericsson Xperia ray
1.955
Sony Xperia U
1.758
LG Optimus 4X HD
1.691
HTC One V
1.685
LG Optimus Vu
1.680
Sony Xperia go
1.577
LG Optimus 3D
1.542
Nokia Asha 302
1.537
BlackBerry Curve 9320
1.488
Nokia Lumia 610
1.432
Samsung Galaxy S Duos
1.400
Gigabyte GSmart G1355
1.361
HTC Desire C
1.300
LG Optimus L7
1.269
Meizu MX
1.221
Samsung Galaxy Pocket
1.180
Nokia Asha 305
1.178
Samsung Galaxy Ace Duos
1.148
Samsung Galaxy mini 2
1.114
We also put the Xperia acro S screen under our microscope and unsurprisingly we found it to pack the finest pixels we have seen to date.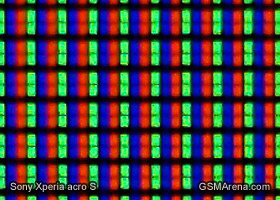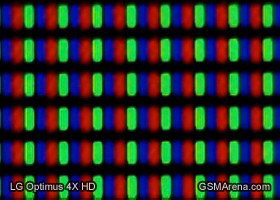 The display under a microscope
Handling
The curved back fits nicely in hand and the Sony Xperia acro S is generally easy to handle. As we already mentioned, it would have been perfect had it been a bit slimmer, but it's not too bad as it is.
You will immediately notice a difference if you use the acro S after, say, the 8.5mm Galaxy S II, which has a screen of the same diagonal (and slightly larger size due to aspect difference), but the Sony smartphone is not hard to operate by any means.
Up next is our tour of the software interface on the Sony Xperia acro S.
if i update 4.0.1 to jelly bean, will my acro s function slowly?
if i update jelly bean, will my phone function slowly?
its just a sticker. i removed it on day one