Sony Xperia C review: Cash and carry
Cash and carry
GSMArena team, 5 December 2013.
Unboxing the Sony Xperia C
The Sony Xperia C comes in an slim box, all the accessories placed in their separate and removable compartments. The contents are nothing out of the usual: an A/C adapter, microUSB cable, a white headset and some leaflets.
Sony Xperia C 360-degree spin
The Xperia C has pretty much the same footprint as Sony's Z1 flagship. At 141.5 x 74.2 x 8.9mm, the handset weighs 153g, which is 17g less than the Xperia Z1, due to the all-plastic build of the Xperia C.
Design and handling
What we're looking at is yet another issue of the OmniBalance design that premiered on the Xperia Z early this year. It has been the signature styling of the entire Xperia lineup since, covering the entire price, size and performance range.
Even though the rear cover is removable, the Xperia C still looks like a unibody phone and one that closely resembles the Xperia ZR. The few metallic elements along the sides make pleasant accents - a prominent element of the Xperia line's styling.




The sides of the Sony Xperia C
Keeping the design consistent across the entire range isn't a Sony invention but we like it how even their low-to-midrange devices don't look cheap. Perhaps a thing or two for Samsung to learn there.
The Xperia C's entire front is occupied by the massive 5" TFT screen with no hardware controls whatsoever, and bezels that could've been slimmer. Even with those, the Xperia C is still the same size as the top-of-the-line Xperia Z1.
The breathing LED is discretely hidden beneath the glass just below the screen. It illuminates a tiny slit that grows thinner at the edges and looks quite pleasant.
The Xperia C is a well-built phone. The removable rear panel doesn't bend or squeak, and the handset has an almost unibody look and feel.
The phone is big though and those bezels don't help either. The same size as the Xperia Z1, and a few grams lighter, it's slim enough to easily slip into pockets but its presence will always be felt. The phone is reasonably comfortable to handle.
Display
The Sony Xperia C has a 5" LCD display of qHD resolution (540 x 960) for a decent, if hardly spectacular, 220ppi sharpness. The Samsung Galaxy Grand stretches its WVGA resolution far thinner and while there are some 720p options in the class, qHD is not a disadvantage here. There is no special anti-scratch surface over the screen and no special coating either, so the screen is very prone to fingerprints and not easy to clean.
Color rendering looks okay, but the white balance is on the cold side meaning there is a subtle bluish tint. Typical for Sony smartphones, viewing angles are not impressive at all, with visible loss of contrast and color shift when you are not looking at the screen head on.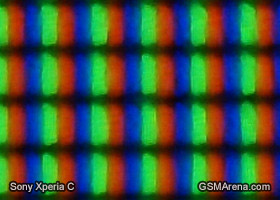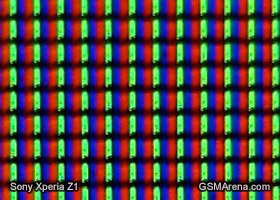 The screen matrix of the Xperia C next to the Xperia Z1
The overall image quality is certainly good for the class, although we noticed strange behavior with its brightness settings. We measured the display's brightness levels and as it turned out that actual 50% brightness is achieved when the slider is set at about 75% and when you set it in its half-way position the brightness is under a quarter of the maximum available. That's why the screen looks dim most of the time, unless you keep it close to the maximum.
As usually we did our battery test on 50% of the dedicated brightness slider and you should have that in mind when you are looking at its scores.
Display test
50% brightness
100% brightness
Black, cd/m2
White, cd/m2
Contrast ratio
Black, cd/m2
White, cd/m2
Contrast ratio
Sony Xperia C
0.18
151
842
0.66
639
962
Sony Xperia Z1
-
-
-
0.38
580
1513
Oppo R819
0.56
607
1078
0.62
754
1210
Samsung I9082 Galaxy Grand
0.37
382
1040
0.62
586
948
Huawei Ascend P6
0.14
136
986
0.62
670
1080
Sony Xperia Z Ultra
-
-
-
0.47
467
1001
Huawei Ascend Mate
0.23
222
982
0.67
711
1053
Samsung Galaxy Mega 6.3
0.12
160
1364
0.32
440
1379
Samsung I9505 Galaxy S4
0
201
∞
0
404
∞
HTC One
0.13
205
1580
0.42
647
1541
Apple iPhone 5
0.13
200
1490
0.48
640
1320
The front display glass is quite reflective too, making the screen hard to read in direct sunlight.
Sunlight contrast ratio
Nokia 808 PureView
4.698
Apple iPhone 5
3.997
Samsung Galaxy Note 3
3.997
Samsung I9300 Galaxy S III
3.419
Nokia Lumia 925
3.402
Samsung I9505 Galaxy S4
3.352
Samsung Omnia W
3.301
Samsung Galaxy S
3.155
Samsung Galaxy S4 mini
3.127
Samsung Galaxy S4 zoom
3.118
Nokia N9
3.069
Samsung Galaxy Note
2.970
Sony Xperia Z1
2.950
HTC One S
2.901
BlackBerry Q10
2.856
Samsung Galaxy S II
2.832
Samsung Galaxy S II Plus
2.801
BlackBerry Z30
2.790
Huawei Ascend P1
2.655
Sony Xperia ZR
2.672
Nokia Lumia 900
2.562
HTC One Max
2.537
Nokia Lumia 720
2.512
HTC One
2.504
Sony Xperia Z
2.462
Samsung Galaxy S III mini
2.422
Motorola RAZR i
2.366
Samsung Galaxy Note II
2.307
Apple iPhone 4S
2.269
HTC Desire 600 dual sim
2.262
LG Nexus 5
2.228
HTC One X
2.158
Nokia N8
2.144
Oppo Find 5
2.088
BlackBerry Z10
2.051
Apple iPhone 4
2.016
HTC One mini
2.003
LG G2
1.976
Sony Ericsson Xperia ray
1.955
Samsung Galaxy Camera
1.938
HTC Butterfly
1.873
Huawei Ascend P6
1.865
Sony Xperia V
1.792
Sony Xperia U
1.758
Meizu MX3
1.754
LG Optimus 4X HD
1.691
HTC One V
1.685
BlackBerry Q5
1.682
LG Optimus Vu
1.680
LG Optimus GJ
1.666
HTC Desire V
1.646
Sony Xperia Z Ultra
1.578
Samsung Galaxy Core
1.563
LG Optimus G Pro
1.552
LG Optimus 3D
1.542
Nokia Asha 302
1.537
Sony Xperia M
1.473
Nokia Lumia 610
1.432
Gigabyte GSmart G1355
1.361
HTC Desire C
1.300
Sony Xperia C
1.283
Nokia Asha 501
1.270
LG Optimus L7
1.269
LG Optimus L9
1.227
Meizu MX
1.221
Sony Xperia E dual
1.203
Samsung Galaxy Pocket
1.180
Sony Xperia tipo
1.166
Samsung Galaxy mini 2
1.114
Hello Can you help me to root this phone to... Please let me know how to root this sony Xperia c
never buy this phone....very limited storage memory for apps....
I have this phone and I rooted it, amazing its worked properly and now I felt that this phone is greater than any other luxury phone'