Sony Xperia E5 review: Nice 'n easy
Nice 'n easy
GSMArena team, 05 July 2016.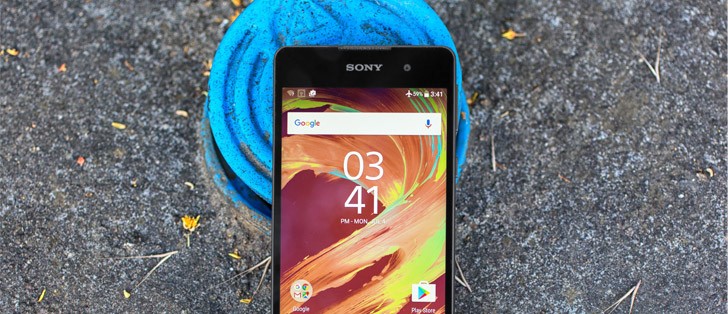 The excellent Sony Album app ticks all the checkboxes
The Sony Xperia E5 Album app is among the most comprehensive and feature-rich we've seen, it's fast and easy to use, too! Photos are organized by month, and you can use pinch-zoom to change the size of thumbnails (then they smoothly animate into the grid).
At the very top of the list is a slideshow, showing off your photos, lower down, the first photo of each month is shown at twice the size of other images.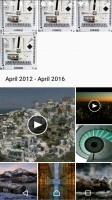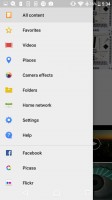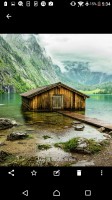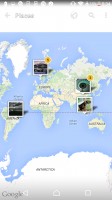 The Album app is both beautiful and functional
You can instead browse photos on a map (you can manually add geotag info too) or by folder. This includes network storage so that you can view photos from a DLNA server (your home computer for one). Then there's integration with online albums - Facebook, Picasa, Flickr.
Image editing is handled by Sketch. It lets you fingerpaint over a photo or a paper-like texture, add text, stickers, photos and so on. If you're talented, you can share your creations on the Sketch mini-social network, and if you're not, you can just browse what others drew.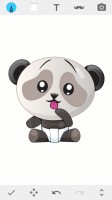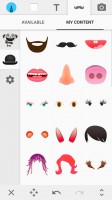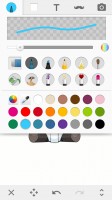 Sketch is a fun image editor with a mini social network for sharing art
Movie Creator is similar to the Assistant of Google Photos. It automatically creates short videos from the photos and videos you've shot.
You can do it manually too: pick photos and videos, change their order, add color effects and music (you get a small audio collection to start you off, but can use custom files too). Then tap the Share button and send out your animated slideshow.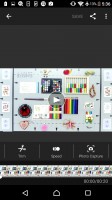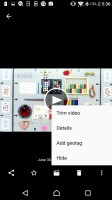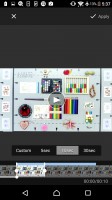 The Movie Creator can automatically or manually make shareable slideshows
Music app
The Music app feels like a part of the same software package as the rest of the custom Sony stuff. The contextual side menu offers much of the same browsing options - by folder, network folder and online services, in this case, Spotify (it's just a link to the Spotify app though). You can share music from the phone to compatible players.
The Infinite button as such is gone, but its functionality is still here in the menu. It can find the track's video on YouTube, look up info about the artist on Wikipedia and search for lyrics on Google. Gracenote is used here too and it can automatically download information about your tracks and album art.
There are presets for Sony headsets and a number of audio settings. ClearAudio+ determines the best audio quality settings depending on the track you're listening to. We liked how it changed the sound and carefully accentuated various details. You also get a 5-band equalizer if you want to do the tuning manually.
Dynamic normalizer evens out the volume differences across tracks, which is great if you've mixed multiple albums from multiple sources.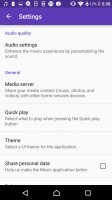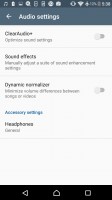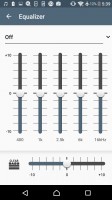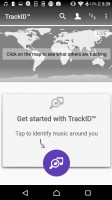 A fair amount of audio settings
TrackID is Sony's trusted song recognition software, which has since evolved way past that. It can now show you music charts by country, give you live updates on recent searches across the world, and store your search history as well.
FM Radio
There's also an FM radio tuner with RDS. The app features multiple visualizations and integrates with TrackID to recognize the currently playing song. The interface is very intuitive and full of stunning animations. Possibly one of the best FM radio apps out there.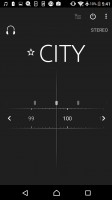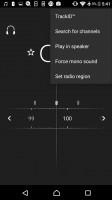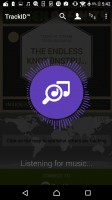 FM Radio with RDS and track recognition
Of course, you would need to have your headset plugged in for the FM radio to pick up any signal.
Video
The Movies app is gone, a simpler Video app takes its place. The app is simpler to use - you pick a file from one of the local folders or your home network. You can also use the Search feature to look up videos on YouTube. The app is missing the HTPC-like functionality though, which pulled movie and TV show info automatically.
A chapter view lets you find a specific part of the video, by letting you scrub through a virtual timeline.
Videos can continue playing in the background (it's an option), but you can't view the video in a small floating window. At least you get full subtitle settings.
Audio output has its ups and downs
The Sony Xperia E5 started off well in our audio quality test. The smartphone achieved mostly excellent scores for clarity with the only average frequency response the only exception. . Its loudness was above average too, so it's all in all a good showing.
The headphones test brought some intermodulation distortion and stereo crosstalk, so it's not a faultless output, but as you can see from the table below it's not too bad either. Volume drops notably though so we'd only call it par for the course for the entry level handset.
Test
Frequency response
Noise level
Dynamic range
THD
IMD + Noise
Stereo crosstalk
Sony Xperia E5
+0.14, -0.81
-92.3
92.4
0.0072
0.0093
-91.9
Sony Xperia E5 (headphones)
+0.15, -0.88
-89.5
88.9
0.0090
0.370
-50.7
Motorola Moto G4
+0.02, -0.07
-92.4
92.5
0.0028
0.0084
-92.1
Motorola Moto G4 (headphones)
+0.04, -0.08
-92.0
92.0
0.0073
0.070
-63.8
Sony Xperia XA
+0.01, -0.18
-93.6
90.6
0.0030
0.010
-91.7
Sony Xperia XA (headphones)
+0.85, -0.18
-87.1
87.8
0.018
0.327
-54.9
Lenovo Vibe K5 Plus
+0.02, -0.08
-93.8
92.8
0.0037
0.034
-91.3
Lenovo Vibe K5 Plus (headphones)
+0.09, -0.03
-93.5
92.6
0.070
0.075
-49.0
Huawei Honor 5X
+0.02, -0.08
-93.4
90.1
0.0028
0.012
-93.4
Huawei Honor 5X (headphones)
+0.10, -0.03
-92.9
89.8
0.0048
0.071
-78.2
Samsung Galaxy A5 (2016)
+0.02, -0.07
-94.3
92.2
0.0065
0.010
-95.0
Samsung Galaxy A5 (2016) (headphones)
+0.42, -0.01
-93.4
87.1
0.029
0.254
-53.0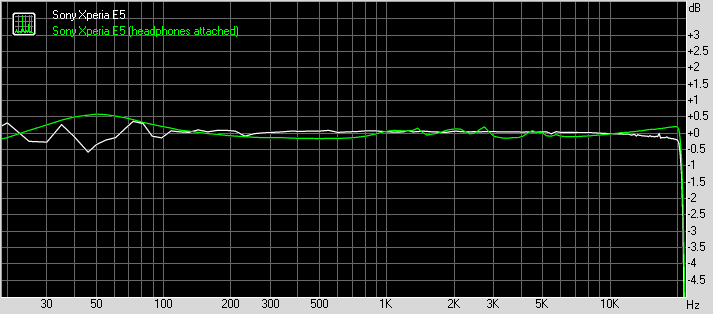 Sony Xperia E5 frequency response
You can learn more about the tested parameters and the whole testing process here.
Can someone help me please.Because the pront camera of my E5 become upside down.Back came is not working and the lights.I dont now what happend. Thank you