Sony Xperia S vs. Samsung Galaxy S II: S-hootout
S-hootout
GSMArena team, 09 March 2012.
Introduction
Released nearly a year apart, the Sony Xperia S and the Samsung Galaxy S II are not that different - both are flagship droids with dual-core CPUs and 4.3" screens. But the newer Xperia S brings some fine upgrades, like the 12MP camera and the 720p screen.
Still, the Galaxy S II is the outgoing Samsung flagship while the Xperia S is the best and the brightest of Sony's new NXT series and will be for a while longer, so it will have to fight off the onslaught of quad-core droids headed to market.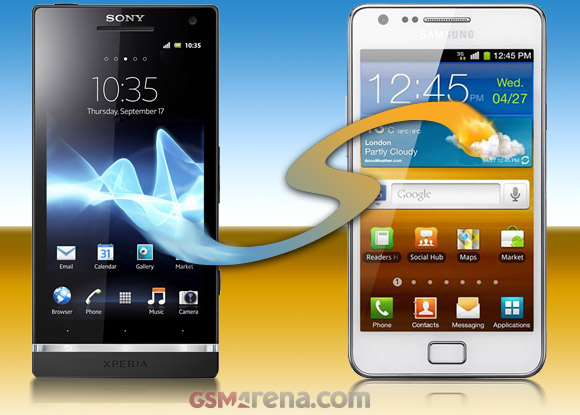 Processor aside, the Sony Xperia S brings a high-pixel-density 4.3" screen with 720p resolution and Mobile BRAVIA engine. Then there's the 12MP camera with 1080p video recording, a notable advantage as most new recently announced phones use 8MP shooters. There's also excellent connectivity and so on.
The 1.5GHz dual-core CPU and Adreno 220 GPU showed promising performance, beating most dual-cores too. Here's the summary of the pros and cons of going for the Sony Xperia S.
Sony Xperia S over Samsung Galaxy S II:
4.3" 720p screen (342ppi) over 4.3" WVGA screen (217ppi)
12MP still camera over 8MP
1.5GHz Scorpion CPU over 1.2GHz Cortex-A9 CPU
Standard microHDMI port over MHL port (requires adapter for HDMI out)
GLONASS support in addition to A-GPS
All units have NFC over optional support in the S II
1750mAh battery over 1650mAh
3D sweep panorama and Multi Angle modes
Samsung Galaxy S II over Sony Xperia S:
SuperAMOLED Plus screen has excellent black levels and better viewing angles
Expandable storage, 16GB/32GB built-in over 32GB fixed storage
8.5mm thick (with some thicker areas) over 10.6mm (with thinner areas)
Weighs 116g over 144g
Bluetooth 3.0+HS over Bluetooth 2.1
2MP front-facing camera over 1.3MP front-facing camera
Both phones have features that we wish the other had, so there's no clear winner. Also, we'll be doing thorough testing too match the performance in seemingly equal areas (e.g. 1080p video capture) and also if the differences change the end user-experience (1.5GHz CPU vs. 1.2GHz, 1750mAh battery over 1650mAh and so on).
You should already be familiar with the structure of these head to head articles - we'll start off with a general comparison and then dig into the specifics, like screens, cameras, battery life and so on.
Under no circumstance can you compare samsung to Sony xperia is the best android mobile
Anonymous
02 Sep 2015
U{Y
Samsung s2