Sony Xperia U review: Fun united
Fun united
GSMArena team, 8 June 2012.
Gingerbread gets the job done
The Sony Xperia U, like the Xperia S, has a slightly revamped custom skin running on top of Gingerbread (2.3.7). The Ice Cream Sandwich update is scheduled for Q2 of 2012.
As usual, we've shot the user interface on video for your viewing pleasure.
The Xperia U has the usual five-pane homescreen configuration, but there is no option to add or remove panes. There are four docked shortcuts (two on either side of the launcher shortcut). These are visible on all five homescreen panes and are user configurable: they can be either single icons or folders with multiple items in them.
The homescreen does a neat trick called Overview mode. Pinch to zoom out on any of the 5 homescreen panes and a new screen opens up with a cool transition. All active widgets gather there for easy viewing and selection.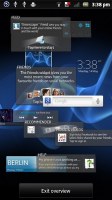 The Overview mode helps you find the widget you are looking for
The Xperia U has some custom-made Sony widgets in addition to the standard set. Those include the Timescape widget (there's a dedicated app too) and a Mediascape-like widget for photos and videos (the actual app isn't there anymore, the standard gallery is back).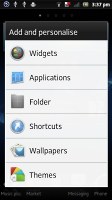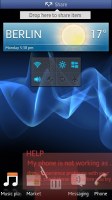 Widgets menu • Removing widget
The lockscreen is capable of showing notifications for Facebook events too. A cool new addition to the lockscreen, missing from the Xperia phones of old, is the music player widget, which lets you control music playback without unlocking the phone.
The standard notification area and task switcher are of course present and accounted for - no custom touches to them.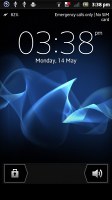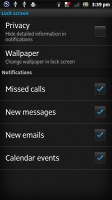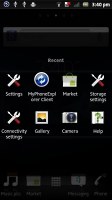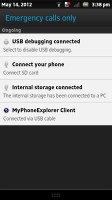 The lockscreen • Lockscreen notifications • The standard notification area and task switcher
Synthetic benchmarks
The Sony Xperia U is powered by a 1GHz dual-core processor teamed up with a Mali-400MP GPU and 512 MB of RAM on a STE U8500 chipset. Those specs won't wow anyone, but they should be more than sufficient for this class.
We ran our usual round of benchmarks and compared the Xperia U to its siblings - the Xperia P and sola. The Samsung Galaxy S Advance is also on the list, powered by the same ST-Ericsson NovaThor chipset. We also included the HTC One V to see how much difference the dual-core chipset makes and the One S to see how the old Cortex-A9 architecture compares to the newer Krait cores.
We begin with BenchmarkPi, which measures the computing power of the NovaThor U8500's 1GHz Cortex-A9 CPU. The Xperia U matched its more expensive competition here, only laggin behind the One S and its newer Krait cores.
Benchmark Pi
Lower is better
Samsung Galaxy S Advance
530
HTC One S
306
Sony Xperia P
539
Sony Xperia sola
551
Sony Xperia U
533
In Linpack, the Xperia U did reasonably well matching the Galaxy S Advance and easily beating the HTC One V. The HTC One S really blows everything in this price range out of the water, though.
Linpack
Higher is better
Samsung Galaxy S Advance
64.74
HTC One S
210
HTC One V
34.4
Sony Xperia P
66.9
Sony Xperia sola
68.1
Sony Xperia U
64.9
SunSpider favors the superior JavaScript performance of Ice Cream Sandwich and as a result the One V manages to keep much closer to the Xperia U. The NovaThor-packing Gingerbread running bunch performer equally well here.
SunSpider
Lower is better
Samsung Galaxy S Advance
2663
HTC One S
1708
HTC One V
3299
Sony Xperia P
2784
Sony Xperia sola
2837
Sony Xperia U
2814
BrowserMark adds HTML5 to the equation, but doesn't change the big picture too much. The Xperia U is still doing as well as its similarly spec'd rivals, but this time the pack is closer to the One S than the One V.
BrowserMark
Higher is better
Samsung Galaxy S Advance
81557
HTC One S
98435
HTC One V
42342
Sony Xperia sola
73840
Sony Xperia P
72237
Sony Xperia U
75906
NenaMark 2 is where the GPU gets to show its worth. The Xperia U got a respectable score of 28.3 frames per second, which is again almost identical to the achievements of its more expensive rivals. The new Adreno 225 inside the One S is one again setting the pace, but you'd expect that from a smartphone twice as expensive.
NenaMark 2
Higher is better
HTC One S
60.5
Sony Xperia U
28.3
Sony Xperia sola
27.7
Sony Xperia P
29.9
As far as real-life performance is concerned, the Xperia U goes about just about any task hassle-free and most users should be perfectly pleased with it. It's not quite the Galaxy S III beater, but what's important here is that it will not let you down in day-to-day work.
I have, not good aps, not worldwide use and warranty seaport
How to use viedo call? so very bad.
Worst phone making product of Sony xperia u last one year I'm using the model water and not any damages but not working WiFi Bluetooth and fm mother board so waste so please don't buying the model