Sony Xperia V review: Bond's wetsuit
Bond's wetsuit
GSMArena team, 29 January 2013.
Display
The Xperia V displays everything in 720p resolution on the 4.3" Reality display. With Full HD screens already upon us, the Xperia V will find it hard to get anyone impressed, but to be fair, the screen is well above average. At 342ppi, the Bravia-backed Reality display is quite sharp and pleasant to look at.
Sony used the second generation Mobile BRAVIA engine for the Xperia V and it's supposed to improve contrast and enhance colors. In reality, viewing the screen head on will leave you pleased but as soon as you tilt the device to the side even slightly, the colors begin to look washed out and contrast is heading south at a frightful pace.
It's by no means a deal breaker and most people should be happy with the Xperia V's screen most of the time.
The display uses a standard RGB matrix arrangement, which you can see in the picture below. As for contract itself - it's passable but far from the standard setters.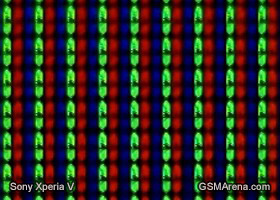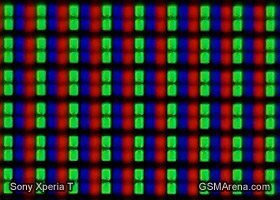 The Xperia V and Xperia T displays under a microscope
Contrast ratio
Nokia 808 PureView
4.698
Samsung I9300 Galaxy S III
3.419
Samsung Omnia W
3.301
Samsung Galaxy S
3.155
Nokia N9
3.069
Samsung Galaxy Note
2.970
HTC One S
2.901
Samsung Galaxy S II
2.832
Huawei Ascend P1
2.655
Nokia Lumia 900
2.562
Samsung Galaxy S III mini
2.422
Motorola RAZR i
2.366
Apple iPhone 4S
2.269
HTC One X
2.158
Nokia N8
2.144
Apple iPhone 4
2.016
Sony Ericsson Xperia ray
1.955
Samsung Galaxy Camera
1.938
Sony Xperia V
1.792
Sony Xperia U
1.758
LG Optimus 4X HD
1.691
HTC One V
1.685
LG Optimus Vu
1.680
HTC Desire V
1.646
LG Optimus 3D
1.542
Nokia Asha 302
1.537
Nokia Lumia 610
1.432
Gigabyte GSmart G1355
1.361
HTC Desire C
1.300
LG Optimus L7
1.269
LG Optimus L9
1.227
Meizu MX
1.221
Samsung Galaxy Pocket
1.180
Sony Xperia tipo
1.166
Samsung Galaxy mini 2
1.114
Handling
The Xperia V isn't the most compact of smartphones with a 4.3" screen but the surprisingly lightweight body is a pleasure to handle, and the finish is great.
Single-handed operation is very comfortable and the dust and water resistance are something many users will appreciate. The flipside is a non-hot-swappable microSD card and the absence of a proper shutter key.
Overall though, it's a great-looking smartphone - without overdoing it - and one that's very secure and comfortable to hold.
I've been using Sony Xperia V since 2012, even till now, whenever I use it, it still works very well.
Anonymous
09 Mar 2018
MFf
My fifth year of Experia V and still using it for every thing. Phone, Internet, Navigation, Copy machine, photo etc.
Raghuyadav
07 Dec 2015
U@@
Front camera is very wost please change to atleast 2MP. And important is please improve processing speed otherwise everything good and perfect.