Sony Xperia V review: Bond's wetsuit
Bond's wetsuit
GSMArena team, 29 January 2013.
Album handles pictures
The Sony Xperia V comes with a new Sony Ice Cream Sandwich gallery, called Album.
Images are organized into stacks of thumbnails and sorted by date. You can opt to show all of your albums in one place, and there are three tabs above the stacks - Pictures, Map and Online.
Pictures is the main tab and one of its features managed to impress us: you can use pinch gestures to make the image thumbnails bigger or smaller. The whole thing is super responsive and hundreds of thumbs fall in and out of differently sized grids with cool animation.
Map reminds us of the iOS gallery, where all geotagged pictures are shown on a world map.
The Online tab displays pictures from Google Picasa and Facebook. You have options to tag, like and comment on Facebook photos much like you did in the previous Xperia Gallery.
Images can be cropped or rotated directly in the gallery. Quick sharing via Picasa, Email apps, Facebook, Bluetooth or MMS is also enabled.
The BRAVIA engine 2 enhances contrast and colors by sharpening the image and reducing noise. These steps normally lead to visual artifacts, but you'll have to look at them very close up to notice. You can switch BRAVIA off, but we recommend keeping it on - it really improves the viewing experience straight on.
Movies with an editor
The video player is dubbed Movies and it too has a new interface. It's connected to Gracenote, which helps you find additional information about the movies you have on board. It works fine, but it identified our version of The Mask not as the famous Jim Carrey flick, but rather as a horror movie from 1961, which goes by the same name.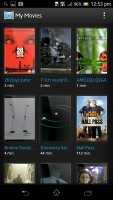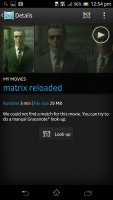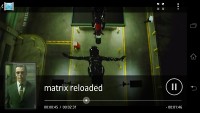 Watching a video on the Xperia V
Unfortunately, the Xperia V video player was very selective about the movies it would play. Videos with AC3 audio ran fine but without sound. Some XviD movies would play okay and others wouldn't play at all. DivX movies were okay throughout, though.
A video editing app called Movie Studio is bundled too. It lets you edit video, images, and audio together (both imported from files as well as recorded/taken by the device itself), using a variety of cool transitions. You can then export the resulting project into a video file that you can share using the V's generous connectivity features (more on this below).
Walkman music player on board
Another of the redesigned Sony media apps which has gotten a facelift is the new Walkman music player. It retains all the functionality of the older music players but adds a little bit extra here and there.
It is divided into Playing and My music panels.
In the My music section, you can update your album art and music information like album, year released, and more. SensMe is included, meaning you can filter your songs by mood - upbeat, energetic, mellow, dance, etc. Creating playlists is enabled and you can also view your Facebook friends' activity if they too use the Walkman player.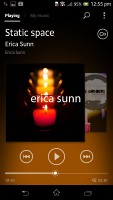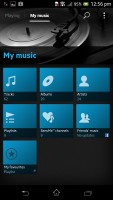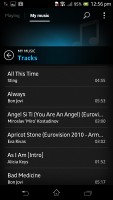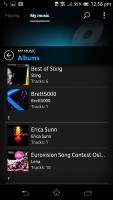 The music player is decent looking and snappy
The Now Playing screen offers the standard music controls, shortcuts to the library, "Infinity" key and the song cover art. The Infinity key lets you quickly look up a song on YouTube or browse for the lyrics, among others.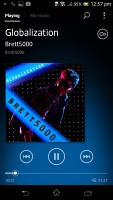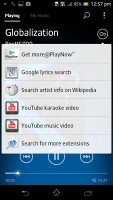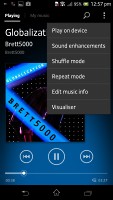 The Now Playing interface • The equalizer
Sony has improved on the Walkman player's settings. There's a new ClearAudio+ option, which determines the best audio quality settings depending on the song you're listening to.
There's Surround sound mode, which imitates the Studio, Club or Concert Hall experience. The Clear stereo mode enhances the perceivable stereo channel separation.
Speaker settings include Clear Phase, which adjusts the quality, while xLOUD enhances the loudness of the internal speaker.
And audio fans will be pleased as there is a configurable 5-band equalizer with bass adjustment. However die-hard audiophiles might prefer additional players, which sport a 10-band or even 20-band equalizer.
There are music controls on the lockscreen. Swiping them to either side brings back the clock. The notification area also offers the now playing screen with music controls and the option to jump into the Walkman player.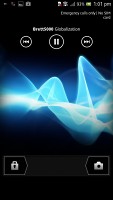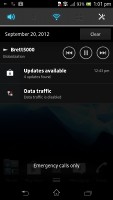 Music player controls on the lockscreen and notification area
The Sony Xperia V also features an FM Radio aboard complete with RDS support. The app automatically seeks and adds bookmarks to stations in range, although you'll need to have a set of headphones attached to use as an antenna.
Audio quality is decent
The water and dust proofing has cost the Sony Xperia V a tiny bit in terms of audio output, but the smartphone still performs identically to the Sony Xperia T for the most part. This means that when you use it with an active external amplifier you get good scores all over. The volume levels were slightly below average, but the overall performance is still good.
The degradation when you plug in a pair of headphones consists of a moderate hike in stereo crosstalk rises and distortion levels. Neither of those readings is anything to worry too badly about, though. Volume levels remain about the same, though, which is not a common sight among smartphones. We'd rate the overall performance as good, although there are clearly superior options out there.
And here go the results so you can see for yourselves.
| | | | | | | |
| --- | --- | --- | --- | --- | --- | --- |
| Test | Frequency response | Noise level | Dynamic range | THD | IMD + Noise | Stereo crosstalk |
| Sony Xperia V | +0.16, -0.04 | -81.6 | 82.2 | 0.064 | 0.052 | -81.9 |
| Sony Xperia V (headphones attached) | +0.46, -0.10 | -81.4 | 81.9 | 0.110 | 0.268 | -52.9 |
| Sony Xperia T | +0.11, -0.10 | -86.1 | 87.8 | 0.023 | 0.023 | -84.1 |
| Sony Xperia T (headphones attached) | +0.43, -0.11 | -86.1 | 87.5 | 0.140 | 0.260 | -62.7 |
| LG Optimus 4X HD | +0.02, -0.52 | -74.8 | 74.8 | 0.345 | 0.318 | -81.6 |
| LG Optimus 4X HD (headphones attached) | +0.03, -0.51 | -70.1 | 69.9 | 0.815 | 0.811 | -64.5 |
| Samsung I9300 Galaxy S III | +0.03, -0.05 | -90.3 | 90.3 | 0.012 | 0.018 | -92.6 |
| Samsung I9300 Galaxy S III (headphones attached) | +0.11, -0.04 | -90.2 | 90.2 | 0.0092 | 0.090 | -53.1 |
| HTC One X | +0.02, -0.08 | -82.1 | 82.1 | 0.137 | 0.393 | -80.7 |
| HTC One X (headphones attached) | +0.10, -0.10 | -80.6 | 80.6 | 0.174 | 0.459 | -60.8 |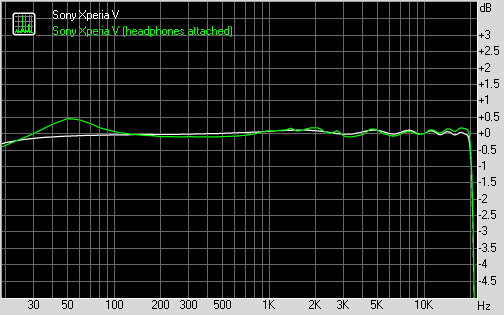 Sony Xperia V frequency response
You can learn more about the whole testing process here.
I've been using Sony Xperia V since 2012, even till now, whenever I use it, it still works very well.
Anonymous
09 Mar 2018
MFf
My fifth year of Experia V and still using it for every thing. Phone, Internet, Navigation, Copy machine, photo etc.
Raghuyadav
07 Dec 2015
U@@
Front camera is very wost please change to atleast 2MP. And important is please improve processing speed otherwise everything good and perfect.