Sony Xperia XA1 Plus hands-on review: First impressions
First impressions
GSMArena Team, 31 August 2017.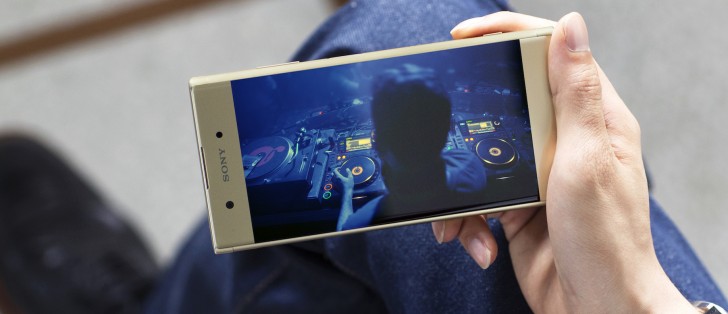 Sony Xperia XA1 Plus hands-on
In more ways than one, the XA1 Plus slots right into place amid its two sibling. Its 155 x 75 x 8.7mm, 189 gram body is practically identical in shape, materials and construction.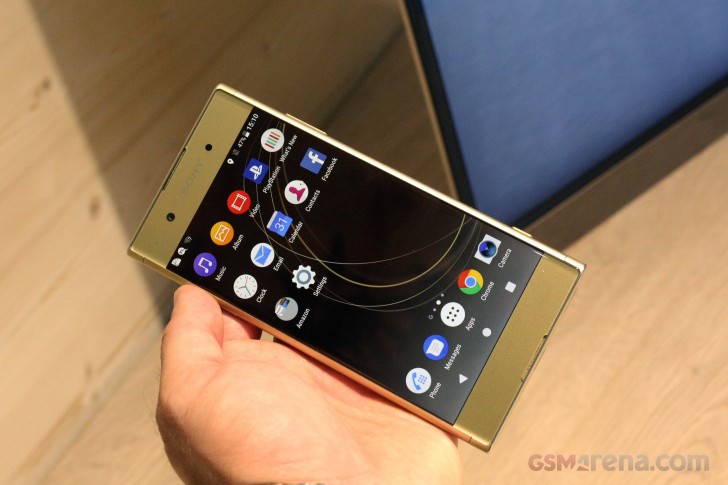 Unlike the new XZ1 pair, there is no fancy new unibody construction here, just the tried, true and distinctive Sony look. That means aluminum sides and a plastic back - not exactly trendy by today's standards, yet arguably more durable and scuff-resistant than a metal and glass setup.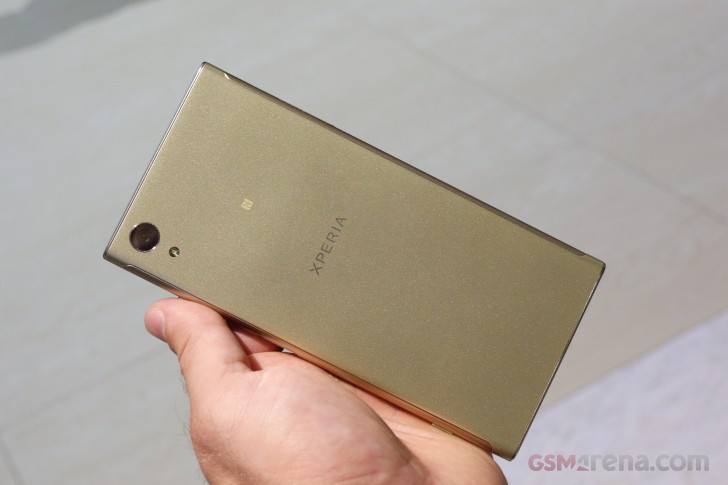 The also means no need for odd antenna line designs and workarounds to accommodate radio signal. So a more uniform finish all around. The back of the XA1 Plus is especially clean - just a camera and a single LED setup, along with a logo.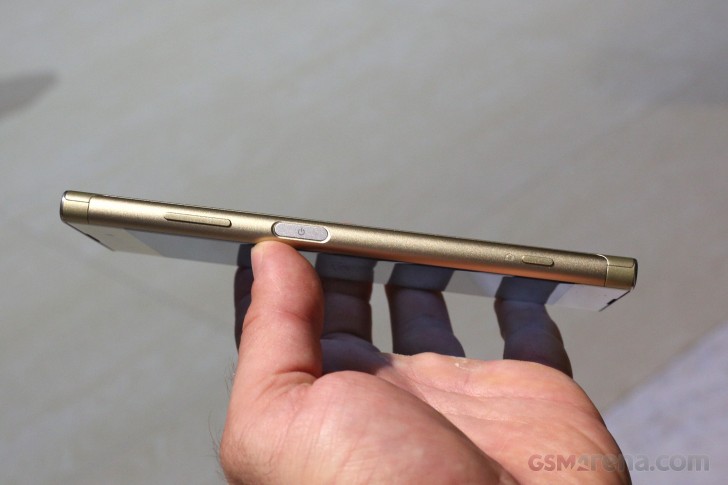 The rest of the controls are all in place as well - 3.5 mm jack on the top, single speaker (no stereo here) and Type-C port on the bottom. As for the right-hand side, there is a volume rocker and Sony's signature camera shutter key, both conveniently positioned and spaced out. Oh and, surprise, surprise, Sony's small round power button has been swapped for its other standard control - the bigger, comfier and much more functional fingerprint reader combo.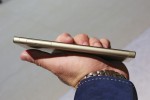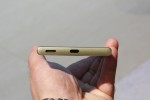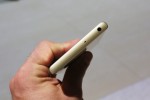 Sony Xperia XA1 Plus from all angles
A slightly surprising move, since both the XA1 and XA1 Ultra don't have a fingerprint reader, but a treat for users nonetheless. Well, kind of. There is still the whole US legal ordeal surrounding Sony fingerprint tech, so customers there won't get the extra feature. On a side note, Sony hinted that the Americas will likely get a 3GB version of the handset as well, which is just adding insult to injury.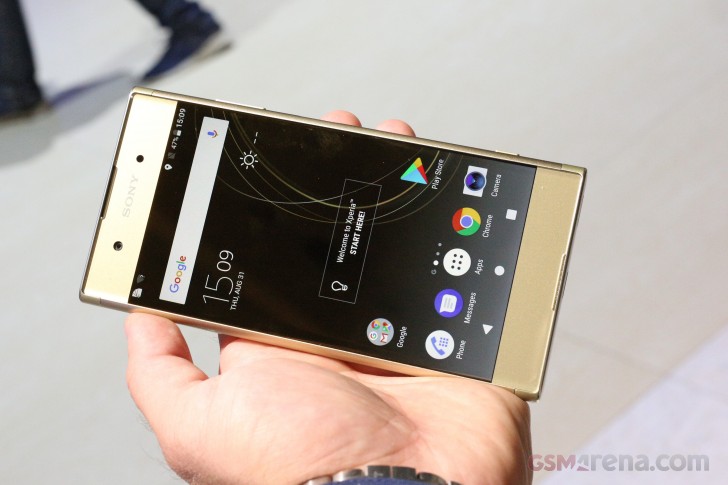 But even if you live across the ocean, where you should be able to get the full 4GB RAM and fingerprint reader experience, there is another universally shared issue, allegedly stemming from the bugger power button. It is sort of the elephant in the room we have been avoiding so far - the XA1 Plus has plenty of side bezels around its 5.5-inch panel. An area where the XA1 and XA1 Ultra have little to none wasted space.
Sony claims it was necessitated by the bigger power button, which might very well be the case. Is it a justifiable trade-off, however, is a whole different question and one you have to decide for yourself.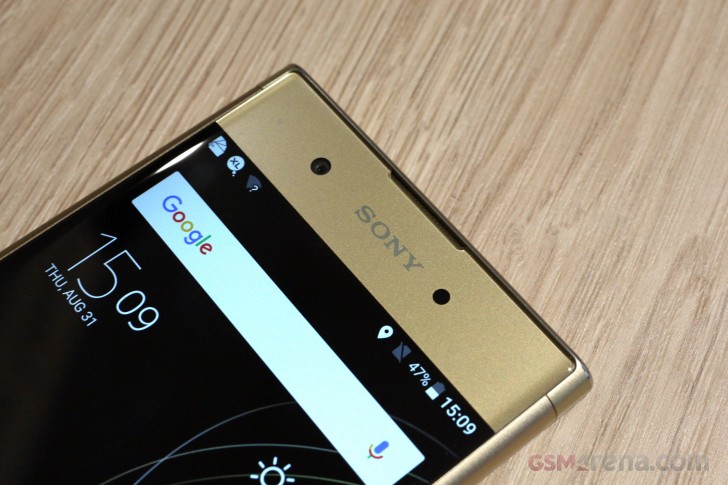 All that aside, you still get a pretty good 5.5-inch, FullHD panel on the XA1 Plus, at least at first glance, that is. We will have a less subjective opinion on the matter in the full review. Sony seems confident enough in advertising 100% sRGB coverage. And bezeless design or not, you still get a scratch-resistant surface on the entire front of the unit. No Gorilla Glass branding or anything similar, but a promise of H9 nontheless. Since the entire area is flat, you can also easily fit a glass screen protector, if that is your thing.
As far as other specs go, it's thankfully not all bezel-full displays and potential RAM downgrades. One clear upgrade over the existing XA1 and XA1 Ultra pair is the notably bigger 3,430 mAh battery. Stamina mode, Qnovo adaptive charging and Pump Express+ 2.0 quick charging are all part of the mix as well. Here's hoping the 16nm Mediatek MT6757 Helio P20 chipset can make good enough use of all the extra juice to top the fairly average battery endurance we measured on the rest of the Xperia XA1 lineup.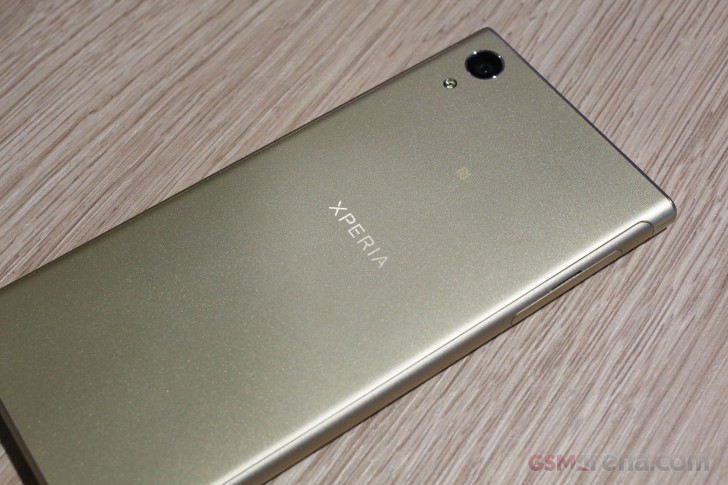 And just in case you were wondering, yes, this chipset is shared by all three devices and so are some other specs, like NFC and Bluetooth 4.2, with aptX and LE support, to name a few. The same goes for the camera setup - 23MP, 1/2.3", Exmor RS sensor, behind an f/2.0 lens, complete with phase detection hybrid autofocus. Not too shabby, especially when backed up by excellent Sony camera features, like Superior Auto mode and Steadyshot.
Sony opted for some saving on the selfie side of things, borrowing the 8MP, 1/4", f/2.0 snapper from the XA1, instead of the much nicer 16MP one on the XA1 Ultra. Having OIS on the front would have been a nice touch. Then again, so the same goes for the bezeless look, we mentioned earlier.
Sure, it all comes down to personal taste and how much value you subjectively place on the fingerprint reader, but we just can't help but feel the XA1 Plus would have been a lot more smashing in any of its four shades (Black, Blue, Pink and Gold) if Sony had stuck with the already established XA1 look.
Hi, does your dual sim model have dedicated slot for microsd or it uses sim card 2 slot ? Share ur experience of using that phone as im thinking of buying it
I purchased Xperia XA1 from Canada. The phone has touch screen and speaker problem. Read more reviews before you buy.
Anonymous
20 Sep 2017
IbE
Love the screen Sony