Xperia XA2, XA2 Ultra, L2 hands-on review
GSMArena team, 08 January 2018.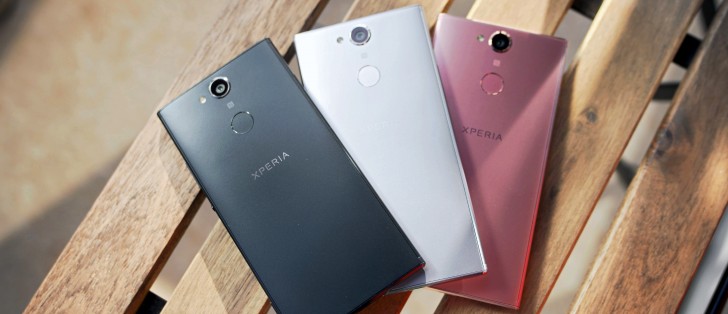 Sony Xperia XA2 hands-on
It was an unlikely love at first sight for a lot of us here at the office when the original Xperia XA came out - one of the first Sony phones with minimal extra bulk around display, at least in 2 out of 4 directions.
A year and a half later, the Xperia XA2 arrived at our doorstep. The third generation of its kind (because that's how Sony's numbering works) shows maturity in its looks - there's some of that XA DNA we loved, yet it's evolved and, dare we say, in a good way.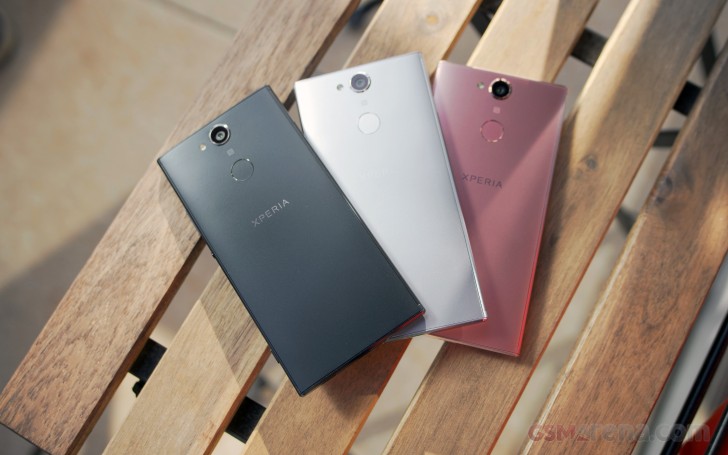 For starters, it's grown a little. Hold on, it's actually shorter that XA1, but it's a little wider because it needs to house a 5.2-inch display where there used to be 5 inches. It's no small feat, actually - the XA2's display is 4-something millimeters taller than the XA1's but the phone is 3 mil shorter. That's 7mm chiseled off the chin and forehead, and that's a lot.
Side-to-side, there wasn't much to chisel off - the XA2 is as wider than the XA1 as the new display is compared to the old one. Effectively, Sony's pulled off fitting more display without going overboard with footprint - about time.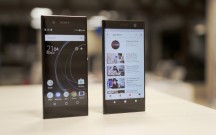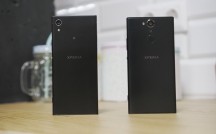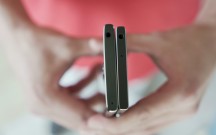 Xperia XA2 and XA1 side by side
The XA2 is a little thicker though, there's no escaping that. When you read the specsheet's 9.7mm along the z-axis, it looks pretty bad. Especially when the XA1 was just 8mm, and the chunky-feeling ZX1 Compact is 9.3mm.
However, thanks to the rounded sides and the curvature of its back (the Compact is quite universally flat, no matter the vantage point), the Xperia XA2 doesn't feel nearly as thick as its almost 1cm waistline suggests. No, it's certainly not thin, but we're quite happy with the more-battery/extra-thickness trade-off. Plus, it doesn't feel thick, it just doesn't, okay? Alright, maybe just a little. Enough with these numbers!
Hey, here's some more numbers - the XA2's display is now FullHD (okay, it's not a number, but the numbers are implied). The smaller, 5-inch XA and XA1 made do with 720p panels, but for the third generation's larger screen they went with 1080p.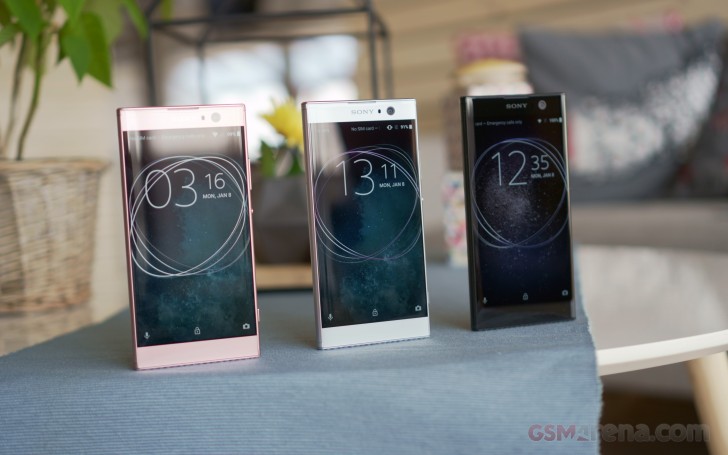 Sony promises 500nits of brightness and by the looks of it, there's no reason to doubt that claim. We also had the opportunity to get some sun into it, and it holds up nicely. There might be a slight Sony-LCD-blue tint going on there, but overall it's looking like a mighty good display.
The front camera looks reassuringly big, and it's the 120-degree coverage that explains the size. We're very much fans of ultra wide cams, and having one for selfies means a lot of friends in the frame. We just need to find some.
Anyway, a downside of using such a wide lens is the extra optical distortion, and, at first glance, there's plenty of it. We'll be able to report on its gravity once we get some friends lined up but we better leave this for when the proper review sample arrives.
There's also a notification LED. Just saying. Oh, and we hope you appreciate the mind-bending shot below, thank you very much.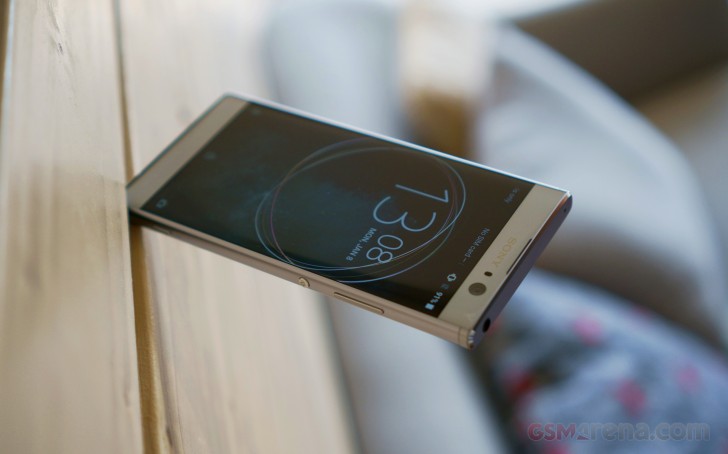 We're not entirely sure how the slabs of aluminum on the top and bottom of the phone make us feel. They do look handsome with their polished chamfers and all, and the touch of aluminum comes with that premium feel. Each of them does, however, create a lip on the front that would scrape a tender palm in a less than pleasing way. Ah, could they be there so that the front glass remains raised when the phone is lying face down on a hard surface? Hmm, looks like it.
The front itself is not really flat. It appears thicker in the center while thinning out towards the extremes. There's an overall fluidity to the glass - it's not like Samsung's curved edges, the effect is a lot more subtle, but it's still pretty neat.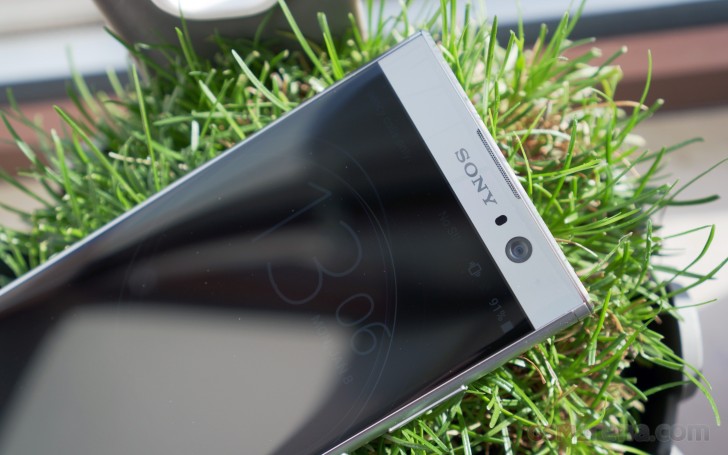 The Xperia XA2 debuts a new feature for Sony - the rear-mounted fingerprint scanner. Yes, all three phones here have it, but we'll call the XA2 the first one. Last gen's XAs only had biometric recognition in the Plus-sized version, while the XA1 and XA1 Ultra remained disconnected from the times. There's no XA2 Plus (yet?) but both XA2s have a circular fingerprint scanner on their backs, in what is perhaps the most natural spot.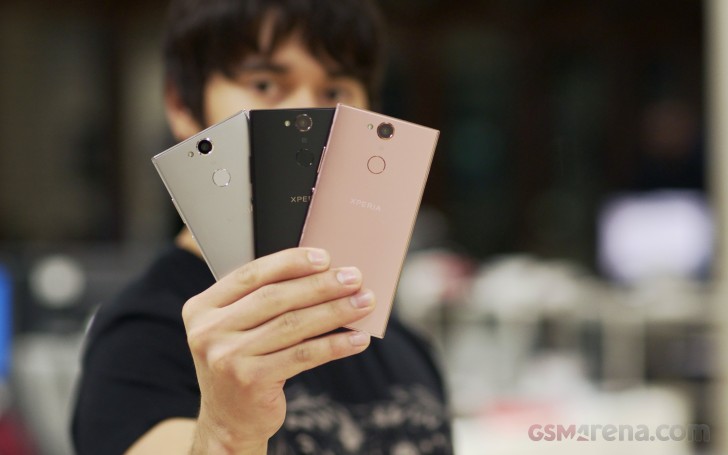 While the units we have are very much pre-production, so the software will certainly get more polish before the official launch, the recognition works rather well. It's always on, no waking the phone is required, and a tap on the sensor takes you straight to the homescreen. It's slightly slower than the best ones we've seen, but a)not so much as to be an issue, and b)non-final software.
The camera's made a new home on the central axis of the rear, right above the fingerprint reader. A fancy shiny ring around the lens serves as an accent and, more practically, to give the glass some extra protection. It's the same 23MP camera with a multi-aspect sensor that was once reserved for Sony flagships like the Xperia Z5. In fact Sony says it's exactly the same camera with all the bells and whistles and nothing missing, along with 4K video recording and ISO 12,800.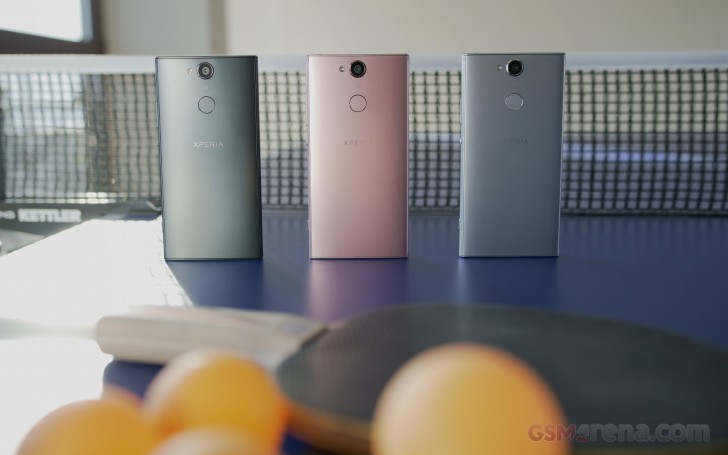 Overall, it seems our attraction to the XAs is more than just a fling, it's lasting for a third generation now. And if the substance turns out to be just as good as the first impression, it would make this yet another mid-range Sony that we like more than the flagships.
People have expectations and would like to see products that compete but sony failed to deliver in latest time so people bash them as their models look alike and gave them problems subpar cameras, heat issues, lack of updates, thus people are intere...