Sony Xperia XZ2 review
GSMArena team, 14 March 2018.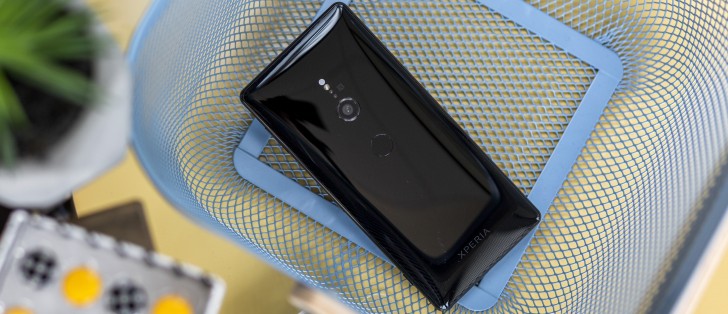 Benchmarking the Snapdragon 845 performance
We expected nothing short of chart-breaking performance from the Xperia XZ2 and the shiny new Snapdragon 845 beating inside it, and we weren't disappointed. We are still getting our first tastes of the new generation of flagship silicon and timing couldn't have been better.
After we put Samsung's Exynos 9810 through the paces in the Galaxy S9 and S9+, we now get to see how it compares to the Snapdragon 845 as well.
In our XZ2 review unit, the chipset is coupled with 4GB of RAM, although many markets will be getting even 6GB of memory.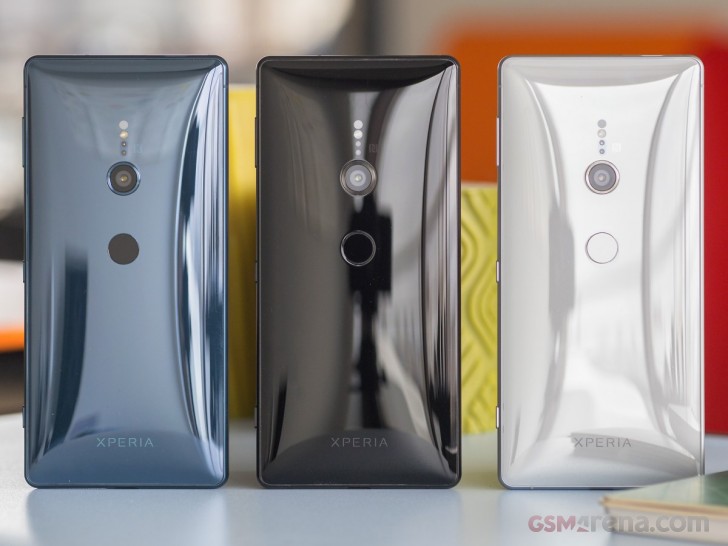 Qualcomm's latest chip is based on a 10nm LPP manufacturing process and introduces a new octa-core processor with new Kryo 385 cores. The four high-performance Kryo 385 Gold cores are clocked at 2.7GHz, and their architecture is derived from ARM's Cortex-A75 reference design.<>
On the other hand, the other four power-efficient Kryo 385 Silver cores work at 1.7GHz, and their architecture is based on ARM's Cortex-A55 design.
There is also a new Adreno 630 GPU, 30% more powerful than the Adreno 540 inside the Snapdragon 835. While earlier rumors seemed to give Samsung's Mali solution of choice a bit of an edge over the Adreno 630, the numbers we are seeing have them trading fierce blows, with the latter coming on top, more often than not.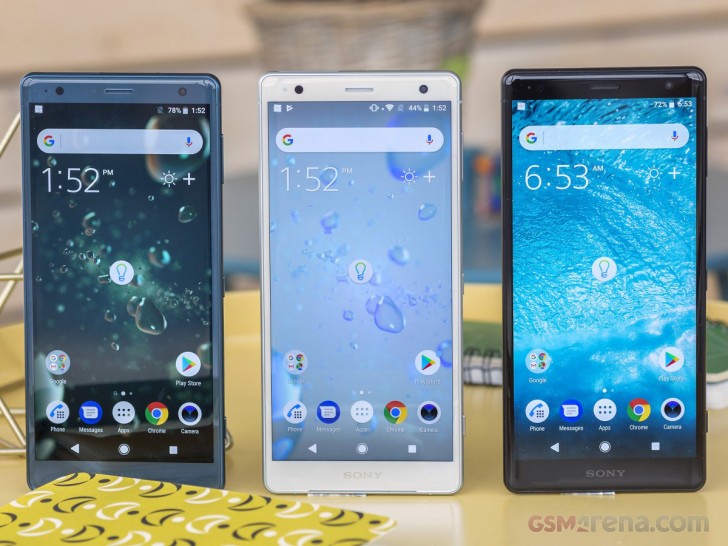 Of course, there are some other differences between the two chips as well, like ISP capabilities - where the Exynos 9810 has the upper hand, with 4K@120fps video capture capabilities. Still, the Xperia XZ2 brings a fair share of camera goodies and extra features of its own to the table, so the race towards consumer appeal is very much on. But, more on that in the camera section.
As far as connectivity goes, just like its Exynos rival, the Snapdragon 845 is decked out. It has a new modem - the X20 with 5CA and LTE Cat1.18 downlink of 1.2Gbps. Sony also threw GPS, Bluetooth 5.0, with aptX HD, dual-band Wi-Fi ac, NFC and a USB 3.1, Type-C into the mix. No FM radio, though, in case you were wondering.
With the specs out of the way, let's look at some performance numbers. Our usual warning does still apply though - synthetics are not necessarily representative of real-world performance. Nor are they an exact science and given the early nature of the new generation of chips, there is still a lot of optimization to be done, potential to be unlocked and proper testing scenarios to be designed. Plus, even though our selection of competing devices spans a couple of hardware generations back and all the way down to mid-range silicon, all of the devices on the list will still chew through any task you throw at them.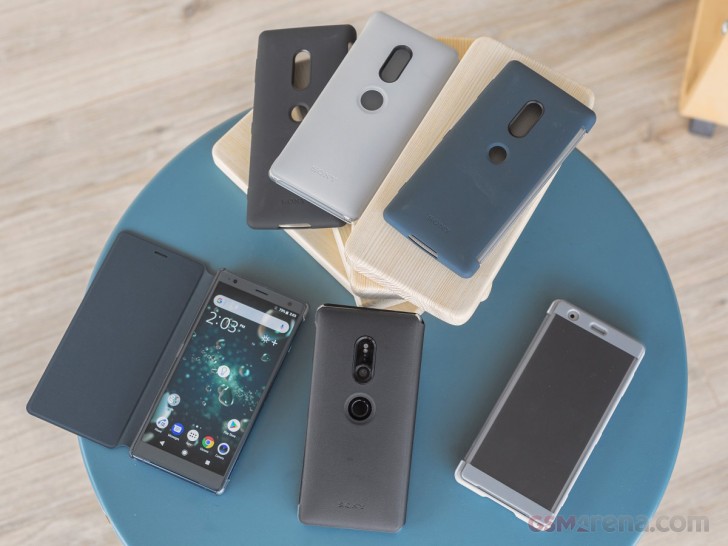 Kicking things off with GeekBench and some pure CPU number-crunching ratings, we can see the Snapdragon 845 fall just a bit short of its Exynos 9810 rival. Still, both chips command an impressive lead over the rest of the devices on the list. And some of them are expensive flagships, which are only a few months old. It seems ARM as a whole still has some impressive leaps forward in its development roadmap.
GeekBench 4.1 (multi-core)
Higher is better
Apple iPhone X
10215
Apple iPhone 8 Plus
10037
Samsung Galaxy S9
8830
Sony Xperia XZ2
8466
Samsung Galaxy Note8
6784
Huawei Mate 10 Pro
6783
OnePlus 5T (Oreo)
6759
Samsung Galaxy S8+
6754
Huawei Honor View 10
6738
Xiaomi Mi 6
6719
HTC U11+
6654
Motorola Moto Z2 Force
6629
ZTE nubia Z17
6622
Samsung Galaxy Note8 (SD 835)
6590
Nokia 8
6568
Sony Xperia XZ1
6541
Google Pixel 2 XL
6428
LG V30
6365
Samsung Galaxy S8+ (SD 835)
6301
Xiaomi Mi Mix 2
6234
Oppo R11s
5907
Sony Xperia XZ Premium
5460
Sony Xperia XA2
4215
Sony Xperia XA2 Ultra
4198
LG G6
4175
However, Apple remains the undisputed king of the hill when it comes to pure CPU prowess.
GeekBench 4.1 (single-core)
Higher is better
Apple iPhone X
4256
Apple iPhone 8 Plus
4232
Samsung Galaxy S9
3759
Sony Xperia XZ2
2454
Samsung Galaxy Note8
1987
Samsung Galaxy S8+
1986
OnePlus 5T (Oreo)
1974
ZTE nubia Z17
1966
HTC U11+
1939
Xiaomi Mi 6
1929
Nokia 8
1925
Xiaomi Mi Mix 2
1924
Motorola Moto Z2 Force
1915
Google Pixel 2 XL
1915
Huawei Mate 10 Pro
1902
Huawei Honor View 10
1902
LG V30
1901
Samsung Galaxy Note8 (SD 835)
1862
Sony Xperia XZ1
1840
Sony Xperia XZ Premium
1836
Samsung Galaxy S8+ (SD 835)
1832
LG G6
1767
Oppo R11s
1614
Sony Xperia XA2 Ultra
866
Sony Xperia XA2
865
Moving on to the compound benchmarks that take into account many other hardware aspects of its test subjects, we have AnTuTu 7. Once again, the Xperia XZ2 and Samsung Galaxy S9 find themselves neck to neck. This time around, however, Qualcomm takes the gold, and our hunch is, it might just have something to do with GPU performance.
AnTuTu 7
Higher is better
Sony Xperia XZ2
259244
Samsung Galaxy S9
250156
Huawei Honor View 10
212708
Nokia 8
210323
Motorola Moto Z2 Force
209779
OnePlus 5T (Oreo)
207072
Google Pixel 2 XL
203119
Samsung Galaxy Note8
201065
LG V30
182374
LG G6
158785
Sony Xperia XA2 Ultra
89110
Basemark OS 2.0 seems to favor the Xperia XZ2 even more. Still, the iPhone X aside, it's pretty much another cut-throat race between the rest of the flagships on the list. We are dealing with synthetic performance variances here that fade away form a real-life consumer standpoint. Instead, putting the pressure on developers, racing towards better optimized and more fluent user experiences.
Basemark OS 2.0
Higher is better
Apple iPhone X
4708
Sony Xperia XZ2
3859
Motorola Moto Z2 Force
3609
Apple iPhone 8 Plus
3601
Xiaomi Mi Mix 2
3578
Xiaomi Mi 6
3547
Nokia 8
3503
OnePlus 5T (Oreo)
3458
Huawei Mate 10 Pro
3425
Samsung Galaxy Note8 (SD 835)
3424
Samsung Galaxy S9
3382
Google Pixel 2 XL
3379
Samsung Galaxy Note8
3333
Samsung Galaxy S8+ (SD 835)
3319
Samsung Galaxy S8+
3298
ZTE nubia Z17
3281
HTC U11+
3257
Sony Xperia XZ Premium
3174
Huawei Honor View 10
3164
Sony Xperia XZ1
2986
LG V30
2705
Oppo R11s
2499
Sony Xperia XZs
2386
LG G6
2126
Sony Xperia XA2 Ultra
1548
Sony Xperia XA2
1545
Moving on the GPU tests, it's the Snapdragon's time to shine. Again, keeping in mind that most of these variances are hard to detect, if at all possible under real-world circumstances. Every good mobile game, worth its salt nowadays is so well optimized that you should be good with pretty much every flagship GPU solution for at least the average service time of a smartphone.
A lot is riding on OpenGL optimization in these tests, with some minor implementation details potentially skewing numbers one way or another. Staring with GFX 3.0 tests, we see the Xperia XZ2 pumping out around 10 frames more, on average, than the Samsung Galaxy S9 and almost 20 over the Huawei's Kirin 970-powered devices.
GFX 3.0 Manhattan (1080p offscreen)
Higher is better
Apple iPhone 8 Plus
85
Sony Xperia XZ2
82
Apple iPhone X
81
Samsung Galaxy S9
73
Huawei Mate 10 Pro
65
Huawei Honor View 10
65
Samsung Galaxy Note8 (SD 835)
63
ZTE nubia Z17
63
Motorola Moto Z2 Force
61
Google Pixel 2 XL
61
LG V30
60
Xiaomi Mi 6
59
Samsung Galaxy S8+ (SD 835)
57
Nokia 8
57
HTC U11+
56
OnePlus 5T (Oreo)
56
Xiaomi Mi Mix 2
54
Samsung Galaxy Note8
51
Sony Xperia XZ Premium
50
Samsung Galaxy S8+
50
Sony Xperia XZ1
49
Sony Xperia XZs
42
LG G6
41
Oppo R11s
23
Sony Xperia XA2
14
Sony Xperia XA2 Ultra
14
This is a trend which mostly carries over to the higher OpenGL ES scenarios as well. Of course, we are talking about on-screen rendering performance here, since looking at on-screen numbers introduces other variables into the mix, like the native resolution at which each device renders. This is especially hard to properly take into consideration with the different aspect ratios added on top. Plus, in GFX 3.0 test, at least, reaching the test's upper frame limit cap of 59fps is now a reality.
GFX 3.0 Manhattan (onscreen)
Higher is better
Sony Xperia XZ2
59
Apple iPhone 8 Plus
59
Apple iPhone X
59
Xiaomi Mi 6
56
ZTE nubia Z17
56
Huawei Mate 10 Pro
55
Huawei Honor View 10
55
Xiaomi Mi Mix 2
50
OnePlus 5T (Oreo)
50
Sony Xperia XZ1
48
Sony Xperia XZ Premium
47
Samsung Galaxy S9
45
Samsung Galaxy Note8
42
Sony Xperia XZs
40
Samsung Galaxy S8+
40
Motorola Moto Z2 Force
40
Samsung Galaxy Note8 (SD 835)
37
HTC U11+
36
Google Pixel 2 XL
36
LG V30
35
Samsung Galaxy S8+ (SD 835)
34
Nokia 8
33
LG G6
24
Oppo R11s
23
Sony Xperia XA2
15
Sony Xperia XA2 Ultra
15
With OpenGL ES 3.1 loads things get a little more interesting, not to mention applicable to current and future game engines. Here we can really see the Adreno 630 flex its muscles. Not only does it command a 10 fps lead over the Mali-G72 MP18 inside the Galaxy S9, but it also manages to outpace the Apple GPU inside the iPhone X.
GFX 3.1 Manhattan (1080p offscreen)
Higher is better
Sony Xperia XZ2
55
Samsung Galaxy S9
46
Apple iPhone X
44
Samsung Galaxy Note8 (SD 835)
43
ZTE nubia Z17
43
Samsung Galaxy Note8
42
Samsung Galaxy S8+
42
Motorola Moto Z2 Force
42
Google Pixel 2 XL
42
LG V30
41
Xiaomi Mi 6
41
OnePlus 5T (Oreo)
40
Sony Xperia XZ Premium
39
Sony Xperia XZ1
39
Samsung Galaxy S8+ (SD 835)
39
Nokia 8
39
Huawei Mate 10 Pro
38
Huawei Honor View 10
38
Xiaomi Mi Mix 2
37
HTC U11+
35
Sony Xperia XZs
32
LG G6
26
Oppo R11s
15
Sony Xperia XA2 Ultra
9.7
Sony Xperia XA2
9.6
Ramping up the test difficulty only seems to make this lead more apparent.
GFX 3.1 Car scene (1080p offscreen)
Higher is better
Sony Xperia XZ2
35
Samsung Galaxy S9
28
OnePlus 5T (Oreo)
26
Sony Xperia XZ Premium
25
Samsung Galaxy Note8 (SD 835)
25
Samsung Galaxy Note8
25
Samsung Galaxy S8+
25
HTC U11+
25
Motorola Moto Z2 Force
25
Xiaomi Mi Mix 2
25
Xiaomi Mi 6
25
Google Pixel 2 XL
25
ZTE nubia Z17
25
Sony Xperia XZ1
24
LG V30
24
Samsung Galaxy S8+ (SD 835)
23
Huawei Mate 10 Pro
22
Huawei Honor View 10
22
Sony Xperia XZs
20
LG G6
16
Oppo R11s
8.7
Sony Xperia XA2
5.5
Sony Xperia XA2 Ultra
5.4
Of course, it can be observed in on-screen performance numbers as well. But like we said before, looking at those is a double-edged sword that requires factoring in pixel counts and rendering resolutions as well.
Basemark X appears to tell the same overall story, although with what we can only assume is a bit of favoritism towards higher GPU core count, sprinkled in.
Basemark X
Higher is better
Sony Xperia XZ2
44097
Samsung Galaxy S8+
43862
Samsung Galaxy S9
42645
Samsung Galaxy Note8
40890
Huawei Mate 10 Pro
40232
Google Pixel 2 XL
39143
Motorola Moto Z2 Force
38615
Sony Xperia XZ1
38583
Xiaomi Mi 6
38541
Sony Xperia XZ Premium
38507
Xiaomi Mi Mix 2
38349
HTC U11+
38315
OnePlus 5T (Oreo)
38248
Nokia 8
37593
Samsung Galaxy Note8 (SD 835)
37211
LG V30
36704
Samsung Galaxy S8+ (SD 835)
34951
Sony Xperia XZs
33815
ZTE nubia Z17
33513
Huawei Honor View 10
33499
LG G6
30507
Oppo R11s
20914
Sony Xperia XA2 Ultra
14328
Sony Xperia XA2
14312
Of course, for the sake of fairness, we can's skip over the Basemark ES 3.1 / Metal numbers either. Mainly to illustrate how throwing Apple's Metal graphics API into the mix disrupts the poll positions quite a bit. Never underestimate the power of proper hardware/software optimization, especially when done on a closely monitored hardware and software ecosystem, such as Cupertino's.
Basemark ES 3.1 / Metal
Higher is better
Apple iPhone X
1854
Apple iPhone 8 Plus
1644
Samsung Galaxy S9
1456
Samsung Galaxy Note8
1268
Huawei Mate 10 Pro
1183
Sony Xperia XZ2
1176
Samsung Galaxy S8+
1111
Owing to the Snapdragon 845 chipset, the Sony Xperia XZ2 is one of the fastest phones available today on both CPU- and graphics-intensive tasks.
While playing the numbers game is good fun, the simple reality is that in real-world terms, the XZ2 is up with the best smartphones Apple, Samsung or Huawei have to offer. Plus, you can be pretty sure the Snapdragon 845 will stay relevant for at least a few years to come.
Fingerprint reader in backside. Xperia performance it was power/fingerprint button and side mounted. And Sony is implementing that configuration back, because it's most logical placing of a button.
Yes indeed it is very reminiscent of Xperia performed.. Looks design wise the same, only taller, little smaller bezels and power button removed just back.
if you need to compare this with the Samsung A9 ..... ?