Sony Xperia Z2 review: Action pack
Action pack
GSMArena team, 16 May 2014.
A 5.2" 1080p IPS display
The Sony Xperia Z2 comes with a 5.2" 1080p Triluminos IPS display, backed up by the company's X-Reality engine. We've already seen the X-Reality Engine in action on the Xperia Z1, so we know that it's clearly superior to most of the screens Sony has produced in the past. The IPS display is definitely welcome as it deliver superb viewing angles.
The pixel density breaks down to 424ppi, which is as good as it gets in terms of sharpness. No matter how closely you look, you won't be able to tell pixels apart and images will always look tack sharp (provided they have enough resolution in the first place).
A key area that has seen further improvement courtesy of the IPS display is viewing angles. Those have been a long-standing issue of all of the company's screens over the past few years, but they have been tweaked in the Xperia Z1 and they are now even better in the Xperia Z2.
The native display contrast of the Sony Xperia Z2 is somewhat less impressive as on the Xperia Z1 because the Z2's screen isn't as bright as its predecessor's. Colors are nicely punchy, but still fairly accurate. If you'd like a bit of extra punch to your images and videos you should enable the X-Reality engine, which is the successor of the Mobile Bravia Engine. It aims to improve sharpness, reduce noise, while boosting contrast and saturation, and it does a pretty good job of it.
Display test
50% brightness
100% brightness
Black, cd/m2
White, cd/m2
Contrast ratio
Black, cd/m2
White, cd/m2
Contrast ratio
Sony Xperia Z2
-
-
-
0.41
488
1195
Sony Xperia Z1
-
-
-
0.38
580
1513
Sony Xperia Z
-
-
-
0.70
492
705
Oppo Find 7a
0.33
280
842
0.68
580
852
Samsung Galaxy S5
0
274
∞
0
529
∞
Samsung Galaxy S4
0
201
∞
0
404
∞
HTC One (M8)
0.20
245
1219
0.46
577
1256
LG G2
0.10
149
1522
0.45
667
1495
HTC Butterfly S
0.15
165
1117
0.43
451
1044
Apple iPhone 5
0.13
200
1490
0.48
640
1320
The Xperia Z2's screen is more reflective than the Xperia Z1's, which means we got a lesser score in our dedicated sunlight legibility test. We tried the Xperia Z1 and Xperia Z2 side by side under direct sunlight and being noticeably brighter, indeed we found the Xperia Z1 screen easier to read and work with.
Sunlight contrast ratio
Nokia 808 PureView
4.698
Apple iPhone 5
3.997
Samsung Galaxy Note 3
3.997
Samsung Galaxy S5
3.549
Samsung I9300 Galaxy S III
3.419
Nokia Lumia 925
3.402
Samsung I9505 Galaxy S4
3.352
Samsung Omnia W
3.301
Samsung Galaxy S
3.155
Samsung Galaxy S4 mini
3.127
Samsung Galaxy S4 zoom
3.118
Nokia N9
3.069
Samsung Galaxy Note
2.970
Sony Xperia Z1
2.950
HTC One S
2.901
BlackBerry Q10
2.856
Samsung Galaxy S II
2.832
Samsung Galaxy S II Plus
2.801
BlackBerry Z30
2.790
Huawei Ascend P1
2.655
Sony Xperia ZR
2.672
Nokia Lumia 900
2.562
HTC One Max
2.537
Nokia Lumia 720
2.512
HTC One
2.504
Sony Xperia Z
2.462
Samsung Galaxy S III mini
2.422
HTC One (M8)
2.371
Motorola RAZR i
2.366
Samsung Galaxy Note II
2.307
Oppo Find 7a
2.279
Apple iPhone 4S
2.269
HTC Desire 600 dual sim
2.262
LG Nexus 5
2.228
HTC One X
2.158
Nokia N8
2.144
Oppo Find 5
2.088
BlackBerry Z10
2.051
Apple iPhone 4
2.016
HTC One mini
2.003
LG G2
1.976
Sony Ericsson Xperia ray
1.955
Sony Xperia Z2
1.944
Samsung Galaxy Camera
1.938
LG G Pro 2
1.922
HTC Butterfly
1.873
Huawei Ascend P6
1.865
Sony Xperia V
1.792
Sony Xperia U
1.758
Meizu MX3
1.754
Sony Xperia T2 Ultra
1.740
LG Optimus 4X HD
1.691
HTC One V
1.685
BlackBerry Q5
1.682
LG Optimus Vu
1.680
LG Optimus GJ
1.666
HTC Desire V
1.646
Samsung Galaxy Ace 3
1.622
Sony Xperia Z Ultra
1.578
Samsung Galaxy Core
1.563
LG Optimus G Pro
1.552
LG Optimus 3D
1.542
Samsung Galaxy Core LTE
1.542
Nokia Asha 302
1.537
Sony Xperia M
1.473
Nokia Lumia 610
1.432
Samsung Galaxy Grand Neo
1.393
Gigabyte GSmart G1355
1.361
Samsung Galaxy Grand
1.321
HTC Desire C
1.300
Nokia Asha 501
1.270
LG Optimus L7
1.269
LG Optimus L9
1.227
Meizu MX
1.221
Sony Xperia E dual
1.203
Samsung Galaxy Pocket
1.180
Sony Xperia tipo
1.166
Samsung Galaxy mini 2
1.114
The Sony Xperia Z2's screen may not earn it too many bonus point in today's market saturated with mind-blowing displays, but it's still a great unit and can't be held against the smartphone.
Hardware overview
There are the usual sensors above the 5.2" display, next to a 2.2MP front-facing camera. What's new is the stereo speakers, a nice addition to the flagship spec sheet, helping an immersive experience when watching videos or listening to music.
Each speaker is hidden underneath a very thin but elongated grille carved out of the front glass. The top speaker doubles as an earpiece and the LED notification light is integrated therein too.




The font of the Xperia Z2 and the notification light in action
The right side of the Xperia Z2 is very busy. In the upper corner is the microSIM compartment under its protective flap. Just below it is the signature power key, followed by a volume rocker. Finally, there is the two-stage shutter key.




Right side: microSIM card slot, aluminum power key, shutter key
The left side has the microSD card slot and the microUSB port under a protective plastic lid as well. Naturally, it should be properly closed if you want your Xperia Z2 to be dust and water proof. The lanyard eyelet is also around.




Left side: microSD card slot and microUSB port, plus the lanyard eyelet
The top of the phone holds the exposed but waterproofed 3.5mm audio jack and the secondary microphone allowing stereo sound in videos and keeping ambient noise out of calls. The primary mic is at the bottom of the Sony Xperia Z2.





The water-resistant 3.5mm audio jack is left exposed • same goes for the loudspeaker on the bottom
The entire back is covered by a scratch-resistant glass of undisclosed origin. One of the key features of the Sony Xperia Z2 - the 20.7MP camera lens - is in the top left corner. It's a 27mm wide Sony G lens with a fast F/2.0 aperture and the Sony Exmor RS backside illuminated (BSI) sensor.
If you were hoping for a more powerful LED flash, dual or a true-tone LED, you'll be disappointed. The Xperia Z2 uses the same tiny singe-LED flash we saw on the Xperia Z1.
Battery life test
The Sony Xperia Z2 is powered by a 3,200mAh Li-Ion battery - sealed under the sheet of glass, it's non-user-replaceable as usual. It's a bigger battery, the one in the Z1 was only 3000 mAh. We couldn't wait to do our battery test and find out whether the new Xperia Z2 can do better than its predecessor.
So, we did what we usually do and the Sony Xperia Z2 turned out an amazing performer. An overall rating of 89 hours was mostly down to vastly improved video playback and web browsing times. This means your Xperia Z2 will last just shy of four days if used for an hour each of video playback, calls over a 3G network and web browsing a day.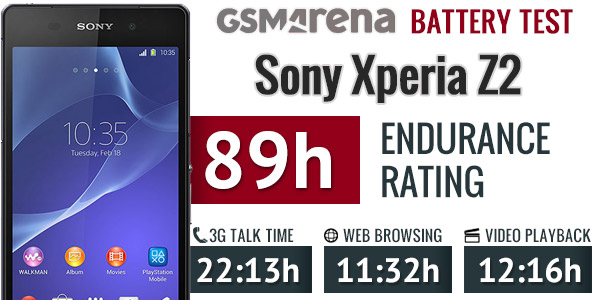 For a more detailed breakdown of the Sony Xperia Z2 battery performance check out our blogpost.
Our proprietary score also includes a standby battery draw test, which is not featured in our battery test scorecard but is calculated in the total endurance rating.
Our battery testing procedure is described in detail in case you want to learn more about it.
Im using xperia z2 since 2014 july. Such a wonderful phone and quality. Its really disappointing that sony is not selling smartphones in India.
i commenting with this phone which i had since 6 years, its even working perfectly🤘 i always making my phone in charging every night and playing games such as pubg, real racing 3, taking pictures in water etc. but sony still working&eth...