Spotify had a record 205 million premium subscribers at the end of 2022
Peter, 31 January 2023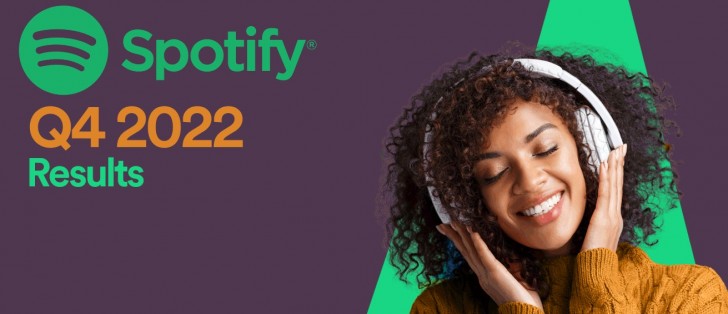 Spotify posted its financial report for the final quarter of 2022 and there is some good news and some bad news. First, the good news. It beat expectations and had 205 million paying subscribers at the end of the year, making it the first streaming service to cross the 200 million mark.
Its monthly active users (MAU) reached 489 million, this includes the subscribers using the ad-supported tier. For comparison, Spotify had 195 million premium tier subscribers at the end of Q3 last year and 456 million MAU. The addition of 33 million MAU was Spotify's largest-ever Q4 growth.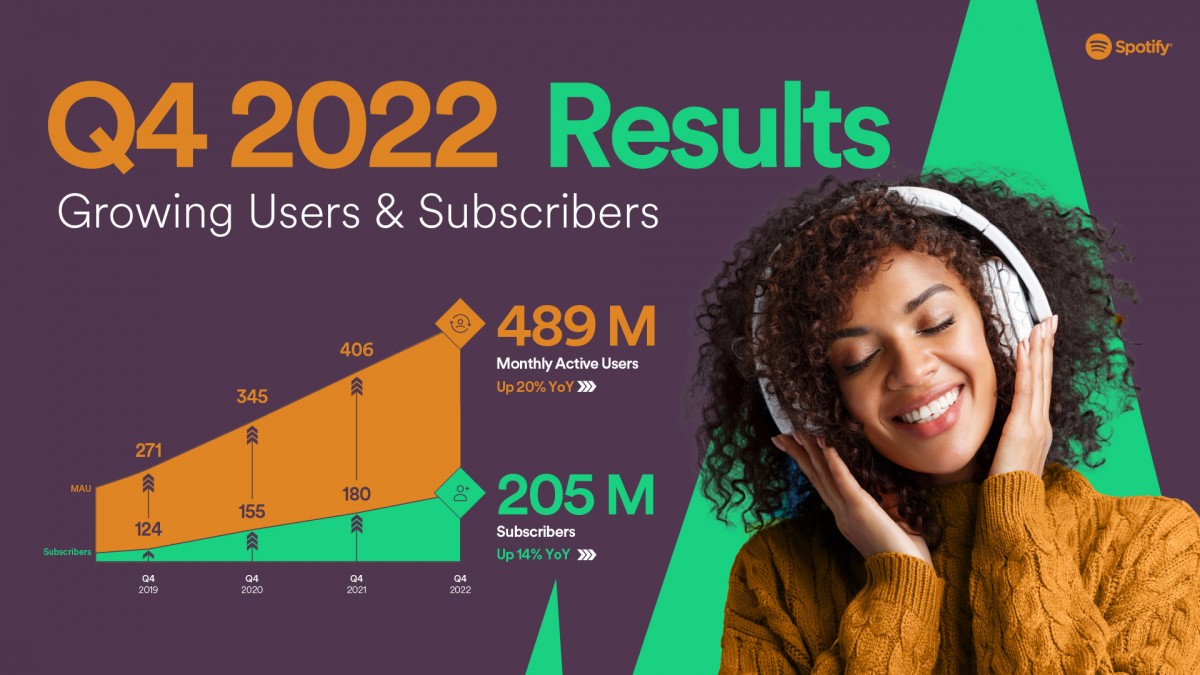 Now for some bad news. "We always knew that 2022 would be an investment year and 2023 will be a year where we would slow down the investments and thereby operating expenditure while revenue keeps on climbing," Chief Financial Officer Paul Vogel said in an interview.
The company expanded into podcasts and audiobooks, which incurred new costs. This led to Q4 loss to balloon from €39 million in 2021 to €270 million last year. This was attributed to higher advertising costs and hiring new employees – though last week Spotify announced that it would reduce its workforce by 6%, around 600 people.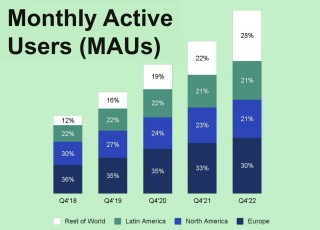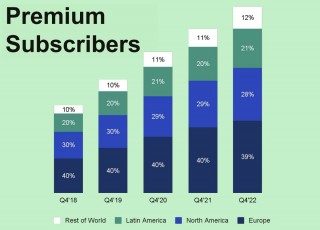 Breakdown by region: Monthly Active Users • Premium Subscribers
The total revenue for 2022 was €3.2 billion, up 18% year over year. of that €2.7 billion was from premium subscriptions. Entering the podcasting business is proving to be a wise decision as it is quoted as one of the reasons that Spotify's ad-supported revenue rose to €449 for the quarter.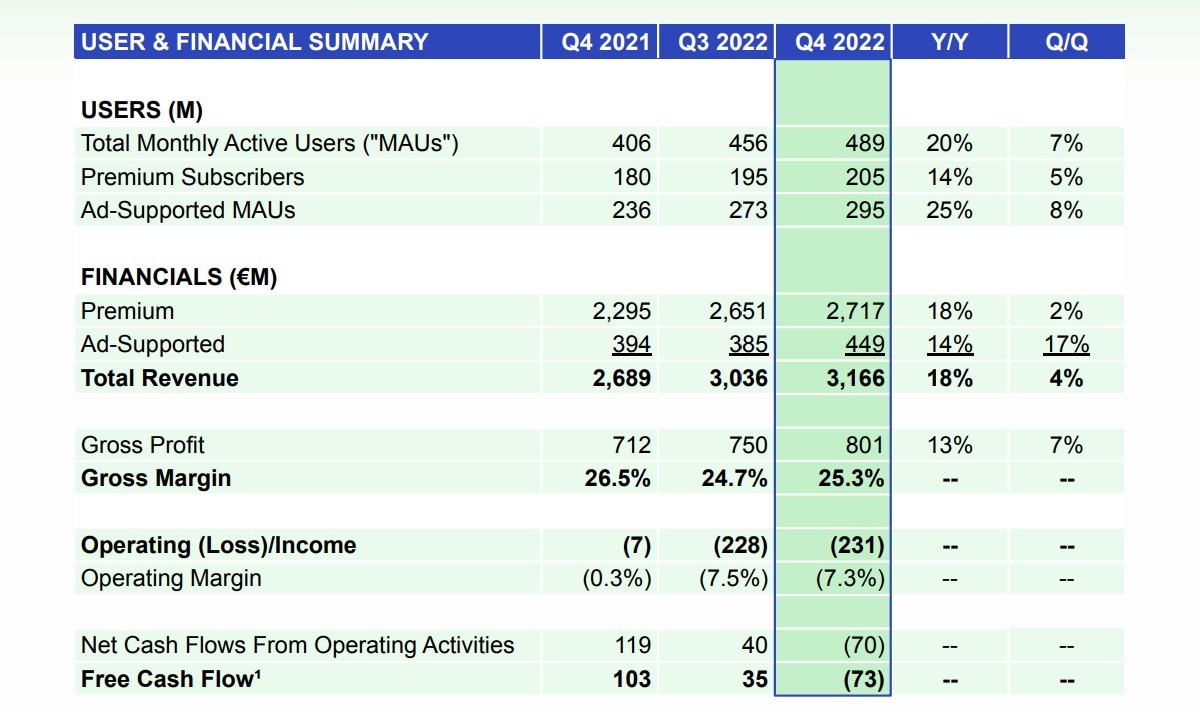 The company predicts that it will pass the half a billion users mark by March and that it will increase its premium subscribers to 207 million (CEO Daniel Ek explains that Q1 is always the smallest quarter in terms of growth for the company).
Looking to the future, the goal for this year is to reduce the operating loss. The goal for the next few years is to reach 1 billion users by 2030.
Here's one interesting note: the 8th annual Spotify Wrapped campaign drew in 150 million MAU, up 30% YoY, and covered 111 markets.
Related
It's the same for me since there are still a lot of places with almost no internet coverage in the first place. That is why I bought LG V50 and Huawei Mate 20 since they still got offline FM Radio support despite being flagship-grade smartphones...
yo i use spotify music on my LG W10 Alpha and i pay for it i hate commercials but they are part of the deal fair and square for providing entertainment to me at BBQ meetings for me which i pay for with my hard earned money so thats why ads dont bothe...
Avon Barksdale
04 Mar 2023
k%n
I like FM radio if I dont use apple music, FM radio works when my reception is bad and comes in so handy during winter storms i have a Samsung Galaxy A52 5G with FM radio when im not in my car/van or when im outside
Popular articles
Popular devices
Electric Vehicles