Sunday Q&A - Week 16
Chip, 23 April 2017
Hello and welcome to the Week 16 edition of our Sunday Q&A! This week we talk Galaxy S8, Sony Xperia performance and Xiaomi battery tests.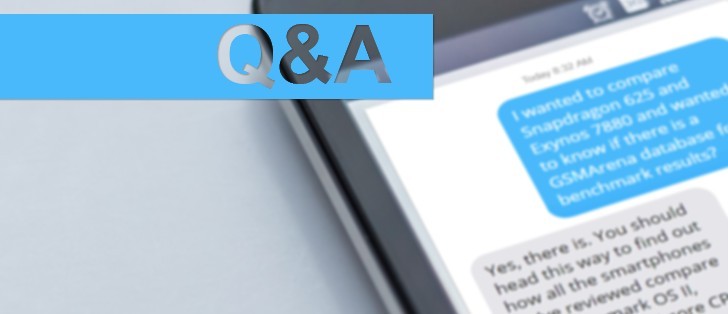 Peter: I am very much interested in buying the Xperia X performance dual (64 GB). I heard it is only for the Asian market - is that true? Can I use it in Europe?
The Sony Xperia X Performance dual is indeed mostly officially available in Asian markets, but some European retailers are importing it so if you are willing to pay a bit of a premium you can still have it.
Its penta-band 3G and quad-band 2G support mean it will work anywhere in Europe, while the LTE band support is mostly identical so chances are you will getting 4G from the same carriers as with the regular version.
That said, buying a unit not targeted to your market might cause some issues with the support of certain features as well as with the updates of the device. So know what you are getting yourself into.
Arjun: Is Sony Xperia C3 is waterproof or not?
An easy one this - there's no water-resistance rating on the Xperia C3 so you are better off keeping it away from water.
MShakir: Which phone has the most fans?. I understand that top 10 by fans ranking only lists phones no older than 18 months. Which is why I wish to know the phone with all time most fans on GSMarena.
Sony Xperia Z, Samsung I9500 Galaxy S4 and the HTC One are the top three in the all time chart.
DrearyDepp: With the launch of the new S8 and S8+, everyone is predictably going crazy over these 2 phones. On paper, however, these phones don't really seem to offer much in terms of upgrades over the S7 edge. The new generation has the exact same amount of RAM in the global versions as the previous generation; the screens look uncomfortably big and have an unusual aspect ratio that may not work properly with all apps; the camera, I believe, has the same sensor from S7 , the new chipsets, although faster than the older ones; do not offer any groundbreaking performance increase over the 8890/SD 821 and still lag behind the A10 in single core performance and last but not the least, the fingerprint sensor is in one of the most awkward places I've ever seen (People may argue that the iris scanner makes the FP sensor redundant but lets face it - it'll be years before iris scanners gain the same amount of popularity fingerprint now has).
Anyway my question is that in your professional opinion, judging from the specs on paper and your hands-on experience, do you believe that the S8/8+ will actually be prominent upgrades to an S7/S7 edge user? Or are they for people who have older phones, such as the S6/S6 edge?
There are many different aspects to that question. To get the older devices out of the way first - the Galaxy S8/S8+ are substantial upgrade over the S6 generation so if the price isn't an issue than it's an easily recommended upgrade.
Things are more complicated with the Galaxy S7 and S7 edge, although the S8 duo is certainly a step forward in terms of looks (that Infinity screen really takes things to another level). It also has a better low-light still camera, thanks to the new multi-shot stacking and finally the new chipset is a step forward over the old one if the SD820 was no slouch.
There are no huge issues with the usability of the overly tall screen (although the S8+ does cause some thumb stretching and grip readjustments) - in fact the fingerprint location is more of an issue.
Overall the S8 generation is certainly a notable improvement over its predecessor, but with that kind of price difference it's hard to recommend an upgrade unless you really have plenty of cash to burn. Or, you know, the desire to have the latest and greatest to exceeds your sensibility.
Chris: Does or does not, the Samsung S8 / S8+ have stereo speakers?
This one is far easier - no stereo speakers on either of the new phones.
Kerth: The Xiaomi Redmi 4 Prime and Xiaomi Redmi Note 4 which you have reviewed recently are both running the same Snapdragon 625 SoC, have the same battery size at 4100 mAh and sport the same screen resolution.
One would think that they would have the same battery endurance score with the Note probably scoring a bit lower due to a larger screen, however according to your battery test Note 4 has an 119h endurance rating with 34:40h 3G talk time, 17:56h web browsing time and 15:30h video playback time, while Redmi 4 Prime scores much lower with 91h endurance rating, with 29:15h 3G talk time, 20:00h web browsing time and 9:48h video playback time.
Could you please comment on this crazy disparity in battery endurance scores of these two handsets?
The results were somewhat surprising for us too, but they are what they are. There's more to battery endurance than capacity and chipset - screen technology, software optimizations and the way the decoding works for video or the rendering for web browsing all play huge part in that. And in this case Xiaomi did a strangely better job with one of their handsets than with the other. But then again that's what we are here for - if it was only about the specs we wouldn't need to do the test at all.
If you have any questions for us - you can send them by using the form over here.
Related
Excellent question about the Xiaomi battery endurance ratings. BTW the three smartphones with the most fans are all 2013 flagships.
Probably. But then maybe you should have seen what I said, 6 or 6.5 inches I said. I haven't seen mi mix in person, but it seems compact enough to sink in my palm
It'll be halved within a year.
Popular articles
Popular devices