TCL futuristic foldables hands-on
GSMArena team, 5 Mar 2020.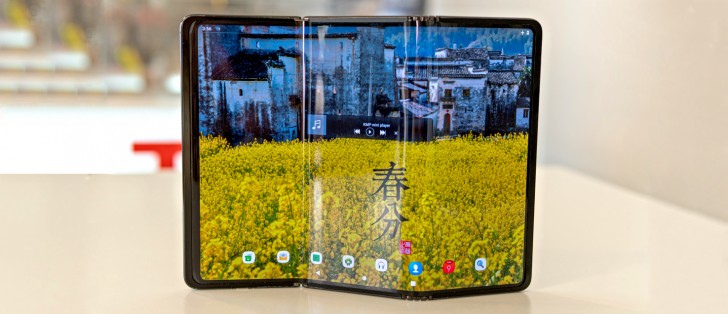 Tri-fold display concept
Moving on to TCL's more interesting and ambitious designs, we saw a dual folding concept on display. That is three separate pieces - one folding inwards, while the other - outwards. We've seen similar affairs in patent filings before, but never actually in person.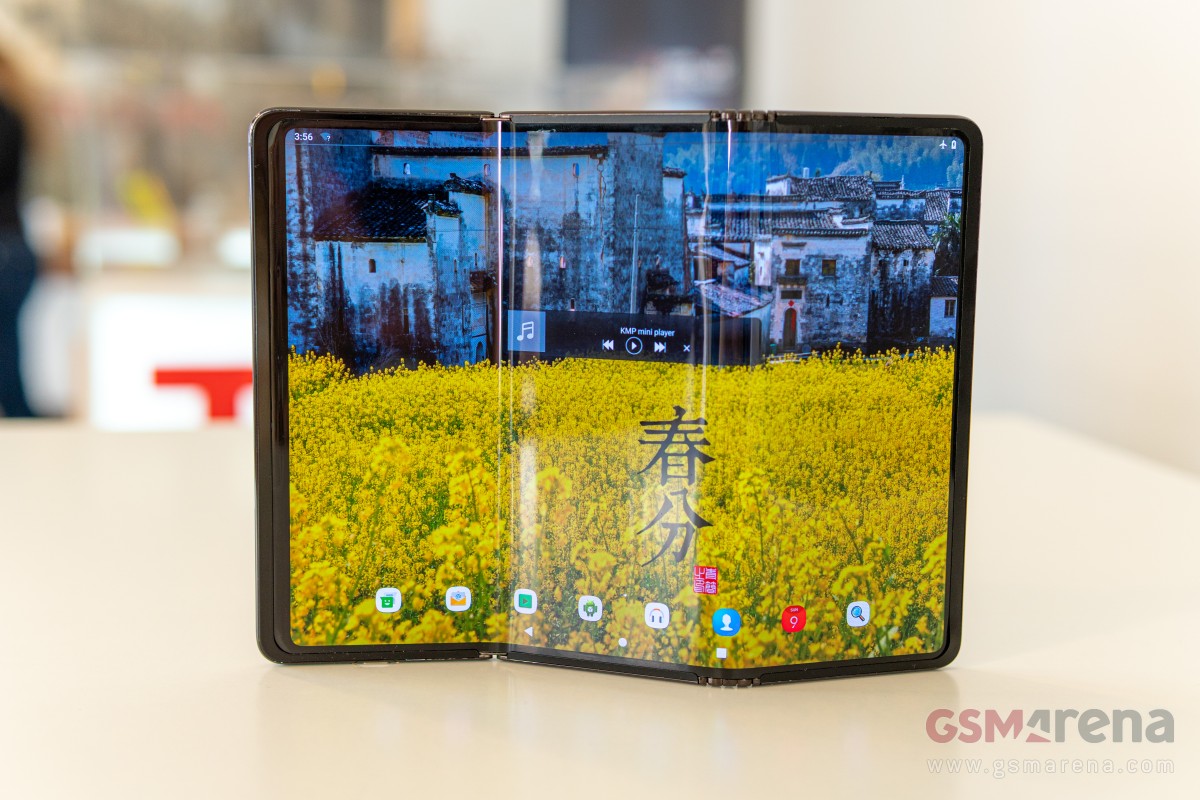 Debatable usability and durability arguments aside, it is still an impressive feat to see two very different hinge types in action on the same device. DragonHinge and ButterflyHinge, as per the company's own naming for the designs.
Unfortunately, we weren't allowed to fold or even touch this particular unit. Even though it appeared to be functioning, the company apparently still had reservations about letting us try out the hinges.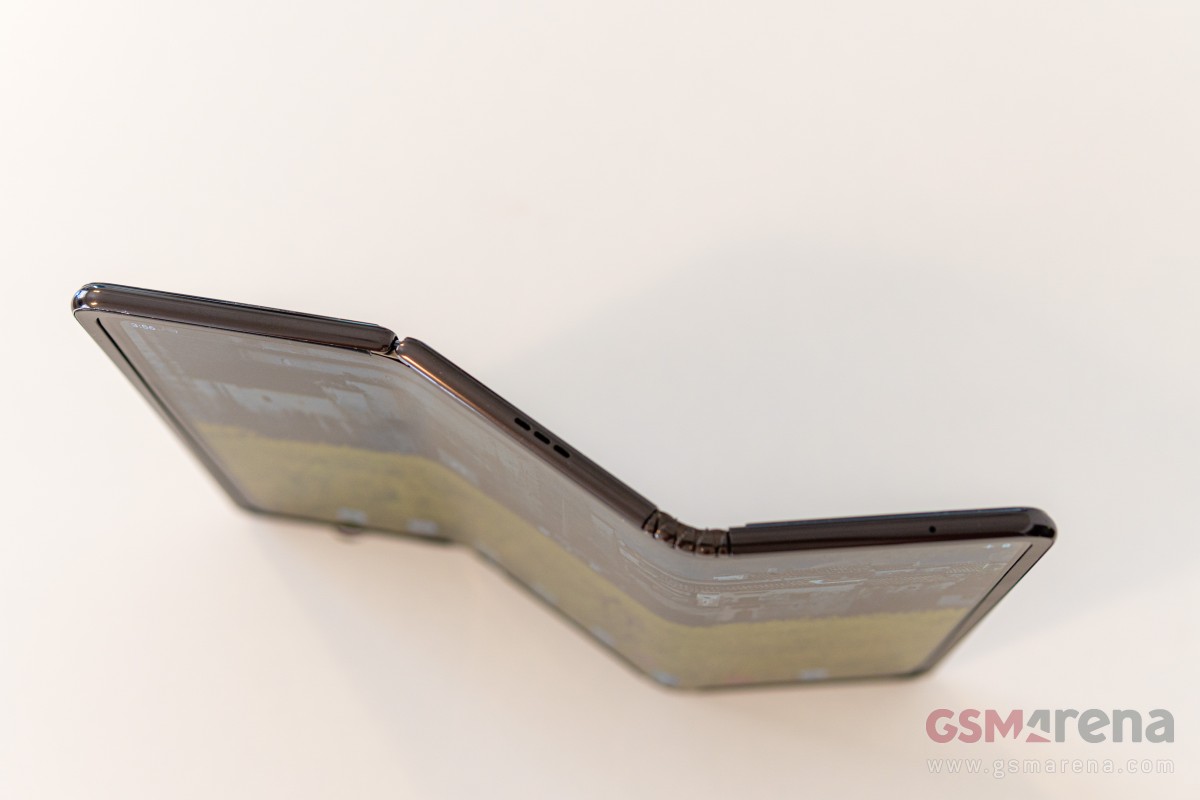 Adding an extra layer of confusion, this particular prototype was also the only one out of the bunch to come with a bit of hardware info. Not too much, mind you, but there was mention of a 10-inch AMOLED display with 3K resolution, in the unfolded state and 6.65 inches still usable when folded. Also, "smooth folding", "minimal gap", "multidimensional shine with 3D holographic finish" and last, but not least - "rigorously tested for durability". Apparently, that last bit did not apply for the particular unit, accompanied by a "Do not fold, please." sign.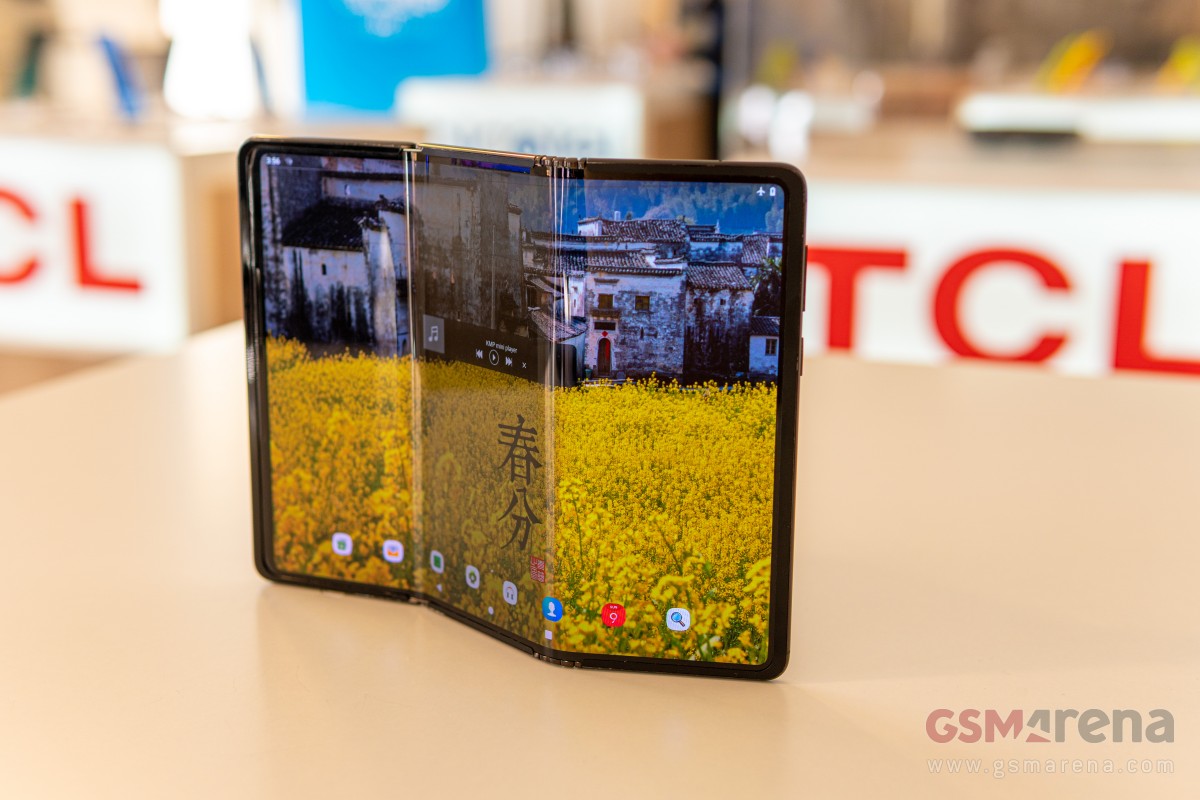 Roll-out display concept
We'll just preface this particular one by saying it's a dummy unit through and through. Plastic body and printed-out plastic display. Just in case the latter wasn't already obvious from the particular positioning on the front-facing selfie "camera" modules, which have ended up on the side curve of the "display".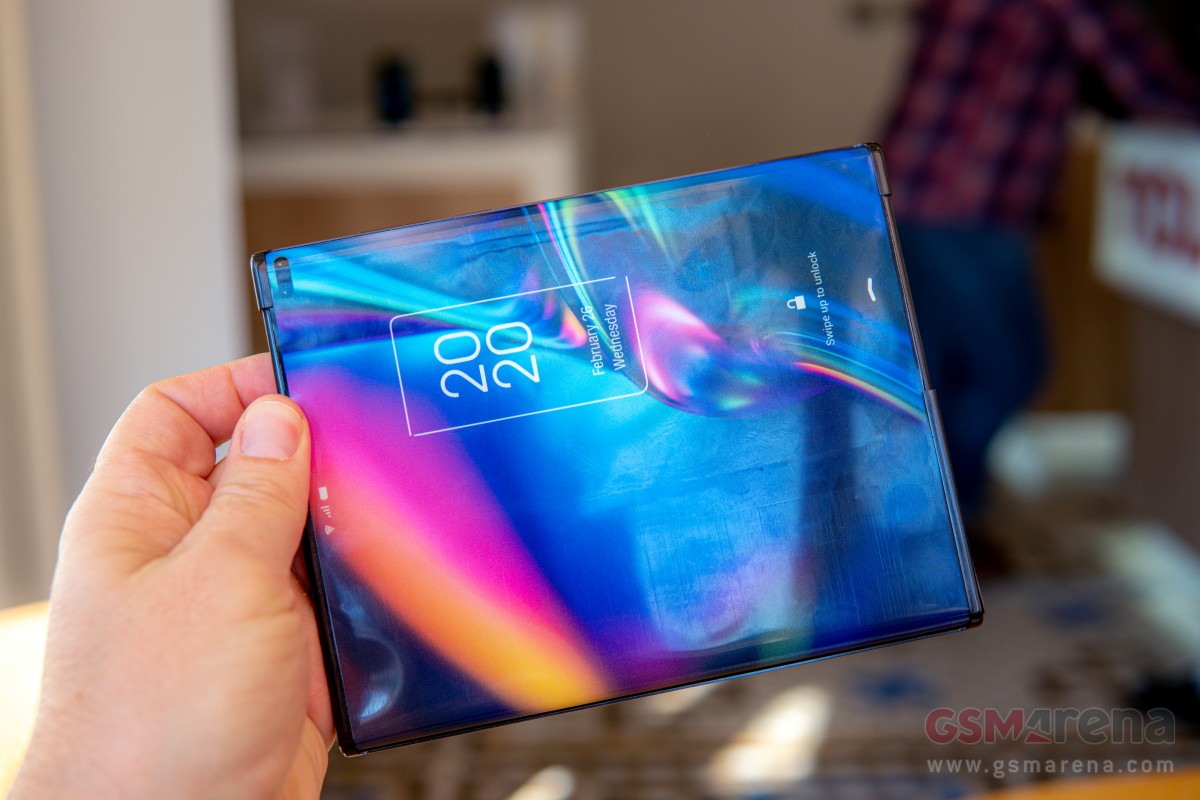 Even so, this is a design that is worth checking out, since, barring a couple of technological difficulties, it might just almost be within our reach from a pure technology standpoint. Looking at the dummy unit from the back side offers a slightly better understanding of what is actually going on.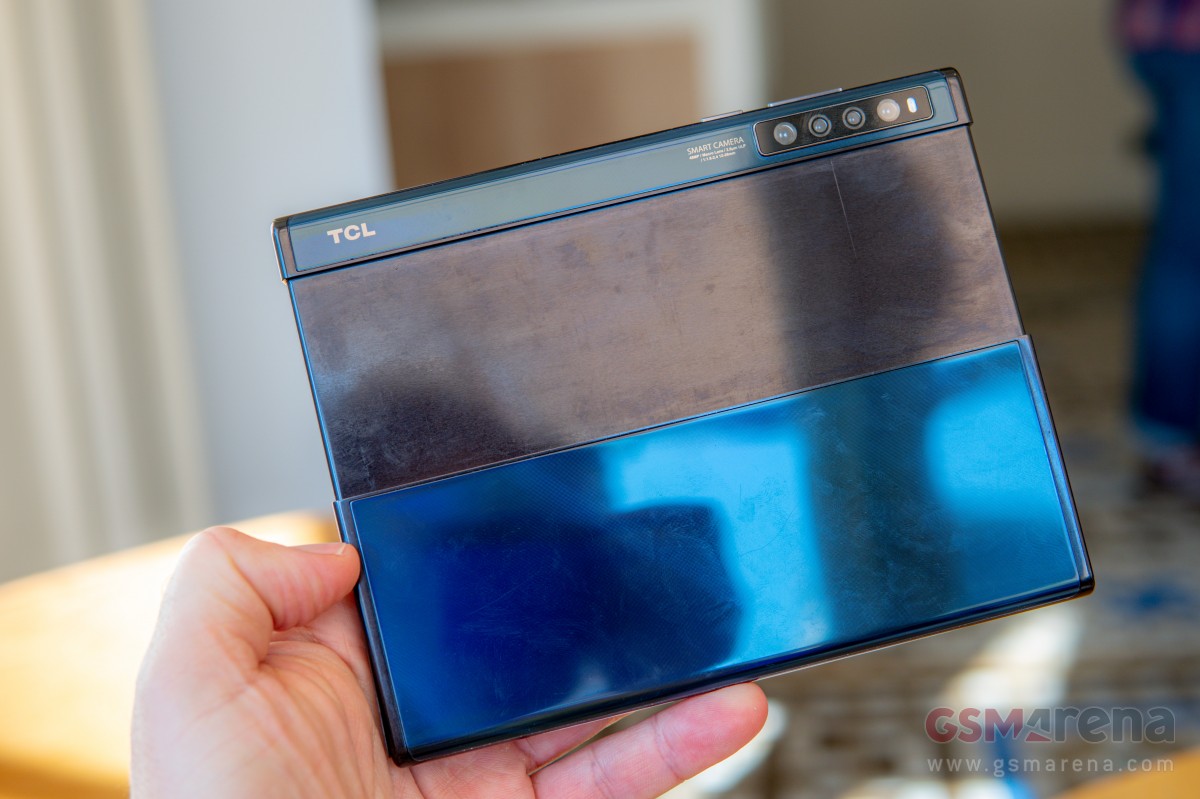 Imagine a wallet or a bookshelf, with the part housing the main camera array playing the part of the bank note or book, respectively. The idea is for that bit to simply slide down and inside the other segment of the body. When that occurs, it moves the panel down, changing its advertised usable size from 6.75 inches to 7.8 inches in diagonal.
The latter slips inside the same 9mm space, only at an angle and from the opposing side. That way, once folded-up, both the moving part and the display end up occupying the same space. Instead of rolling-up inside the space, the excess part of the display ends up mostly flat and slips underneath the now-retracted body of the phone at a rather odd angle.
We can't say this looks like a particularly efficient use of space. Quite the contrary. When you really think about it, it turns out that practically all of the internals of the phone need to end up inside the volume of the smaller, sliding part of the body. This, in turn, could create a major imbalance in pure weight terms. When the device is unfolded, you will likely end up with a very heavy half and a very light half. Not to mention that such a design will probably enforce huge space constraints on engineers.
On the flip side, the whole thing does look quite cool and futuristic. TCL's end-goal for the design is to have the sliding mechanism fully motorized and controlled by a sliding gesture inside the UI.
That would definitely push the whole design from cool to supremely cool. On the flip side, it does make us question the feasibility of the whole thing even more since that means you need proper guide rails and hefty motors on the inside as well. Still, TCL talks the big talk of advanced multi-tasking UI. Another major PR point is the reduction in display creasing, somehow facilitated by the design.
As for the dummy unit we got to handle, its slider, while functional, consisted of one plastic bit rubbing up against another. Sure, we did manage to "slide" it open and then close it back up neatly, but it required quite a bit of force and was anything but smooth.
Final thoughts
Again - very early concepts all around here from TCL. Nothing too spectacular, nor anything to really look forward to in the short term. Even so, we do appreciate the company's efforts, for a second year in a row, in showcasing what it is working on and the kind of products we can look forward to once foldable display tech starts picking up and becomes more mainstream.
Anonymous
08 Sep 2021
P$I
The design is unnecessarily flashy
ignorance
10 Dec 2020
0p$
Glass can't bend? Ever heard of optical fiber?