Tecno Spark 10 Pro review
GSMArena Team, 26 April 2023.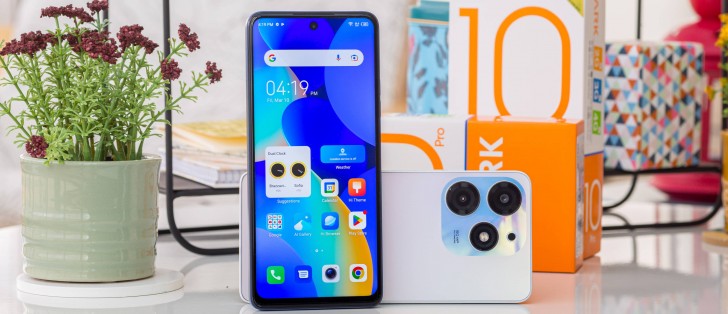 Display
The Tecno Spark 10 Pro employs a 6.8-inch large display of extended Full HD resolution and 90Hz refresh rate. It has a small punch hole for the selfie camera and is covered by a flat glass piece.
The panel is of the IPS LCD variety, and its actual resolution is 2,460 x 1,080 pixels or 395ppi.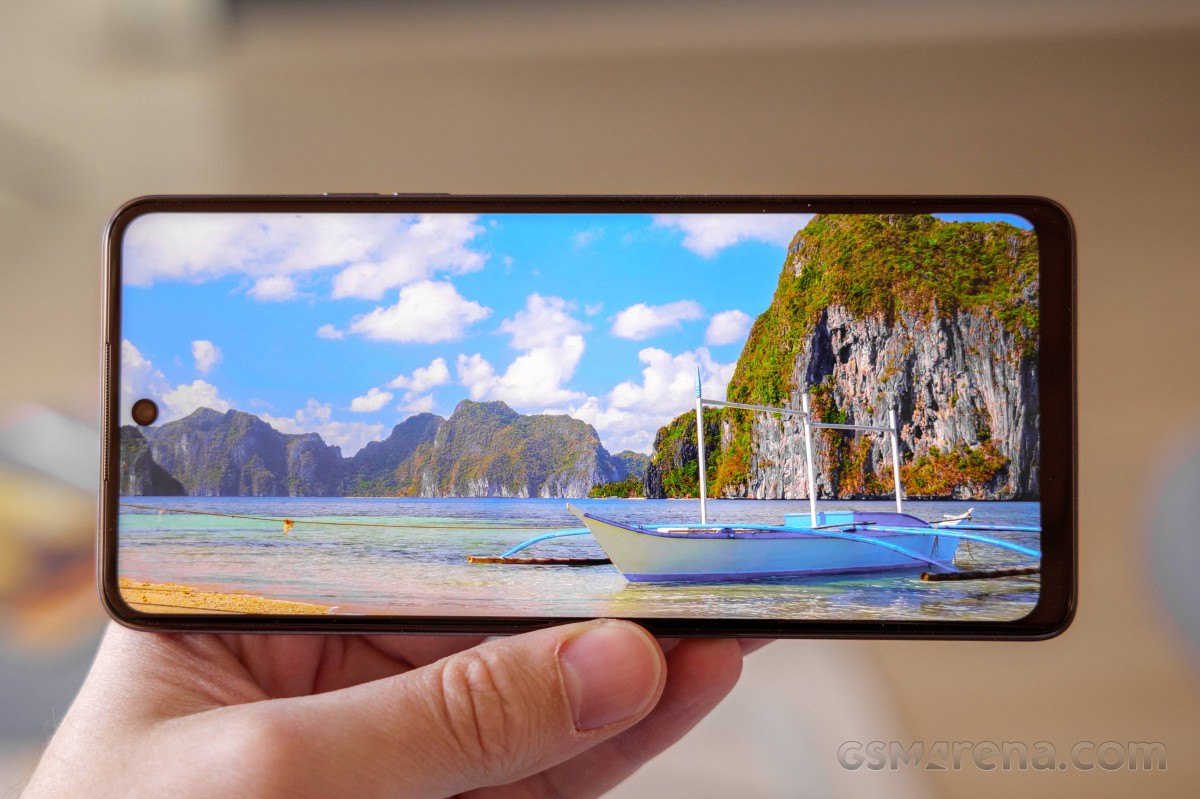 Let's talk about the brightness. When controlling it manually, we captured 466 nits at the far-right end of the slider. The minimum brightness was 4.7 nits.
There is a minor brightness boost when using the Auto Brightness mode up to 521 nits, but we were able to get this higher brightness once. It seems the longer we use the screen (and we are talking minutes, not hours), the lower the maximum brightness becomes, and it can even drop down to 350 nits or so.
Furthermore, we noticed some brightness adjustments happening even when using a fixed position - when opening an app, the screen would become a bit darker and then return to its supposed brightness. Weird.
The black level on this screen was superb, so the overall contrast ratio turned up excellent - 1991:1.
Max display brightness test
White test pattern, 75% fill (nits)
Sort by
Manual mode
Auto mode
Redmi Note 12 4G

744

474

Poco X5

728

456

Redmi Note 12

706

447

Realme C55

659

546

Realme 10

610

427

Moto G53

599

489

Tecno Spark 10 Pro

521

466

Xiaomi Redmi 10

477

396

Poco M5

448

402
The screen supports sRGB color space, and the only color option you will find as part of the Display Settings is Color Temperature. When using the default position, we saw a noticeable blue tinge, especially evident across white and grays hues. If you opt for a Warm(er) temperature, you will slowly replace the Blue tinge with a Red one. The color accuracy isn't terrible; it's more like mediocre.
The display supports up to 90Hz. There are three refresh rate settings - 90Hz, 60Hz, and Auto Switch.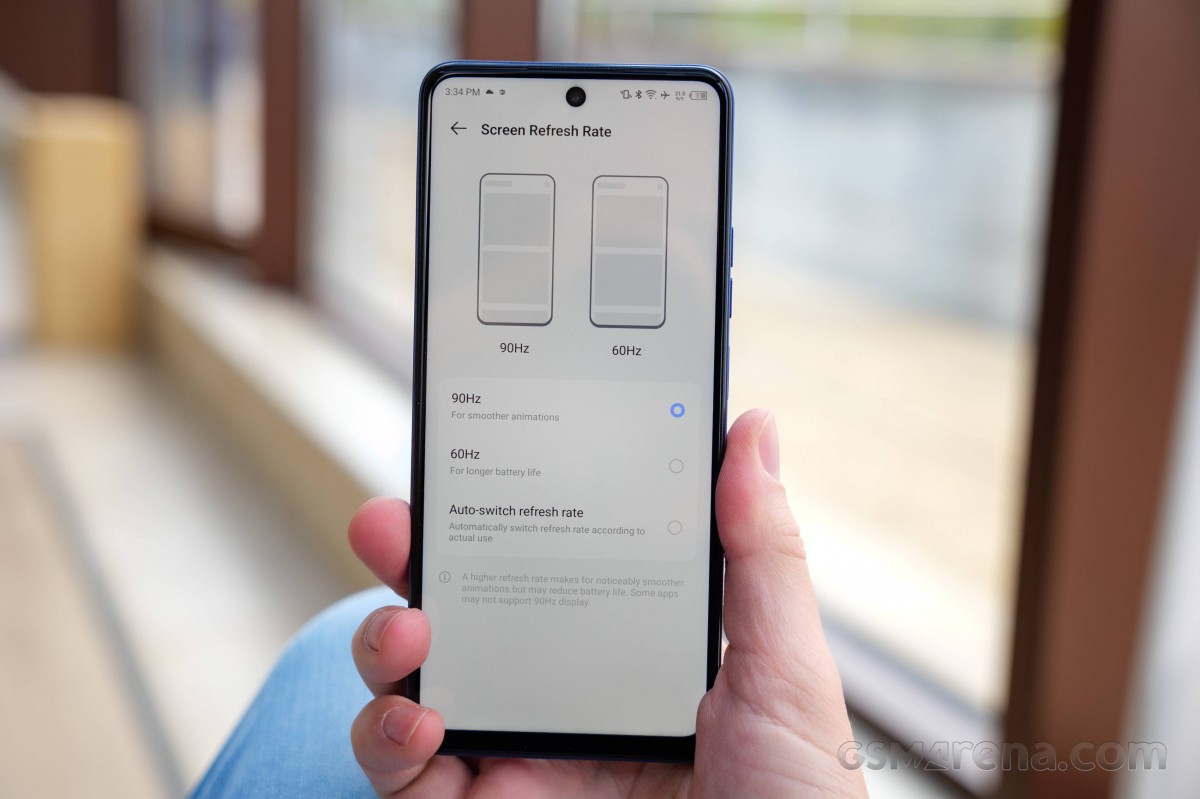 The Auto and 90Hz mode are dynamic of sorts. The UI drops the refresh rate down to 60Hz for static content and videos, no matter which option you are currently using. There is a slight difference when using the Auto Switch mode - the algorithm decides the refresh rate on an app basis - for example, some apps like video players and streaming run at 60fps instead of 90fps, and some web browsers, too.
Finally, the Spark 10 Pro supports Widevine L1 DRM and offers 1080p streaming across various apps.
Battery life
The Tecno Spark 10 Pro is powered by a 5,000mAh battery. We have completed our battery life testing, and the phone scored an outstanding 131 hours endurance rating. It did great across all of our tests - calls, web, video.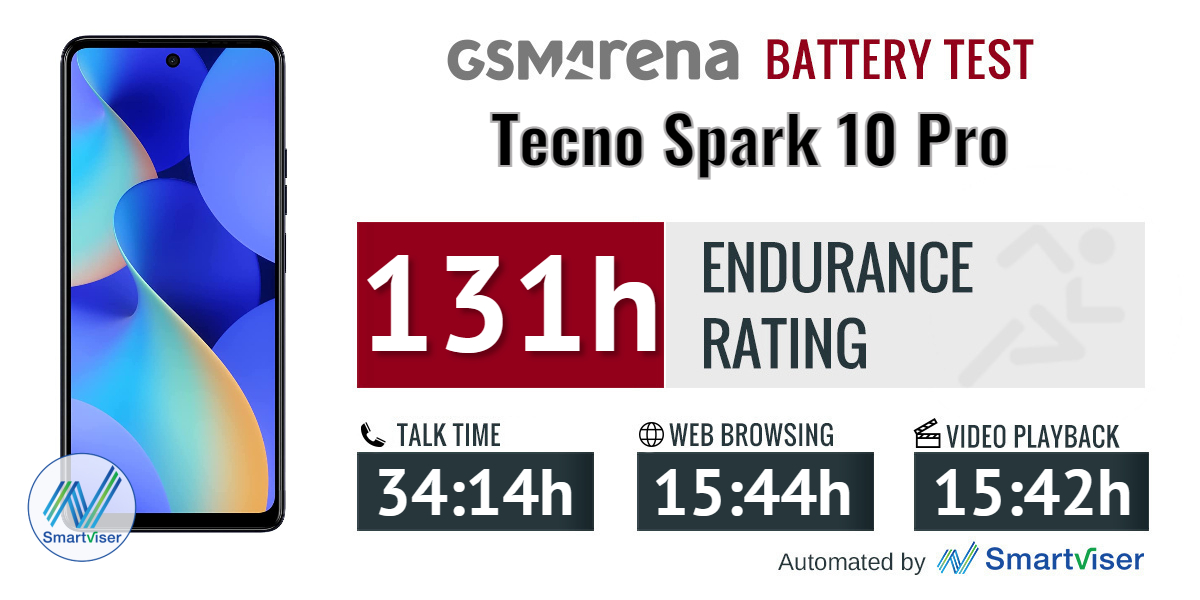 Our battery tests were automated thanks to SmartViser, using its viSerDevice app. The endurance rating denotes how long the battery charge will last you if you use the device for an hour of telephony, web browsing, and video playback daily. More details can be found here.
The standby consumption was incredibly frugal, probably boosted by His-imposed background restrictions.
Video test carried out in 60Hz refresh rate mode. Web browsing test is done at the display's highest refresh rate whenever possible. Refer to the respective reviews for specifics. To adjust the endurance rating formula to match your own usage patterns, check out our all-time battery test results chart, where you can also find all phones we've tested.
Charging speed
The Tecno Spark 10 Pro supports 18W fast wired charging, and a corresponding adapter comes bundled with the phone.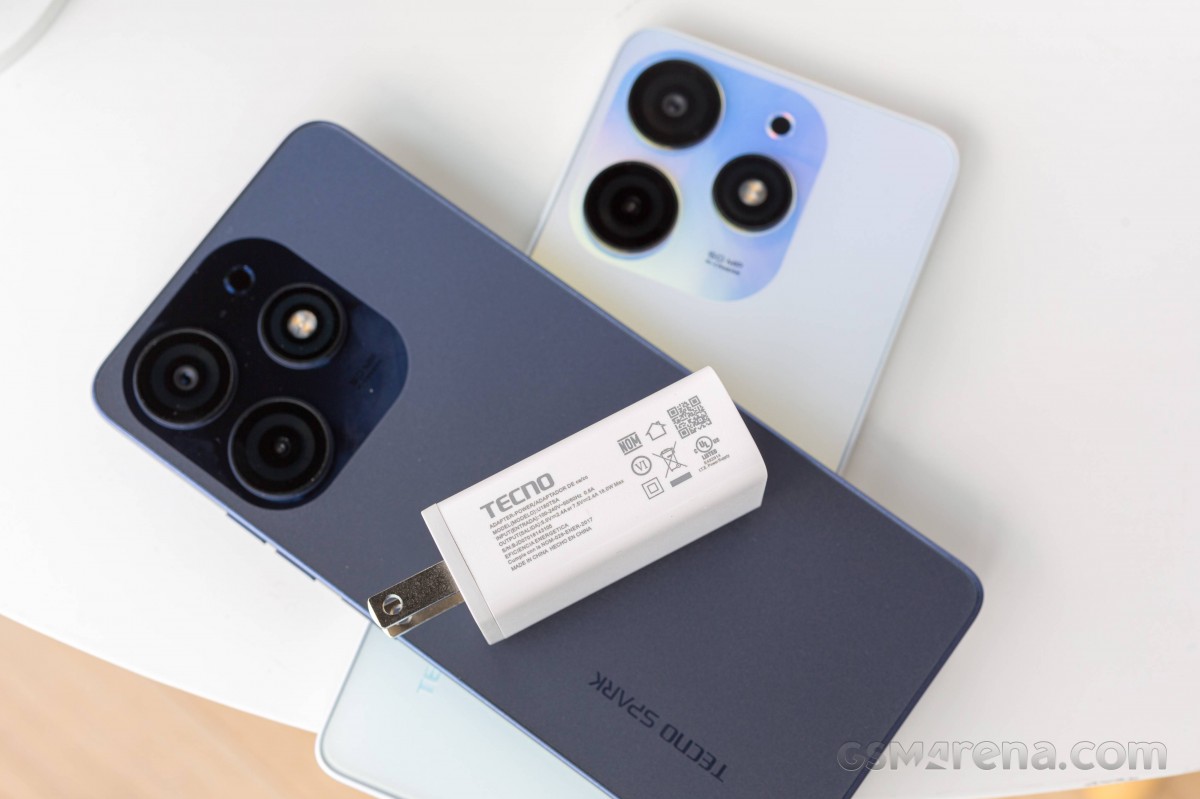 The 18W charger recharged 18% in 15 minutes and 35% in 30 minutes, which is quite slow overall.
15min/30min charging test (from 0%)
Higher is better
Sort by
15 min time
30 min time
Poco X5

63%

35%

Redmi Note 12 4G

55%

32%

Galaxy A34

51%

27%

Realme C55

50%

27%

Realme 10

48%

30%

Tecno Spark 10 Pro

35%

18%

Xiaomi Poco M5

24%

19%

Xiaomi Poco M5

24%

19%

Moto G53 5G

22%

12%
* Tap/hover over the device names for more info
A full charge took 1 hour and 48 minutes, not really fast either.
Time to full charge (from 0%)
Lower is better
| | |
| --- | --- |
| Poco X5 | 1:06h |
| Realme C55 | 1:09h |
| Redmi Note 12 4G | 1:11h |
| Realme 10 | 1:16h |
| Galaxy A34 | 1:24h |
| Tecno Spark 10 Pro | 1:48h |
| Xiaomi Poco M5 | 2:19h |
| Xiaomi Poco M5 | 2:19h |
| Moto G53 5G | 2:35h |
* Tap/hover over the device names for more info
Speaker loudness and quality
The Tecno Spark 10 Pro offers only one speaker, and it's at the bottom of the phone.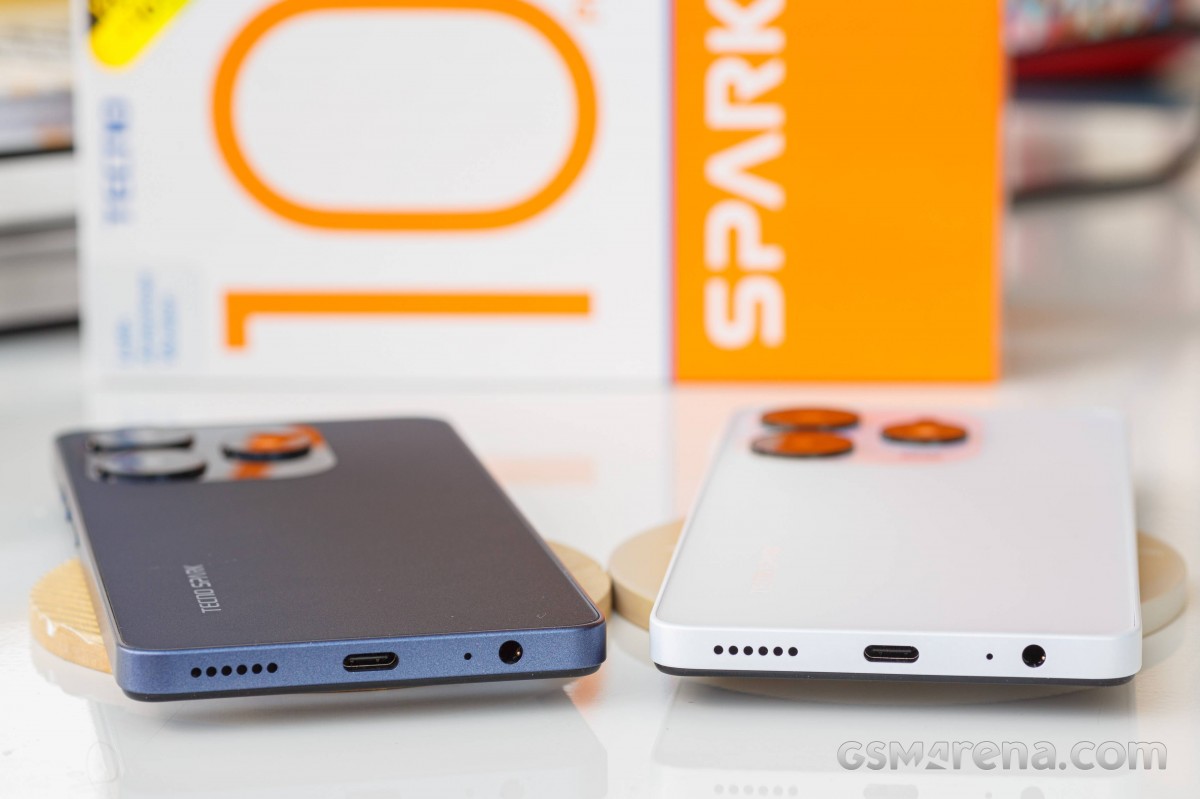 The speaker scored an Average mark for loudness in our test. Its audio quality is poor, though, with a focus on the high frequencies and lacking big time in low and mids.
Use the Playback controls to listen to the phone sample recordings (best use headphones). We measure the average loudness of the speakers in LUFS. A lower absolute value means a louder sound. A look at the frequency response chart will tell you how far off the ideal "0db" flat line is the reproduction of the bass, treble, and mid frequencies. You can add more phones to compare how they differ. The scores and ratings are not comparable with our older loudspeaker test. Learn more about how we test here.
Tecno spark 10 pro 8+8 gb Ram 256 gb rom bd prize
Anonymous
21 Nov 2023
XW%
What about speaker
I have a problem replying into calls on sim 2 . Do you think it answers 1 sim only