The OnePlus 8 phones will have an S865 chipset, LPDDR5 RAM and UFS 3.0 storage
Peter, 31 March 2020
OnePlus is committed to delivering a "fast and smooth" user experience. To achieve that, it needs the right combination of hardware and software, says CEO and co-founder Pete Lau in a forum post that talks about the improvements that the company's R&D team built for the upcoming OnePlus 8 phones.
They will be powered by the Snapdragon 865 chipset, no surprises here. The new chip promises 25% increases in CPU and GPU performance while reducing power usage by a quarter. It also has more power efficient video encoder and DSP.
The new chipset will be connected to faster RAM - LPDDR5. It can reach speeds of up to 6,400Mbps, up from the 4,266Mbps top speed of the LPDDR4X RAM inside the OnePlus 7T Pro. And it uses 45% less power compared to previous standards (presumably, Lau is talking about the even older LPDDR4 here).
The OnePlus 8 Pro and its vanilla sibling will use UFS 3.0 storage, just like the 7 and 7T series before them. OnePlus is promising read and write speeds of about 1,700MB/s as well as two new features that improve performance. Turbo Write will use the upper portion of the storage as a fast read/write buffer. Host Performance Booster will improve random read performance "after extended use".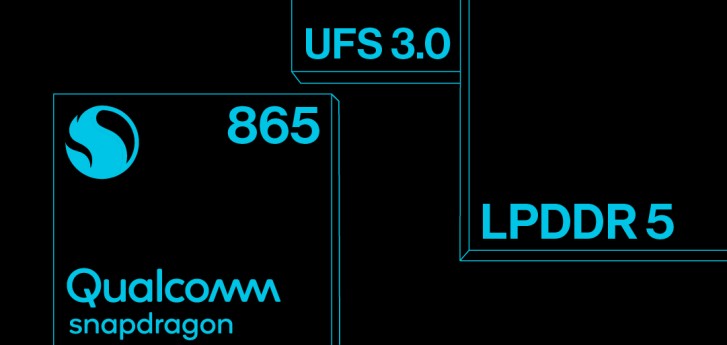 The CEO says good hardware alone doesn't cut it, so the company focused on optimizing software and "only adding the features that truly matter to you".
Previously, OnePlus officially confirmed that its flagships feature fast 5G connectivity and teased a 120Hz screen (rumor has it that this feature will be limited to the OnePlus 8 Pro). The OnePlus 8 series will be officially unveiled on April 14.
Related
Apple did all this for cash bro, to sell exclusive accessories under one more excuse. Don't you know Apple at all? Entire customer lobby knows who Apple are. Hell, they would even sell the selfie camera & bluetooth module separately, when custo...
Elthan STOP. Request not to spread any more misinformation. Apple intentionally stopped including analogue 3.5 mm audio jacks on their devices, as they found a way to earn more revenue by selling the 3.5 mm audio adapter dongles and headph...
Ok..the question you have for me, I do not want to answer about Redmi 3 and Samsung Galaxy s10. That's an insignificant question for me ...Ok The main thing you mean, is that the flagship audio jack is not heavy. That's true, but the size of the fl...