The Top 10 trending phones of week 26
28 June, 2015
Another week, another top ten chart summing up your interest in the devices in our database. Certain trends have started emerging, but it still never ceases to surprise us how huge a difference major news events, sales and launch promotions can make to the chart, often in unforeseeable ways.
The past week wasn't really that eventful in terms of new device announcements, but the rumor mill has been overflowing with intriguing stories, which have naturally stirred-up things in the popularity list as well.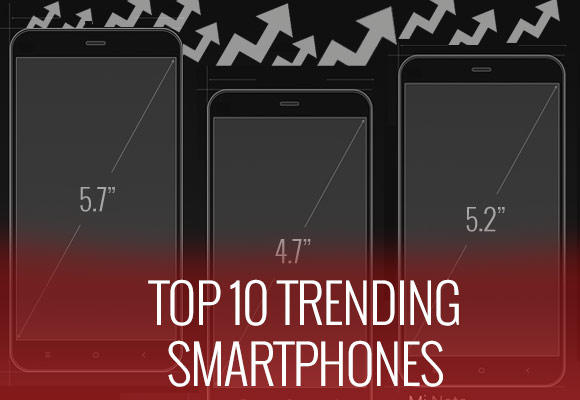 Starting at the top of the list, we once again find the Samsung Galaxy Grand Prime. The device has long been present on the list, but only recently did it manage to dethrone the long standing champion - Galaxy S6. Actually, this is now the third week in a row and with a difference of over 28000 hits between the top two spots, the budget phone takes home yet another victory.
While Samsung's flagship still sits at the runner-up position, followed by the Asus Zenfone 2 ZE551ML. At number four, we find a rather peculiar new entry in the face of the Xiaomi Mi 4. The year old handset has not only managed to appear on the chart out of nowhere, but has also shot straight to the reputable fourth position, just edging out the iPhone 6. This is quite an achievement and could perhaps be attributed to a recent price drop for the Mi 4 in India.
Going further down the list, we find the aforementioned iPhone 6, sitting where we left it last week. The Samsung Galaxy A5 and Galaxy S6 have switched places - sitting at sixth and eight position, respectively.
Right between them, at seventh place, we find yet another odd new entry - the Lenovo K3 Note. Also, not a frequent visitor on the chart, the phone has managed to pull off quite a performance to get all the way to number seven. But, again, we believe there is a logical explanation for this sudden spike in interest - namely the phone's recent launch in India with a sub $200 price tag.
The bottom of the chart once again holds some interesting and affordable devices. This week these are the Galaxy E7 and Galaxy J1. Again, out with the old, as the Galaxy S4 has vacated the ninth position it held last week.
Related
AnonD-1825
28 Jun 2015
p77
Haters keep iPhone alive they help in this kind of lists because they click iPhone 6 section everyday, iPhone 6 actually has very high daily interest and people talk about it every day. S6 active daily interest currently is at 16% which is very lo...
AnonD-335213
28 Jun 2015
vxk
I simply can hardly believe, that the fruit's iPhone 6 flex is still belong in this chart. Number 4 then, 5 now? wow! This spot should have been taken by either the awesome mighty Samsung Galaxy S6 Edge or the Galaxy S6 Active, which are by-all-means...
Popular articles
Popular devices
Electric Vehicles