Tidal adds support for its highest quality MQA preset on the iPhone
Prasad, 12 March 2019
Tidal has finally enabled the Master preset on the iPhone for those subscribed to its HiFi plan. This allows users to stream audio in the MQA codec. Although not all the music on Tidal is available in this format, albums available in MQA are denoted by the M or Master badge next to the title.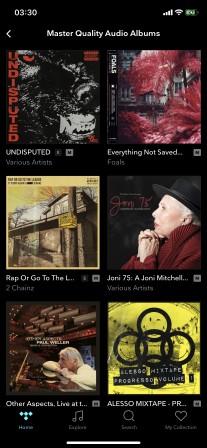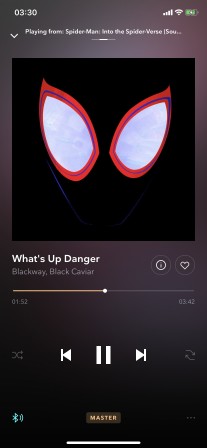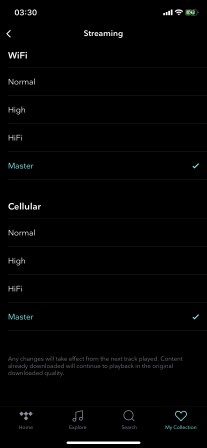 Master quality settings under iOS
The change was rolled out today in the latest update for the iOS app. Tidal also recently rolled out this feature to all Android phones in January. Before that, the MQA option was only available on the desktop app and a handful of Android devices, such as the recent LG phones with the quad DAC and the Essential Phone with the headphone adapter.
MQA stands for Master Quality Audio, which is a proprietary lossy audio codec created by MQA Ltd. The codec aims to have better than CD quality audio but with file sizes that makes it ideal for streaming than typical lossless audio.
MQA works by having different layers or "folds", as the company likes to call them. Even if you don't have a compatible decoder, the file will still play on existing devices and MQA claims it will still sound better than CD audio. After that, depending upon the level of your decoder, you will unlock further levels in the file, which will produce increasingly higher resolution audio.
In case of Tidal on iPhone and Android, the app itself handles the decoding so the device doesn't need to be compatible. You can, however, connect an external DAC and bypass the decoding to that.
MQA's claims of having studio quality audio have often been challenged by industry experts, as it is still a lossy codec so it cannot possibly have all the information that was present in the source by definition. Most even question the very reason to have codecs for high resolution audio, which as you may know, has a much wider frequency response, a higher bit depth, wider dynamic range and lower noise. However, so much of this is far outside the range of average or even above average human hearing that high resolution audio is nothing more than modern day snake oil. It's like claiming a TV is better because it produces ultraviolet light when your eyes can't even see that spectrum of colors.
In case of Tidal, you can still listen to everything in their HiFi preset, which streams in uncompressed FLAC that some would argue is actually better as it contains everything your ears can actually hear. Besides, most phone users don't have the equipment to make head or tail of either of these formats. If you are listening over basic earphones or Bluetooth headphones, it hardly matters which codec you choose.
You can read about the working of MQA here as well as an article here by the creator of Ogg Vorbis on why high resolution audio isn't all that it's cracked up to be.
Related
Nice. More features Tidal has for users. I like to use Tidal to stream the songs on my phone. With my premium account, I can save the songs for offline listening and use the Tidal Playlist Converter from DRmare to download the songs. I can then liste...
thanks for the suggestions dear friend, I totally appreciate it and it was an interesting DAP/DAC piece of technology. I do have enough knowledge in Audio category and i'm a some kind of audio nerd. I do believe that lg's quad DAC isn't the best av...
Popular articles
Popular devices
Electric Vehicles