T-Mobile launches Buy One, Get One free promo for Samsung smartphones
Vlad, 22 December 2016
Today T-Mobile has started offering yet another Buy One, Get One free deal for Samsung smartphones. Throughout the year, there have been quite a few of these, the latest last month. And now it's back.
The current deal is available until January 27 (which is the last day on which you can redeem your promo code). Participating phones are the Galaxy S7, S7 edge, Note5, S6, S6 edge, S6 edge+, and J7. Basically you can grab any one of these and get another for free.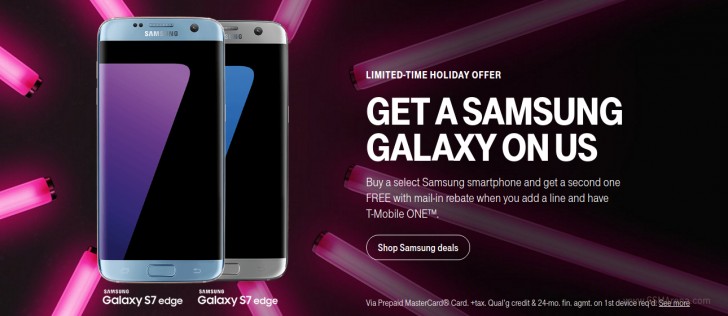 Caveats? Sure, there are plenty. First off, you must pay whatever you have to in order to get both handsets. After your purchase, you go to this special website and enter the promo code "HOLIDAYBOGO". Then T-Mobile will send you a prepaid MasterCard within eight weeks, and this will cover the cost of the second device.
While the deal is open for both existing and new customers, if you're among the former you can either be on a Simple Choice Unlimited plan and then add a new line to it in order to take advantage, or switch to the T-Mobile One plan for both your existing line and the one you have to add. New customers need to add two lines on T-Mobile One.
Related
how about note 7?can i buy one? :)
Only way to sell Galaxy phones nowadays is to give them away. Curse of the Note7!!
Popular articles
Popular devices