T-Mobile makes its international roaming passes cheaper, now covers 210 countries and destinations
Ricky, 17 July 2018
T-Mobile is making a couple of changes to its international roaming data pass pricing to compete against Verizon's. The carrier is also announcing that it is updating the number of countries and destinations that customers can roam to with unlimited 2G data and texting from 140 to 210.
T-Mobile's new data passes now include unlimited phone calls. Pay $5 and get half a GB that can be used in a single day and you can make as many phone calls as you want within 24 hours of purchasing the roaming pass. Remember that you don't need these passes to roam with T-Mobile. Data and text is included at 2G speeds while calls are now $0.25 a minute.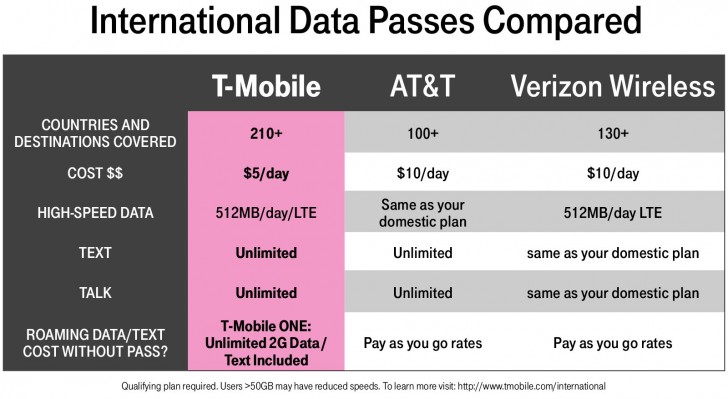 I was traveling in Europe myself for about a couple of weeks and was doing okay with 2G speeds. I did inquire how much it'd be to add high-speed data abroad and T-Mobile was asking for too much - $20 for 1GB that expired in one week. At that rate, it was just cheaper to buy a local SIM card for data.
These newer data pass rates are not as outrageous, I'd probably order them myself while I travel again. But while traveling for extended periods of time, I'd probably go with Project Fi for the value - $60 of high-speed roaming for up to 15GB, after that, it's $10 per GB or stay on 2G speeds.
In any case, these new rates go into effect on August 1 while the new roaming destination list will become effective on July 22.
Related
Here's a hint: download your maps offline before you travel. Or even do it where youre staying when you have WIFI. You should never need to rely on 2G to load maps when you travel.
soul4ever
19 Jul 2018
6rS
i from france i am using freemobile.fr and all world it give me 25 gb 4g internet and calling sms free and i pay for 100 bg 4g internet for 20 euro
Anonymous
18 Jul 2018
bH1
Trust me, I used Tmobile's 2G data outside of US. The speed is pretty much unusable, you cannot even open google map when you get lost.
Popular articles
Popular devices
Electric Vehicles