T-Mobile's latest ad campaign blasts Verizon's lack of 5G coverage maps
Ricky, 19 September 2019
T-Mobile has been known for launching ad campaigns in direct and blatant opposition of its competitors. The latest campaign is called "VerHIDEzon" which refers to Verizon's lack of a 5G coverage map. T-Mobile claims that Verizon charges more for 5G service, yet doesn't offer any way for customers to see exactly where they can expect service, particularly, a coverage map.
Something had to be done. @Verizon's been talking a big game about 5G, charging more for it and not even giving customers a map to find it. Hopefully all of NYC (and the rest of the country) now realizes @verHIDEzon = Verizon 👀

— John Legere (@JohnLegere) September 18, 2019
This is technically true – Verizon doesn't offer a traditional map of its 5G coverage - T-Mobile didn't mention that Verizon does offer a list of cities where 5G coverage is available with a list of locations within those cities, in addition to several NFL stadiums, where customers can find 5G.
If you really wanted to make sure Verizon 5G coverage is available, the carrier also lets you check whether your address is covered by 5G and lets you set up a notification in the event 5G does pop-up at your address.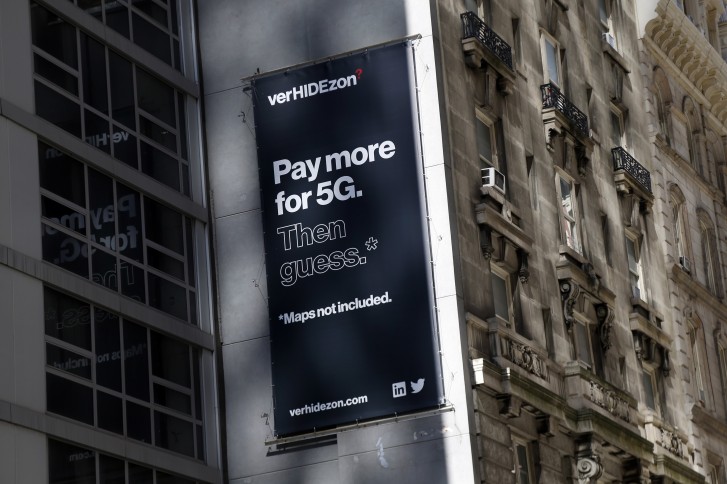 We do agree it would be nice to have a more detailed map with coverage strength. This could help anticipate whether 5G coverage could potentially be available indoors or only outside.
T-Mobile also took the opportunity to mention its plans to diversify its 5G network with high-band (mmWave), mid-band, and low-band spectrum – which would be possible should the controversial merger be approved by US regulators. T-Mobile also mentions it doesn't plan to charge its customers more for access to its 5G network.
I have to say that, personally, this isn't one of my favorite T-Mobile ad campaigns. It feels like T-Mobile is whistleblowing on a technicality. Besides, 'VerHIDEzon' doesn't exactly roll off the tongue.
Come on T-Mobile, you can do better.
Related
Asking for the 5G coverage and yet you didn't know that your phone is only 4G capability. Do research before you complain on your service provide why you're not getting 5G and your phone is 4G only.
Gsmarena I don't think this is being against Verizon as much as it's a plug for T-mobiles future merger. And it's good to see someone stand up against the Red giant. Has vzw shared any outline about moving pass mmwave? Last I heard they only said the...
Pay more for 5G then guess whether it has adverse health effects on humans or not.