Twitter posts impressive financial report for 2018
Yordan, 08 February 2019
Twitter had been in the red for many years, but in 2018 the tables finally turned. The company announced its Q4 and FY 2018 results and they look impressive. During the past 12 months, the platform made $1.2 billion in income, which is incomparable with the $108 million loss at the end of 2017. Revenue is $3.042 billion, $909 million of them in the last quarter which is a 24% increase YoY.
Twitter also revealed its userbase. The users that open the platform at least once a month are 321 million, which is less than any of the previous four quarters. Both International and US users declined on a yearly basis, but the monetizable daily users have grown, which is good news for investors. They are 126 million, of which 27 million are from the United States. The numbers have been steadily going up both on a quarterly and yearly basis.
Going back to the financial report, the breakdown of the Q4 revenue reveals $791 million came from advertising. There was also some data licensing that accounted for the $118 million. The income during the holiday period was $255 million, which is almost three times more than what Twitter made between October and December 2017.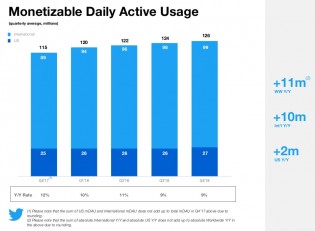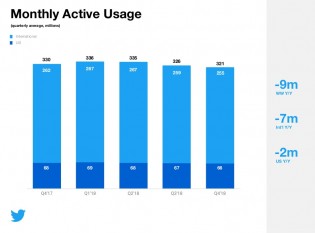 Daily and monthly active usage
Jack Dorsey, Twitter CEO, stated that the past 12 months prove the long-term strategy for improving health and optimizing features is working. The company introduced a switch in the mobile app where you can change between the Most Recent and Relevant Tweets, which was well accepted by users. It is also a bit of fresh air that you're not a cash cow, a feeling you get when you browse other social networks such as Facebook and Instagram.
Related
LOL i guess you get your info from CNN. Typical Lib**rd. I guess if i claim to be a martian that automatically makers me a martian. "Liberal" logic.
In what cave or alternate reality do you live in buddy? Liberals want freedom while fascists want other's people rights forbidden because their stupid religion or beliefs tell them so. Fascists are nothing but very well brainwashed sheeps with very...
Popular articles
Popular devices