Uber ditching fare estimation in favor of upfront pricing
Enrique, 23 June, 2016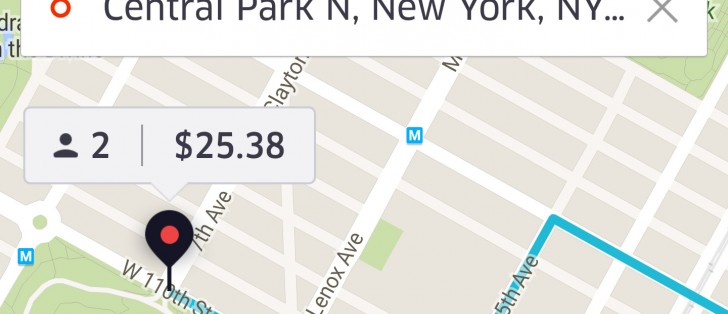 Uber has been rolling out an update that replaces the usual way a ride is calculated. Currently as of this post, Uber rides in NYC are calculated as follows:
Uber X (for 4 riders) Base Fare: $2.55
Per Minute: $0.35
Per Mile: $1.75
Minimum Fare: $8
Uber has been slowly rolling out this new upfront pricing model in Miami, New Jersey, New York, Philadelphia, San Diego, and Seattle with other cities in the US following soon. The price you see when requesting a ride will be the price you pay when your ride ends.
9.9x Uber surge here in Miami Beach right now... highest I've ever seen pic.twitter.com/oX0ZxftfI7

— Brian Stelter (@brianstelter) January 1, 2016
Uber's surcharge skyrocketed to almost 10 times the rate in Miami Beach on New Years eve
This pricing model is already being used when opting for the UberPOOL option. The cost of your ride is shown upfront before requesting a car and that's what you end up paying. Uber has seen the success with this model and hopes to see the same success with non-UberPOOL rides. (i.e. Uber X, Uber XL)
This new upfront pricing does change something though, Uber will no longer display a large badge with the lightning bolt, warning you of Surge pricing from high demand. You'll simply see a higher price than normal. If this price seems fair, you'd request it, otherwise you'd probably check back in a while to see if it goes down.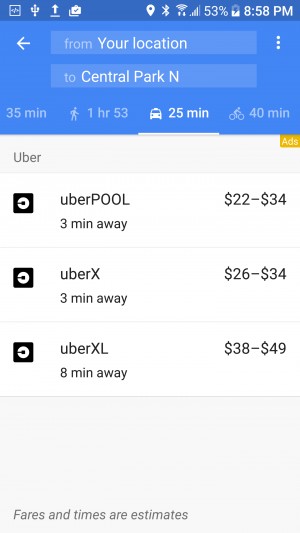 There is only one disadvantage that I can think of when using this pricing model. If you arrive to your destination and the address you inputted was incorrect, your Uber driver will have to drop you off right then and there since you agreed on the fare to that address. With the current model, if this were to happen, Uber simply keeps the meter running before ending the ride, much like a Yellow Cab does.
Uber hopes this will attract more customers as there are no surprise fares. Surely if a rider knew their ride would cost $28.48 VS "$26-$34" (my actual fare estimation to Central Park), they'd be more likely to request it.
Related
MajesticRD
24 Jun 2016
bam
I think is a wrong move, there are a lot of places missing on google maps, it'll be good if all of the places where properly marked on google maps.
Anonymous
24 Jun 2016
Hkt
That must be upon Uber to think of.
how does traffic come into play?
Popular articles
Popular devices
Electric Vehicles