Ulefone Armor 7 in for review
Victor, 02 February 2020
Since you find yourself reading this short introduction to the Ulefone Armor 7, which just tumbled into the office, we will assume you are either curious to see something different or are actually considering a purchase for one reason or another.
The Ulefone Armor 7 is actually one of the more viable rugged phones currently out on the market. The company's sales pitch for the Armor 7 seems to be leaning towards an active lifestyle, with plenty of sports and outdoor activities. And while that is a viable demographic, on paper, we kind of feel it is more wishful thinking from the PR department than anything else. In the real world, rugged devices really come into their own as professional tools, meeting very specific requirements and delivering a certain level of reliability and simplicity.
While there is still plenty of testing to be done on that end in the full review, straight out of the box, the Ulefone Armor 7 ticks more than a few boxes in this department. It is built like a tank, the IP68/IP69K and MIL-STD-810G certifications sound impressive, but actually holding the chunky beast for the first time offers a whole other level of confidence. The Armor 7 just feels solid through and through, even dense - hardly surprising, considering the ample amount of metal and extra plastic "padding" protruding from all sides.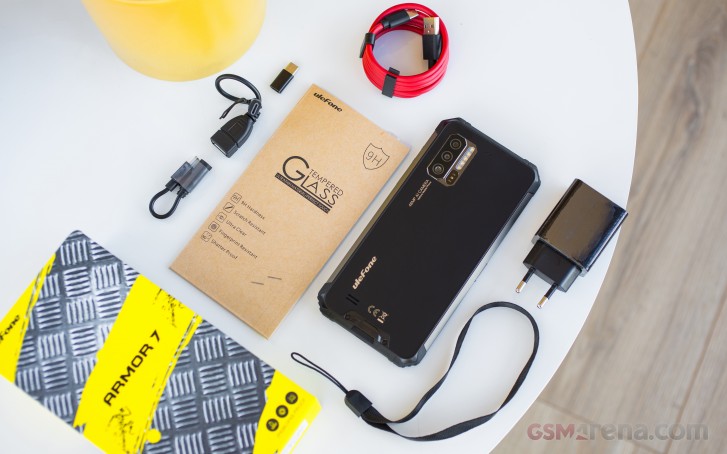 Plus, there is also the 5,500 mAh battery, which adds some weight to the already hefty package. The whole phone tips the scale at 290 grams, which is definitely something to consider.
However, once you cross a certain mental threshold, there seems to be an extra bit of design freedom we can appreciate. Like the ability to add a beefy lanyard hook on the back. The back is made of some kind of a plastic compound, which enables 10W Qi wireless charging support. And it's taking nothing from the ruggedness - the phone can withstand drops to concrete from up to 1.2 m.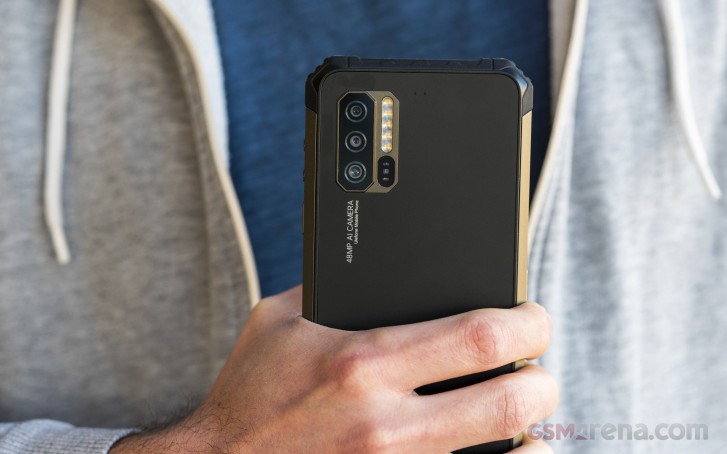 Surprisingly enough, Ulefone does not quote any familiar hardened glass vendor for the front of the Armor 7. The phone does, however, ship with a plastic protector pre-applied and a tempered glass one inside the retail box. So, at the very least, that should limit scratching on the display. The latter being a must-have feature in the types of environments the Armor 7 is expected to survive and dare we say even thrive in.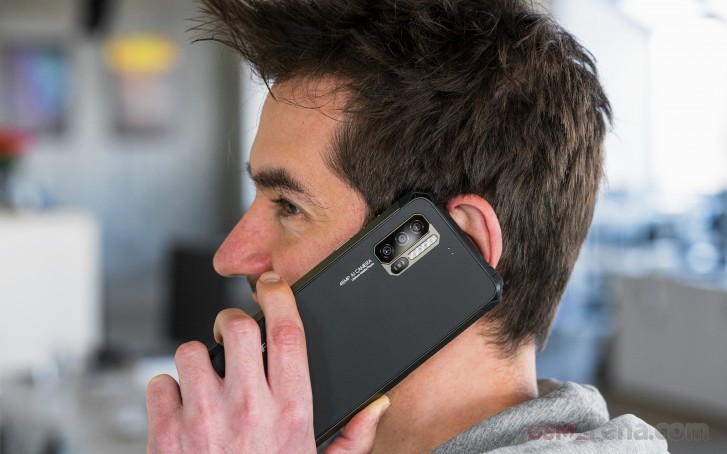 Besides the tough build there seems to be a lot of extra thought put into the usability of the Armor 7 in suboptimal conditions. Gloves are likely to be a daily occurrence for many Armor 7 units so it comes with glove mode to boost the sensitivity of the touch screen. The buttons on the phone themselves are also glove-friendly - big, well-defined, with plenty of travel and tactile feedback.
Then there is the Easy Key on the left side. A literal necessity for certain professional users, mainly intended for push to talk (PTT) applications. But even if you don't require a walkie talkie replacement, Ulefone still lets you remap the key for a total of three different actions - single, double and long press.
And that's hardly the only creature comfort the Armor 7 offers. The Helio P90 chipset and the IPS panel aren't the best around but in the rugged phone realm the Armor 7 shines as a pretty solid performer. Currently the flagship in Ulefone's lineup, it includes things like 8GB of RAM and 128GB of expandable storage, a solid 48MP+16MP+8MP triple camera, 15W fast charging with a compatible charger in the box and 10W Qi wireless support for the sizeable 5,500 mAh battery, NFC, fingerprint reader, heart rate sensor, baroceptor and even a coulombmeter.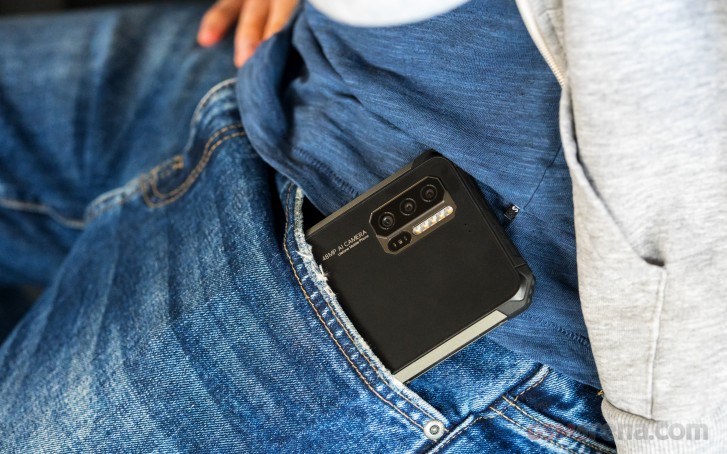 If we managed to spike your interest, you will be happy to learn that we will be putting the Ulefone Armor 7 through our rigorous review process soon. Stay tuned for a more in-depth look into one of the more impressive rugged phones currently out there.
Special thanks to GearBest for providing the review unit.
Related
I find that my Ulefone Armor 7 likes to just.. drop all its bluetooth pretty frequently, and turning airplane mode on/off gets it back... until then, it won't connect to anything, it won't see anything, it can't discover anything.. it&...
Since the V02 update, I've had a problem where the 4G indicator is on, but when I try use data it doesn't work. For example, trying to open a page in chrome results in "connection reset" error in Chrome. Voice and data work fine.
I just got this phone yesterday. I work construction and use Galaxy Buds plus at work. This phone's battery button gets pressed when I squat down and the phone restarts (cutting off my music until it reboots). How do I disable the power button b...
Popular articles
Popular devices