US prepaid customers to get Nokia C3 and Nokia 5230 Nuron
05 October, 2010
As the number of US prepaid customers grows on and on Nokia decided to offer them two of its affordable yet capable devices, the Nokia C3 and the Nokia 5230 Nuron. The QWERTY-enabled C3 is going to the prepaid customers of AT&T while the T-Mobile ones will get to enjoy the full touch 5230 Nuron.
Both devices have been on the market for a little while but now even the prepaid subscribers in the US will be able to get them. No signing contracts is needed - those two will be available in the AT&T and T-Mobile networks on prepaid terms.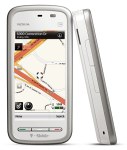 Nokia C3 for AT&T • Nokia 5230 Nuron for T-Mobile
The Nokia C3 (which we reviewed a few months back) is a compact and pretty affordable QWERTY-fied S40 feature phone with a 2.4" landscape QVGA display. It has Wi-Fi and Bluetooth support as well as a standard 3.5mm audio jack and a 2MP fixed-focus camera.
The Nokia 5230 Nuron (follow that link to get to our 5230 review) on the other hand is a Symbian-powered full touch smartphone packing 3G and Bluetooth connectivity and an inbuilt GPS receiver. It lacks Wi-Fi support, though.
The Nokia C3 for AT&T will cost you 80 US dollars (less than 60 euro) and can already be found over at the Wal-Mart stores across the country while the 5230 Nuron is priced at 130 US dollars (95 euro).
Related
ajay chandel
24 Feb 2011
utv
maybe u have confused ;.nokia c3 is a wifi fone.search connection network with wifi option. or contect to ur service provider. read nokia book witch that with ur nokia mobile.
yes .boaring mobile 5230 its hang very much .........nokia mobile is bad
Sweet Elise
08 Jan 2011
t7X
wel they'r cheap phone in the US! but the Nokia C3 thats locked from AT&T was no wifi/wlan! yes check it! but the specs of C3 says that have wifi/wlan! im very dissapointed!
Popular articles
Popular devices
Electric Vehicles