Verizon's Galaxy S10 5G is available now, Sprint's LG V50 ThinQ 5G goes on pre-order
Vlad, 17 May 2019
Today is a pretty big day for 5G in the US. Verizon's version of the Samsung Galaxy S10 5G has become available, while Sprint will start taking pre-orders for the LG V50 ThinQ 5G and the HTC 5G Hub.
Verizon Samsung Galaxy S10 5G
The Galaxy S10 5G is, for now, exclusive to Verizon in the US, with the carrier offering it in two colors: Crown Silver and Majestic Black, the latter of which will stay exclusive to Big Red forever. If you want to purchase one, you get two storage options: the model with 256GB comes in at $1,299.99 full retail pricing, while if you want 512GB of space you'll need to shell out $1,399.99.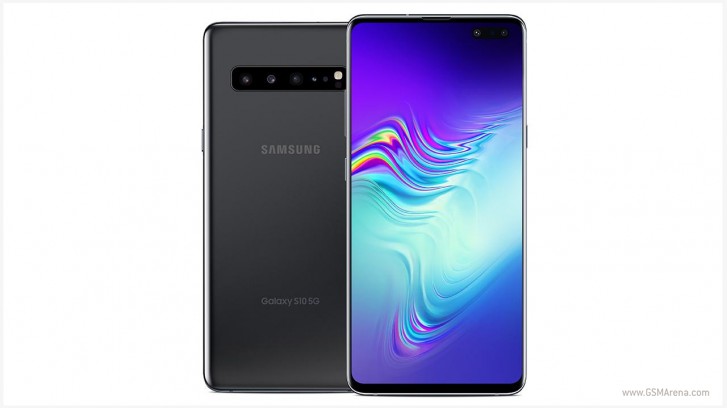 If you'd like to use installments, you can pay $54.16 or $58.33 per month, respectively, for two years. Remember - that only includes the phone. To get 5G service there's normally a $10 access fee, which is waived for a limited time. Additionally, you need to be on an Above or Beyond Unlimited plan - both of which include unlimited 5G data, hotspot and 4K video streaming when you are in 5G coverage areas - which means select areas of more than 30 cities by the end of this year.
To make the S10 5G's price more palatable, Verizon has a trade-in offer which could shave up to $450 off if you have an eligible smartphone to give. On top of that you can get an additional $200 on a prepaid Mastercard if you switch to Big Red, purchase the S10 5G on device payment and sign up for Verizon Unlimited.
Sprint LG V50 ThinQ 5G
Sprint's LG V50 ThinQ 5G is priced at $24 per month with $0 down with its Flex lease scheme, which is 50% off for a limited time. Note however that this is an 18-month lease and the full price of the handset is $1,152.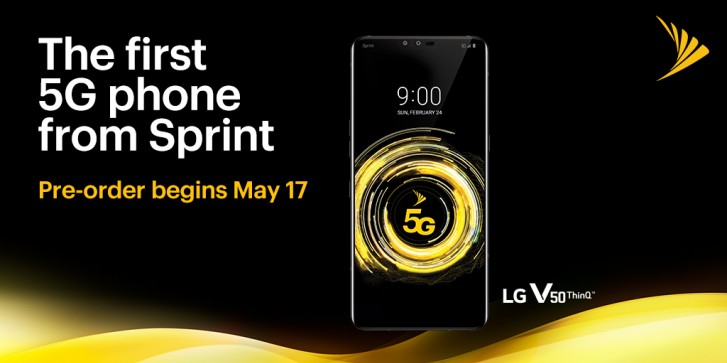 At the end of lease period you can either take the V50 back to Sprint and get a new phone on lease, or pay off the remainder of its price - the latter also applies if you cancel early. The deal is available for both new lines and eligible upgrades.
New customers are required to activate 5G phones on the Unlimited Premium plan, and existing customers will need to switch to it. This plan costs $80 per month for the first line, an additional $60 per month for the second line, and $20 each for lines 3-5.
With Unlimited Premium you get unlimited talk and text and data (throttled after 100GB to "3G speeds"; limited to 100GB per month for LTE hotspot use) nationwide, as well as Hulu, Amazon Prime, Twitch Prime, and Tidal HiFi subscriptions. Additionally, on Sprint 5G phones you'll get a free three-month subscription to Hatch Premium's cloud gaming service, with unlimited on-demand access to a curated portfolio of over 100 premium mobile games.
Sprint HTC 5G Hub
The HTC 5G Hub lets you connect non-5G devices such as older phones, tablets, or laptops to Sprint's 5G network via Wi-Fi. Up to 20 devices can simultaneously connect to it and it comes with a 5" display for some reason. It also has a 7,660 mAh battery and a built-in Gigabit Ethernet port and supports corporate VPNs.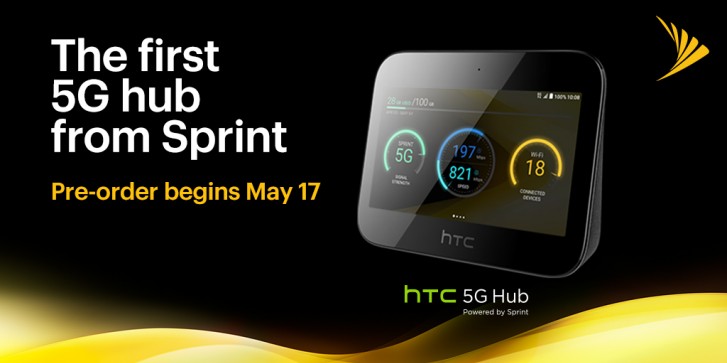 It's priced at $12.50 per month with two-year installments as an introductory offer, 50% cheaper than the normal price. You need to add a new line for it, and your only option is 100GB of data per month for $60. If you cancel early, the remaining balance becomes due, and keep in mind that this is calculated from the device's full retail price of $600.
Sprint's 5G service will initially be available in Atlanta, Dallas, Houston, and Kansas City, and these are the only places where the LG V50 ThinQ 5G and the HTC 5G Hub will be available to buy, for now. In the next few weeks the carrier's network and the devices' availability will expand to Chicago, Los Angeles, New York City, Phoenix, and Washington, D.C.
Related
Grats 1400 bucks for useless phone which is reliable maybe in South Korea and China wher the 5G already exist. For the rest of the wold 4G phone is good enough. When the 5G will be available to at least 33% of the world this phone gets pretty ol...
V50 is the better option with dual screen Psst.. Rip the galaxy folder lol
My S10 5G won't be delivered until Tuesday. I hope it can operate on other network in 4G mode because it is a Verizon. Otherwise have to stay with S10+
Popular articles
Popular devices