vivo iQOO 3 5G review
GSMArena team, 23 April 2020.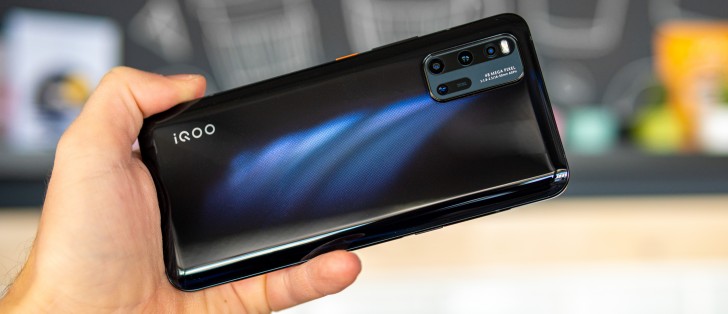 Very bright 6.44-inch AMOLED panel
The iQOO 3 5G has a Super AMOLED display with a 6.44-inch diagonal. It's got a 1080x2400px resolution in a 20:9 aspect ratio and a pixel density of 409ppi. A few of those pixels are eaten away by the selfie cam cutout, but it is one the smallest punch holes, so we'll give it a pass.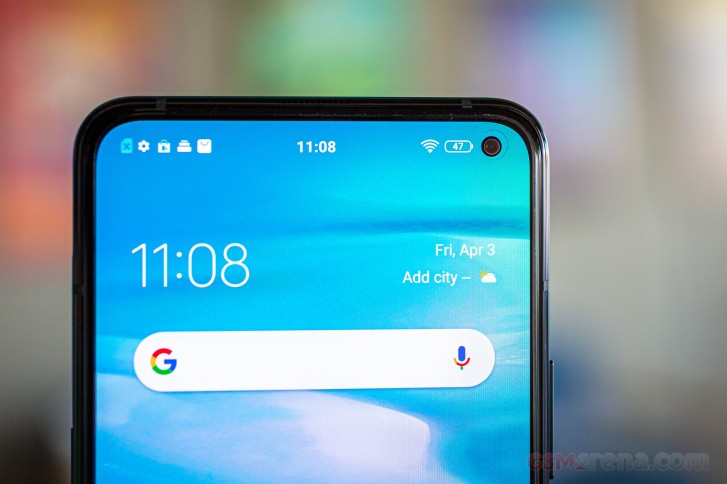 An important omission on the iQOO 3 5G display specsheet is a high refresh rate. Yes, it does feature 180Hz touch sampling, so it'll register input plenty quick, but the display can only refresh at 60Hz so game titles are capped at 60fps too. High-end smartphones of the day come with 120Hz or at least 90Hz panels and the 60Hz of the vivo are particularly disappointing given its focus on gaming.
One area we can't complain about is brightness. We measured a maximum of 848nits in auto mode when the iQOO 3 5G was under direct light and 518nits with the auto toggle disengaged - both numbers among the best on the market. Minimum brightness was also a very good 2.1nits.
Display test
100% brightness
Black,cd/m2
White,cd/m2
Contrast ratio
vivo iQOO 3 5G
0
518
∞
vivo iQOO 3 5G (Max Auto)
0
848
∞
Oppo Find X2 Pro
0
536
∞
Oppo Find X2 Pro (Max Auto)
0
871
∞
nubia Red Magic 5G
0
483
∞
nubia Red Magic 5G (Max Auto)
0
685
∞
Realme X50 Pro DCI-P3
0
519
∞
Oppo Reno3 Pro
0
522
∞
Oppo Reno3 Pro (Max Auto)
0
892
∞
Samsung Galaxy S20+
0
379
∞
Samsung Galaxy S20+ (Max Auto)
0
797
∞
Huawei P40
0
440
∞
Huawei P40 (Max Auto)
0
589
∞
Color handling on the iQOO 3 5G is done with a selection of three modes and an additional stepless cool-to-warm slider. The out of the box Standard mode is the way to go for vivid colors and a wide gamut, and it does a fairly decent job of reproducing the DCI-P3 color space. We measured an average deltaE of 4.6, but the white point and the entire grayscale were shifted towards blue (deltaE of around 10 for the bunch of them). Bumping the slider midway to the right warms up the white point to a near perfect deltaE of 1, but the darker grays do keep a bluish tinge, even if they do improve a lot. The average deltaE, in this case, is 2.8.
The Normal mode is tuned for sRGB content, and we measured an average deltaE of 2.7 for our sRGB test swatches. The familiar perceived lifelessness of such modes is present here as well.
Bright mode is overall about as accurate as Standard - an average deltaE of 5.1 for our set of DCI-P3 patterns. It's not brighter per se either.
The iQOO 3's display is HDR10+ compliant. It's still not on Netflix's list of supported devices, however, despite having the proper DRM capabilities (Widevine Level 1). YouTube does serve HDR videos to the phone, and you can see it automatically switch its colors and brightness accordingly when it detects HDR content.
vivo iQOO 3 5G battery life
The iQOO 3 5G relies on a 4,400mAh power pack to keep the lights on and it's a sensible capacity given the less power-hungry 60Hz display - throw in a high refresh rate panel, and it's too little as we saw on the nubia Red Magic 5G (6.65", 144Hz, 4,500mAh, 83h).
The iQOO 3 5G also manages to convert its battery capacity into the screen-on time in a very efficient manner. We clocked more than 25 hours of looping videos offline and 14:28h of web browsing over Wi-Fi - properly excellent results. The 3G talk time wasn't as impressive, but easily good enough at 27:34h. A decent-to-good standby measurement despite the flagship Snapdragon's external modem rounded up a commendable performance from the iQOO 3 5G, summed up in a 118h Endurance rating.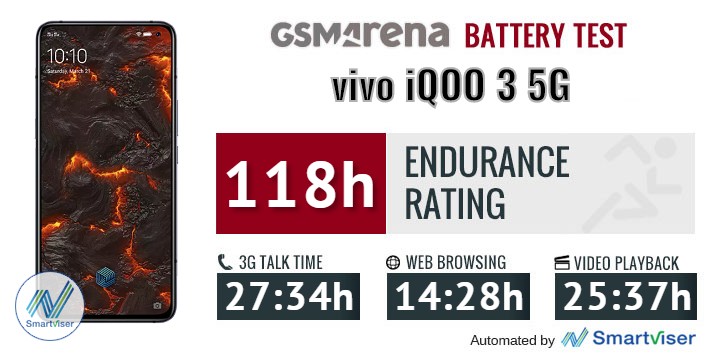 Our battery tests were automated thanks to SmartViser, using its viSer App. The endurance rating above denotes how long a single battery charge will last you if you use the vivo iQOO 3 5G for an hour each of telephony, web browsing, and video playback daily. We've established this usage pattern so that our battery results are comparable across devices in the most common day-to-day tasks. The battery testing procedure is described in detail in case you're interested in the nitty-gritty. You can check out our complete battery test table, where you can see how all of the smartphones we've tested will compare under your own typical use.
vivo's promo materials state a charging time of 15 minutes to 50%, but in our experience, it took 18mins - still properly fast. At the 30-minute mark, we were looking at 76%, which is another great achievement. The charging rate tapers off around that time, and a full charge is reached in 50 minutes.
Those numbers are for the bundled 55W adapter and the proprietary cable. Using industry-standard USB PowerDelivery peripherals will mean a slower charging time.
Speaker test
The vivo iQOO 3 5G has a single bottom-firing speaker - a stereo setup would have fit its high-end and/or gaming aspirations better. It's decently loud, earning a 'Good' rating in our test, but it does so with unimpressive sound quality characterized by muffled highs and practically non-existent lows.
Use the Playback controls to listen to the phone sample recordings (best use headphones). We measure the average loudness of the speakers in LUFS. A lower absolute value means a louder sound. A look at the frequency response chart will tell you how far off the ideal "0db" flat line is the reproduction of the bass, treble, and mid frequencies. You can add more phones to compare how they differ. The scores and ratings are not comparable with our older loudspeaker test. Learn more about how we test here.
How I connect 5g network there is no options are available..
Anonymous
18 Jan 2021
D09
Not