vivo NEX 3 flaunts its display curves in unboxing video
Vlad, 28 August 2019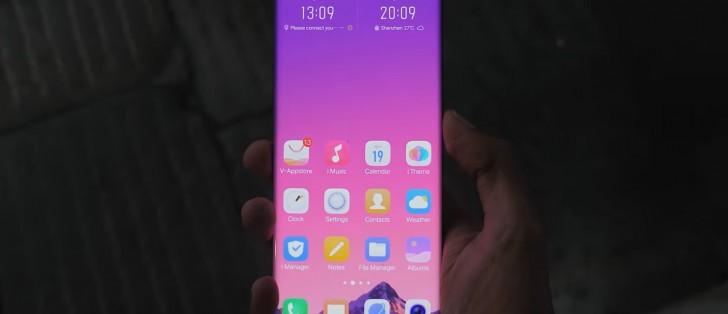 vivo's NEX 3 will get official sometime next month, and as we get closer and closer to its grand unveiling the Chinese company's teaser campaign is turning more and more into a bona fide hype-driving endeavor. We've already had an official teaser video, but this time around vivo went one step further and gave a NEX 3 unit to Arun Maini, aka the guy running the YouTube channel Mrwhosetheboss (yes that's a typo, but it seems intentional on his part).
As this is still a teaser we don't get any spec lists or the likes, but we do catch a lot of glimpses of the phone, and especially its screen. As you'd expect from a NEX, it's devoid of any notches and the bezels are really tiny all-round. But what makes this one stand out more than its predecessors is the "waterfall" effect. The display is so extremely curved that if you look at the phone from a side you'll actually see much more "screen" there than in any other device.
There are also no buttons on the NEX 3, instead you get a specific ridged area on the right where you need to press for the power 'key' and you get haptic feedback, while the volume 'keys' are above and below this one. Apparently the system works, we hope it's better than what HTC tried a while ago, because that didn't turn out so well for that company. A headphone jack is present, as well as a secondary power button for some reason.
The back is unsurprisingly glass, and it houses a new camera system in a circular island, with the LED flash being right under that. We didn't get any details about the cameras, just that they're "different" and "exciting". 5G support is in, and there's a lot of talk about that in the video - we assume because vivo really wants you to know how amazing it is that the NEX 3 has it. We were half expecting Qualcomm CEO Cristiano Amon to pop up in one of Arun's shots just to say the famous "5G is here" phrase, but alas, that didn't happen.
Related
Recent 855(+) Snapdragon phones are Wi-Fi 6 (802.11 ax) compatible for example the Note 10+ and the Oppo Reno 5G (tested myself a global version with 802.11 ax). Now it same that the ViVo Nex 3 "could" not have Wi-Fi 6 ... For a flagship launch...
Super mobile but when come in our Country ?Price not mentioned.
What is price of this one
Popular articles
Popular devices