vivo V20 review
GSMArena team, 30 October 2020.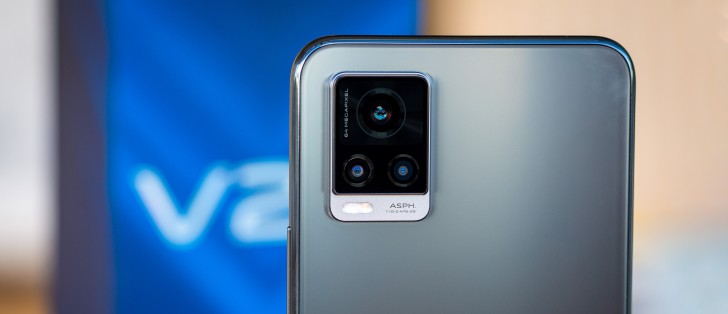 Bright OLED on a budget
The vivo V20 features an AMOLED display, and although the price may suggest that it's a budget OLED, the results from our tests indicate that vivo hasn't cut any corners in this regard. Sure, there's no high-refresh-rate support, but we don't expect it at this price point. Standing rather tall with a 20:9 aspect ratio, the resolution is 1080 x 2400px, fitting in a screen with a diagonal of 6.44 inches.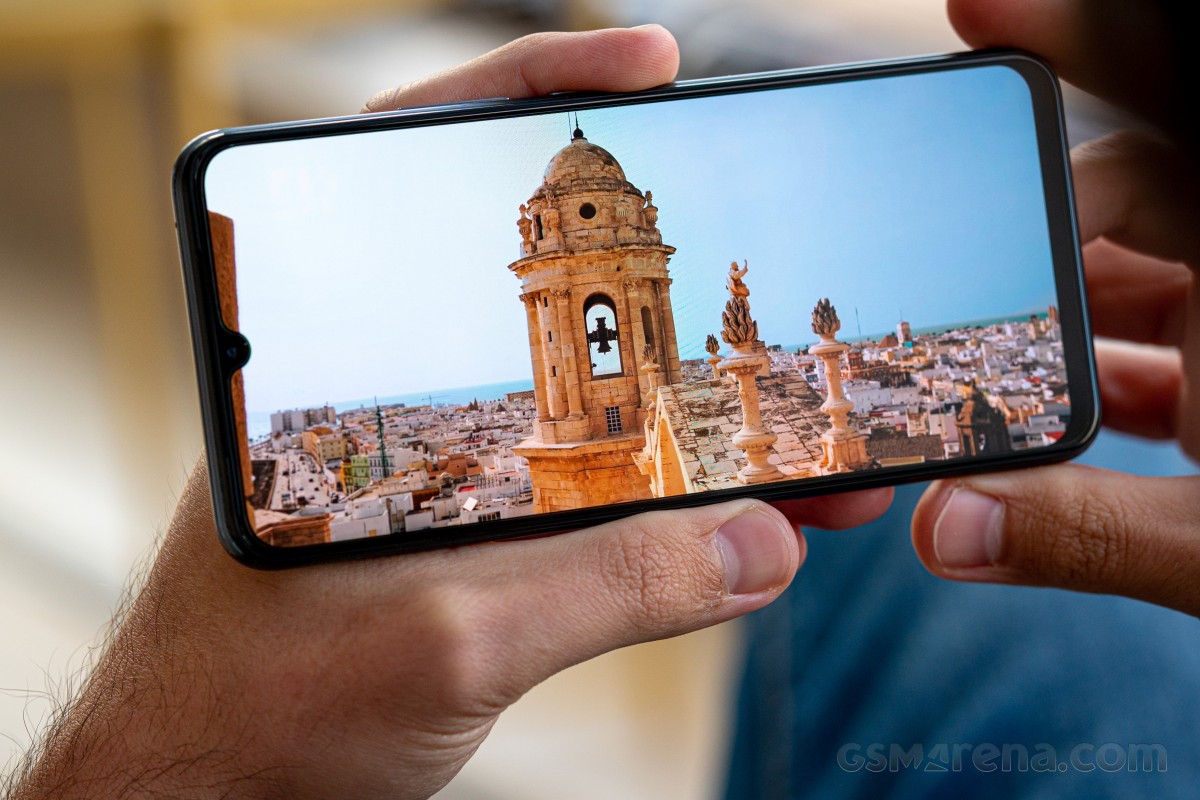 With a manually maxed-out slider, the display can reach 438 nits, but the panel can boost up to 620 nits in Auto mode when exposed under direct sunlight. That's not too shabby for an AMOLED. It ensures a comfortable viewing experience even on a bright sunny day.
Display test
100% brightness
Black,cd/m2
White,cd/m2
Contrast ratio
vivo V20
0
438
∞
vivo V20 (Max Auto)
0
621
∞
Realme X3 SuperZoom
0.332
437
1316:1
Samsung Galaxy A51
0
413
∞
Samsung Galaxy A51 (Max Auto)
0
636
∞
OnePlus Nord
0
323
∞
OnePlus Nord (Max Auto)
0
756
∞
Motorola Moto G9 Plus
0.315
427
1356:1
Motorola Moto G9 Plus (Max Auto)
0.39
522
1338:1
Realme 7 Pro
0
459
∞
Realme 7 Pro (Max Auto)
0
585
∞
Xiaomi Mi Note 10 Lite
0
424
∞
Xiaomi Mi Note 10 Lite (Max Auto)
0
596
∞
Xiaomi Mi 10 Lite 5G
0
442
∞
Xiaomi Mi 10 Lite 5G (Max Auto)
0
610
∞
Color accuracy out of the box is rather acceptable at 5.1 average dE2000 in Standard (default) color preset. If maximum color accuracy is what you are after, the so-called Pro mode will give you an impressively low average dE2000 of 1.8. In this mode, the panel produces colors that are practically indistinguishable from the real ones unless you use lab equipment.
Battery life
When we first saw vivo V20battery capacity of 4,000 mAh, we weren't very hopeful that battery life will be great.
The tests proved us wrong, and we are surprised to see such excellent runtimes. Perhaps the software optimization did the trick this time around, with the help of Android 11 and the near-stock UI.
We were particularly impressed by the low standby power draw and the 3G talk time. The video playback test also returned an excellent result, while the web browsing duration seems to be pretty much on par with other phones running off a 4,000 mAh battery.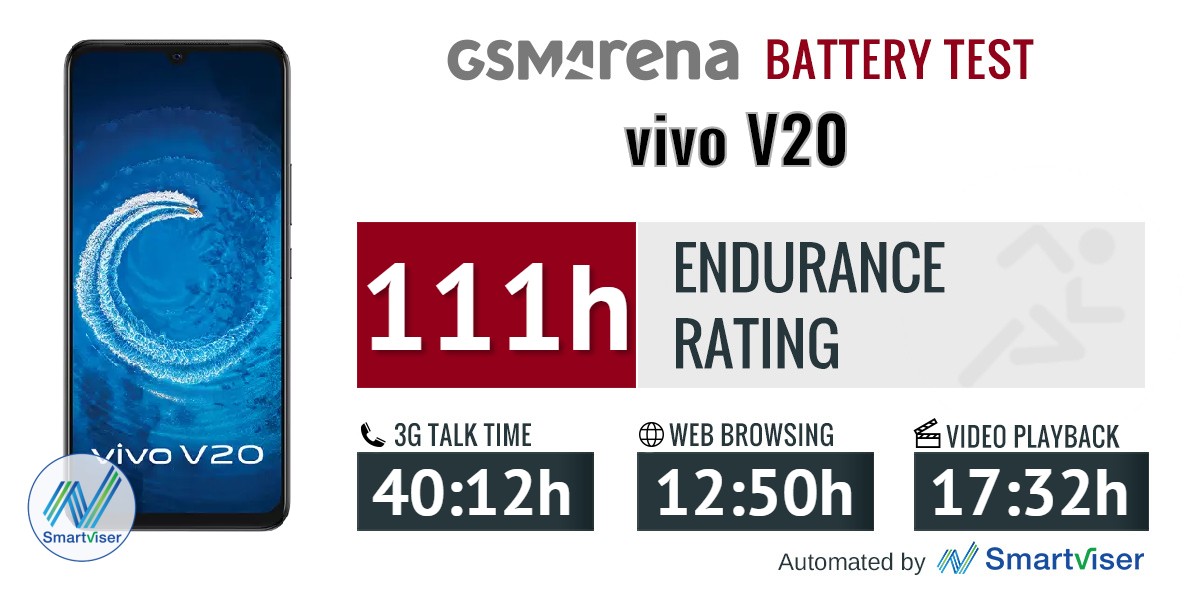 Our battery tests were automated thanks to SmartViser, using its viSer App. The endurance rating above denotes how long a single battery charge will last you if you use the vivo V20 for an hour each of telephony, web browsing, and video playback daily. We've established this usage pattern so that our battery results are comparable across devices in the most common day-to-day tasks. The battery testing procedure is described in detail in case you're interested in the nitty-gritty. You can check out our complete battery test table, where you can see how all of the smartphones we've tested will compare under your own typical use.
Charging speed
The handset employs a 33W FlashCharge, which is possible with the bundled charger. The phone can charge in full for just under an hour, while a 30-minute charging would give you 66% of the battery's charge. This gives the phone a slight edge over the competition in this regard and surprisingly beating the OnePlus Nord as well, even if it's by a couple of minutes. Also, both handsets have similar batteries.
30min charging test (from 0%)
vivo V20
66%
Realme X3 SuperZoom
62%
OnePlus Nord
60%
Xiaomi Redmi K20 Pro
50%
Samsung Galaxy A51
35%
Time to full charge (from 0%)
Realme X3 SuperZoom
0:58h
vivo V20
0:59h
OnePlus Nord
1:05h
Xiaomi Redmi K20 Pro
1:40h
Samsung Galaxy A51
2:14h
Speaker Test
Since there's just one bottom-firing loudspeaker, the vivo V20 doesn't really impress with sound quality and loudness, for that matter. Vocals are clear, but the lack of mids and lows makes every song sound flat. There's no bass whatsoever. When you crank up the volume, you can hear some distortion creeping in, mostly in the highs.
Use the Playback controls to listen to the phone sample recordings (best use headphones). We measure the average loudness of the speakers in LUFS. A lower absolute value means a louder sound. A look at the frequency response chart will tell you how far off the ideal "0db" flat line is the reproduction of the bass, treble, and mid frequencies. You can add more phones to compare how they differ. The scores and ratings are not comparable with our older loudspeaker test. Learn more about how we test here.
Audio output quality
We've recently discontinued our audio output quality test.
The reason for that is most phones that arrived for testing were already excellent in this regard. Whatever difference there was, it was marginal and probably indistinguishable to anything but our lab equipment.
it is true the prices of vivo V20 is 599 only?
Thank you for this useful information
I need camra prime and back glass