vivo V21 (5G) review
GSMArena Team, 1 June 2021.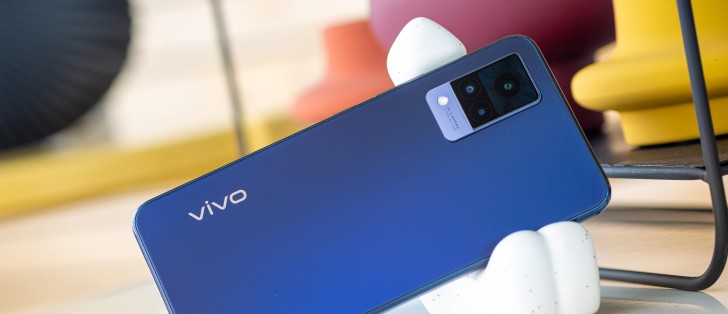 Display
Mid-ranger or not, the vivo V21 does not skimp in the display department. It is equipped with a 6.44-inch, AMOLED display. A pretty smooth one, at that, with a 90Hz refresh rate. As icing on the cake, there is also HDR10+ support thrown in the mix.
In terms of brightness, vivo markets a respectable 500 nits of typical output. That sounds about right, since in our standardized test, we measured a respectable 467 nits, with the brightness slider mixed out. The V21 can shone brighter sill in max auto mode, in bright lighting conditions. We measured a max of 761 nits. This makes the particular OLED panel perfectly usable outdoors.
Display test
100% brightness
Black,cd/m2
White,cd/m2
Contrast ratio
Xiaomi Mi 11 Lite 4G (Max Auto)
0
826
∞
Samsung Galaxy A72 (Max Auto)
0
825
∞
vivo X60 Pro (Max Auto)
0
818
∞
Samsung Galaxy A52 (Max Auto)
0
794
∞
vivo V21 5G (Max Auto)
0
761
∞
Xiaomi Redmi Note 10 Pro (Max Auto)
0
725
∞
Poco F3 (Max Auto)
0
716
∞
Xiaomi Redmi Note 10 (Max Auto)
0
682
∞
Realme 8 Pro (Max Auto)
0
627
∞
vivo V20 (Max Auto)
0
621
∞
Poco X3 Pro (Max Auto)
0.4
534
1335:1
Poco F3
0
511
∞
Xiaomi Redmi Note 10 5G (Max Auto)
0.275
492
1789:1
vivo V21 5G
0
476
∞
Xiaomi Mi 11 Lite 4G
0
476
∞
Xiaomi Redmi Note 10
0
475
∞
vivo X60 Pro
0
472
∞
Poco X3 Pro
0.327
458
1401:1
Xiaomi Redmi Note 10 Pro
0
457
∞
Realme 8 Pro
0
454
∞
Poco M3 (Max Auto)
0.277
439
1585:1
vivo V20
0
438
∞
Samsung Galaxy A72
0
396
∞
Poco M3
0.252
395
1567:1
Samsung Galaxy A52
0
386
∞
Xiaomi Redmi Note 10 5G
0.21
377
1795:1
In terms of colors, the vivo V21 5G has a total of three color modes: Standard, Professional and Bright. The first one is the default and seems to be targeting the DCI-P3 color space. It does so fairly well but there is more to be desired.
Professional mode appears to be targeting sRGB. It's better than the Standard mode, but the V21's display can't be considered perfectly color accurate. It's definitely good enough for regular use.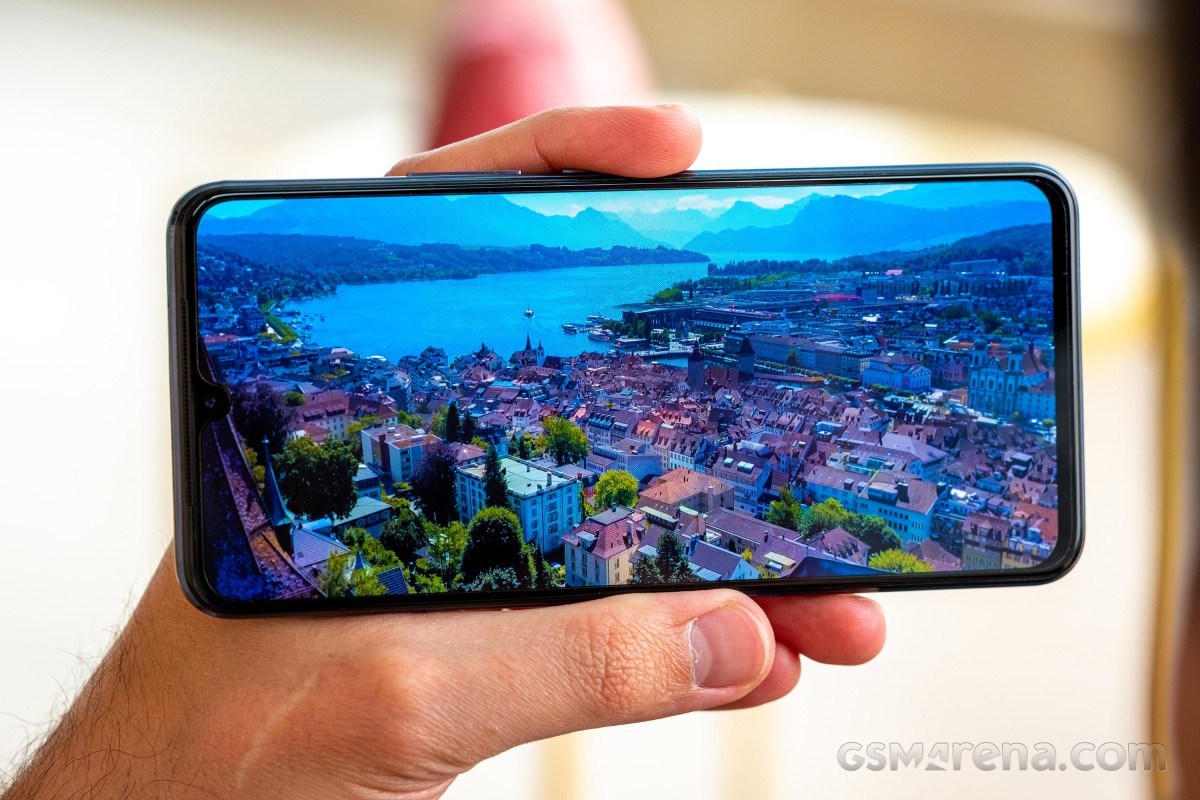 Then there is Bright, which boosts colors beyond the Standard mode. This results in the sort of "punchiness" that OLED panels tend to be associated with. We did check whether the display actually got any brighter in the process, but that wasn't the case.
The vivo V21 advertises HDR10+ support. And, indeed, software reports the same - HDR10+, as well as HLG support. Just Dolby Vision missing. There is also Widevine L1 certification, which means you get to enjoy high resolution, enough to saturate the FullHD+ display of the phone with services such as Netflix. At the time of writing this review, the Netflix app itself confirms Widevine and offers up FullHD streams but no HDR. This is not that odd, though, since Netflix has its own whitelists to allow the feature, so support could be on the way.
High refresh rate handling
The vivo V21 5G has a 90Hz panel. That's what we would consider "entry-level" high refresh rate nowadays, for lack of a better term. Even so, the jump in smoothness from 60Hz is very noticeable. Especially while scrolling a vertical UI. Having the extra refresh rate, however, is just one part of the equation.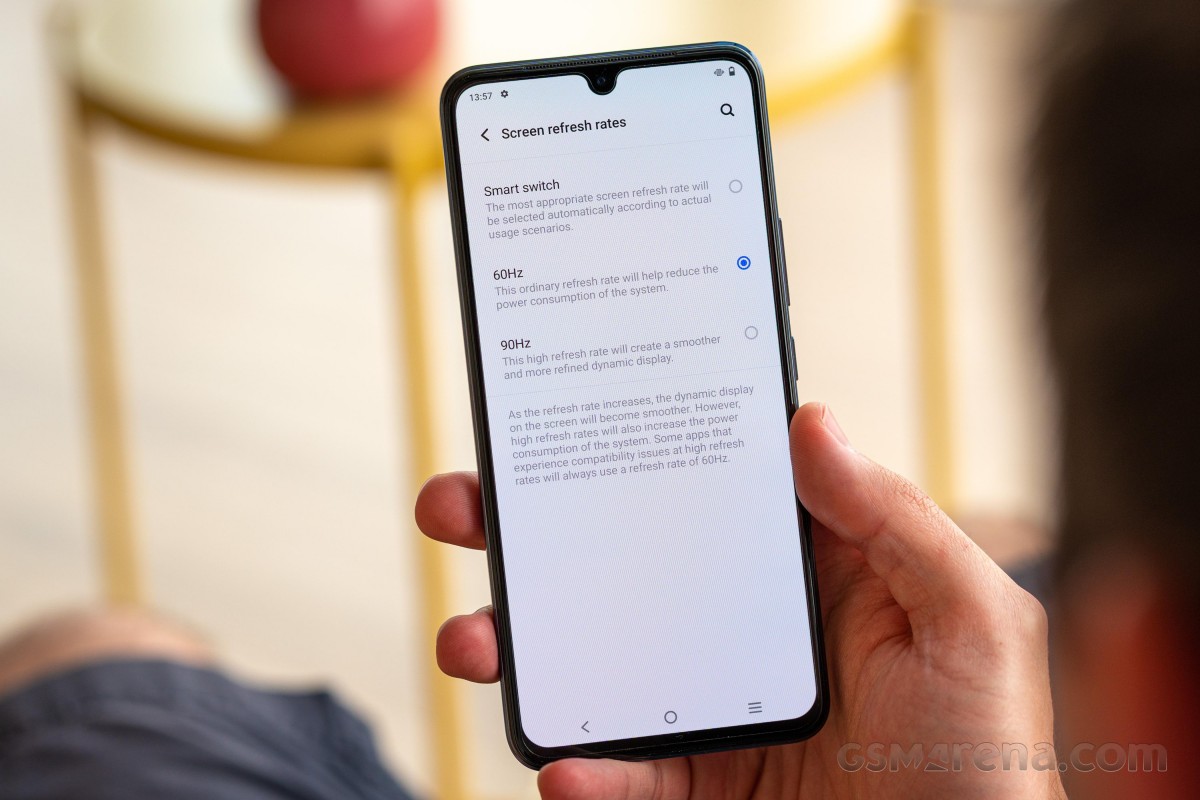 The OS needs to be smart enough to handle this extra refresh rate properly, so you can make use of it when it matters, like scrolling or playing a compatible game and then not have it waste unnecessary battery in other scenarios like watching videos.
We can share from experience that running a modern OLED panel at 90Hz typically puts little extra strain on the battery than the vanilla 60Hz. Hence, the more important bar the vivo V21 5G has to clear is being able to deliver 90Hz when needed for the sake of experience.
The vivo V21 5G has a total of three refresh rate settings - 60Hz, 90Hz and Smart Switch. There are idiosyncrasies involved, so let's just get the simplest 60Hz mode out of the way first. It is just a fixed 60Hz mode. Nothing more, nothing less. The UI and every app - it all runs at 60Hz.
One would naturally assume, then, that the 90Hz mode is also fixed. However, that is not the case. 90Hz mode is more of an "auto" mode. Generally speaking, in 90Hz mode, the V21 tries to operate at 90Hz when interacting with the display. Once you leave whatever is on screen for a few seconds, it drops down to 60Hz. This is great for most use cases, which we appreciate.
This behavior is also applied to most apps, including first-party and third-party ones.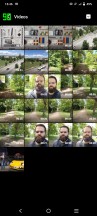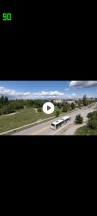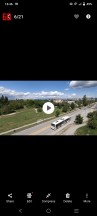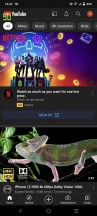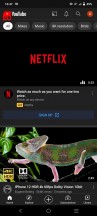 vivo V21 5G: 90Hz mode in Gallery and YouTube
One important thing to note is that vivo appears to have some video playback detection in place, which we love to see. Extra points there! Once the OS detects that there is a video playing back on screen, it drops the refresh rate to 60Hz, regardless of whether you are interacting with the phone or not. We found this to work nearly always with a full-screen video playing and more often than not with a video as just part of the rest of the UI.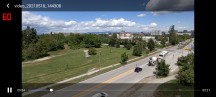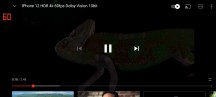 vivo V21 5G: 90Hz mode playing back full-screen video
Here are some other examples of this behavior within Facebook, Instagram and TikTok.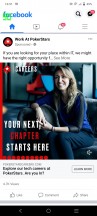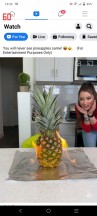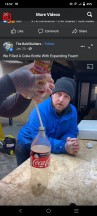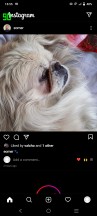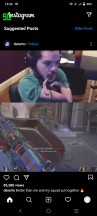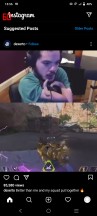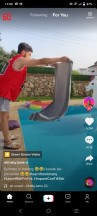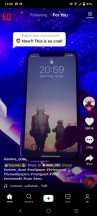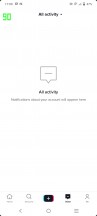 vivo V21 5G: 90Hz mode in Facebook, Instagram and TikTok apps
The logical next step was to see how well high refresh rate gaming works. The short answer, unfortunately, is 'poorly'. We tried a bunch of games we know from experience support high refresh rate on other devices, and out of the bunch, we just manage to get 90Hz in Hill Climb Racing 2 and Temple Run.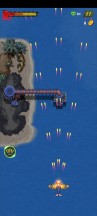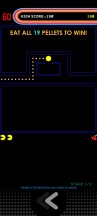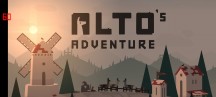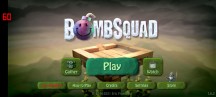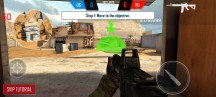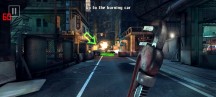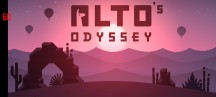 vivo V21 5G: 90Hz mode gaming: 1945 Air Force • PAC MAN • Alto's Adventure • Bomb Squad • Bullet Force • Dead Trigger 2 • Alto's Odyssey
Moving on the Smart switch rate mode then. The short version - Auto is definitely worse than 90Hz mode. The Funtouch UI follows the same switching logic in auto mode as it does in 90Hz. You get 90Hz when you interact with it, and after a few seconds of inactivity, it auto drops down to 60Hz.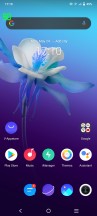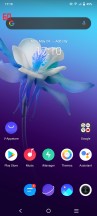 vivo V21 5G: Smart switch mode
This convenient behavior continues to work in some of the apps as well - the examples include Facebook and Instagram.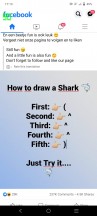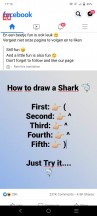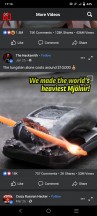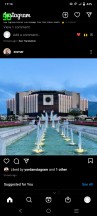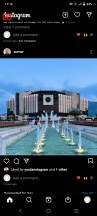 vivo V21 5G: Smart switch mode in Facebook and Instagram
However, many other apps that did the auto switching behavior in 90Hz mode stopped doing so with Smart switch and were just stuck at 60Hz. There include TikTok, the default Gallery app and YouTube - just to give a couple of examples. Worse yet, however, both the default vivo browser and Chrome were also stuck at 60Hz.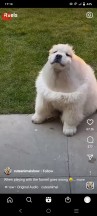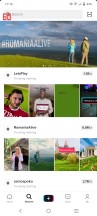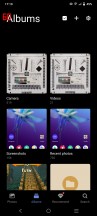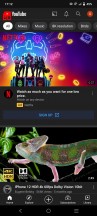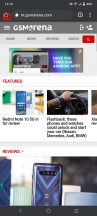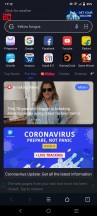 vivo V21 5G: Smart switch mode in TikTok, Gallery app, YouTube, Chrome, vivo browser
Gaming in Smart switch mode was more disappointing still. Even the couple of games we did get to work at 90Hz in 90Hz mode failed to do so and were stuck at 60Hz.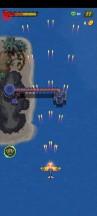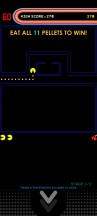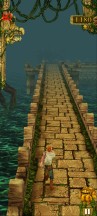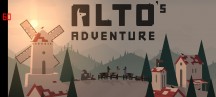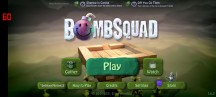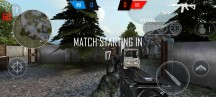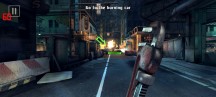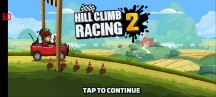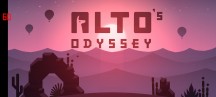 vivo V21 5G: Smart switch mode gaming
All things considered, we appreciate vivo has put some extra effort into auto-refresh rate switching and did, in fact, do a great job with apps. However, most games failed to run at anything higher than 60Hz. On top of that, the Smart switch mode is a failure in general and should either be removed or get its logic from the 90Hz mode. The latter could then remain a locked 90Hz mode instead, which would make more sense.
Battery life
The vivo V21 5G packs a decent 4,000 mAh battery. Not too shabby, considering that its body is just 7.3mm thick. Granted, 5,000 mAh would have been much appreciated, but vivo had particular design goals to meet. Plus, we are happy to report that the vivo V21 5G did very well in our battery endurance test, scoring a 123-hour rating.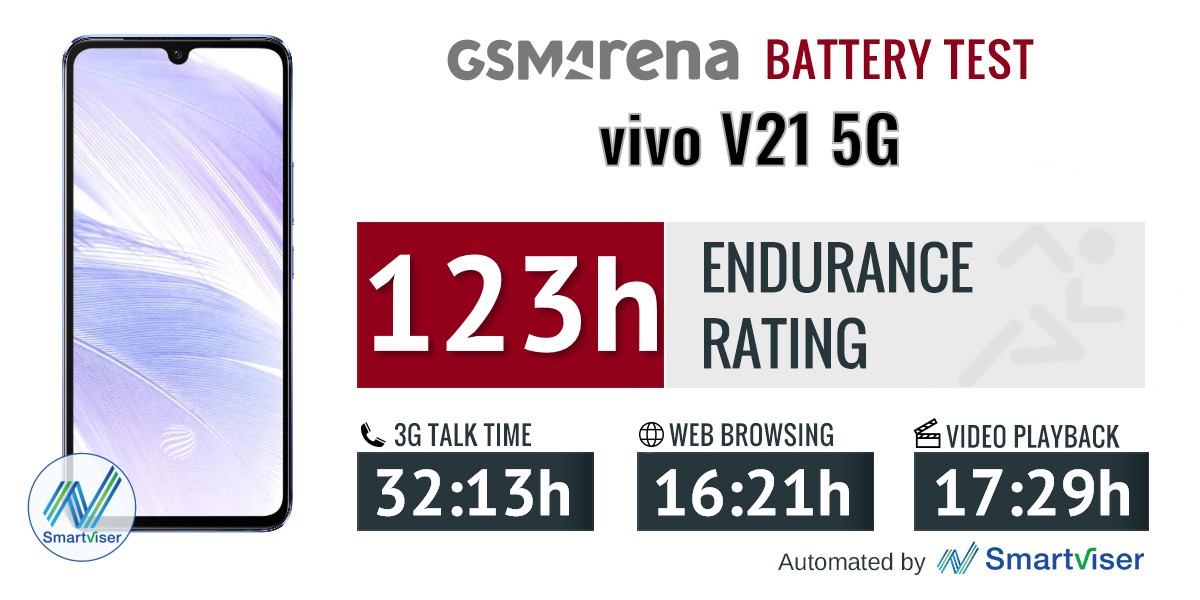 Our battery tests were automated thanks to SmartViser, using its viSerDevice app. The endurance rating denotes how long the battery charge will last you if you use the device for an hour of telephony, web browsing, and video playback daily. More details can be found here.
It's always good to compare battery results with other similar handsets. We haven't tested too many other phones with the Dimensity 800U, but there are the Realme 7 5G and the Xiaomi Redmi Note 9T. Both, mind you, with bigger 5,000 mAh batteries and LCD displays. Even so, the vivo V21 5G fits smack in the middle of the pair, which makes sense considering the Redmi didn't do too well in its battery testing.
It is worth pointing out that despite its smaller battery, the vivo V21 5G manages to last longer in video playback. This is easily explainable by its OLED panel, which is a lot more efficient while playing a 16:9 video with letterboxing and plenty of darker tones, which take advantage of the power efficiency of the OLED display.
In contrast, web browsing gets no such boost, since most web pages tend to have a white background, which, on an OLED, can even end up wasting more battery than on an LCD in certain conditions. But, we digress.
Video test carried out in 60Hz refresh rate mode. Web browsing test done at the display's highest refresh rate whenever possible. Refer to the respective reviews for specifics. To adjust the endurance rating formula to match your own usage - check out our all-time battery test results chart.
It is worth noting that in the particular case of the vivo V21 5G, we did not manage to run our browser testing at its full 90Hz. Not that it would have actually been absolutely representative of normal usage, since unless you scroll all of the time, the panel would still drop to 60Hz automatically. Both the web test and the video playback test were done at 60Hz.
Charging speed
Just like its predecessor, the vivo V21 5G is equipped with the company's own FlashCharge 2.0 technology, maxing out at 33W of charging. It is not the best the technology is capable of, since other vivo's like the X60 Pro+ can go up to 55W.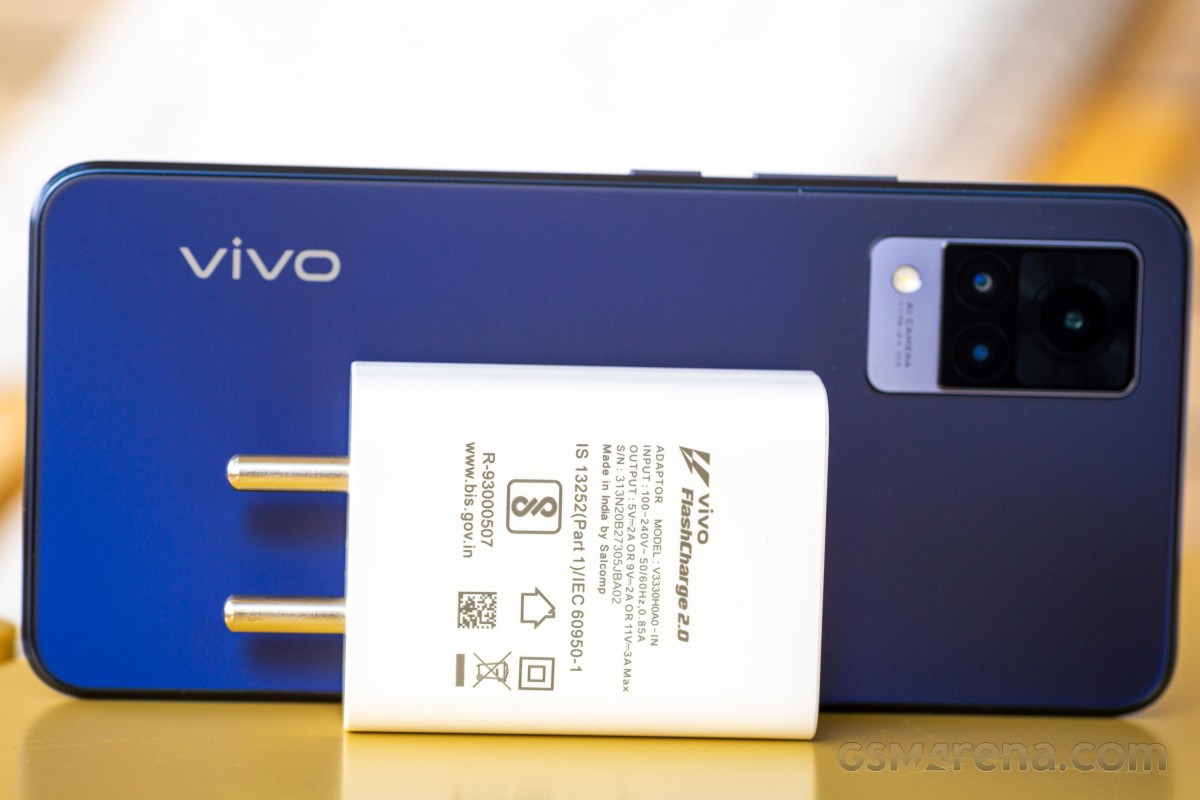 There isn't an abundance of technical information available on FlashCharge, but as far as we managed to gather, it uses an approach similar to QuickCharge, rather than the likes of VOOC and its derivatives. That is to say that it uses higher voltages rather than more amperage at the standard 5V. The included charger of the V21 5G, for instance, is rated for 5V@2A, 9V@2A or 11V@3A. That is, indeed, reminiscent of QuickCharge, though not the same.
As far as we managed to gather, FlashCharge doesn't require a proprietary cable either, unlike some of its rivals that have to include an additional (often 5th) pin to the USB Type-A port for negotiating charging speed. You should still stick to a good quality cable, capable of carrying these currents, but it's not absolutely mandatory to use the USB Type-A to Type-C cable that comes in the box of the V21 5G.
30min charging test (from 0%)
vivo X60 Pro+
84%
Poco F3
67%
vivo V20
66%
vivo V21 5G
64%
Xiaomi Mi 11 Lite 5G
58%
vivo X50 Pro
55%
Samsung Galaxy A72
54%
Xiaomi Redmi Note 10 Pro
50%
Poco X3 Pro
50%
Time to full charge (from 0%)
vivo X60 Pro+
0:42h
Poco F3
0:56h
vivo V20
0:59h
Xiaomi Mi 11 Lite 5G
1:04h
vivo V21 5G
1:05h
Poco X3 Pro
1:08h
vivo X50 Pro
1:10h
Samsung Galaxy A72
1:15h
Xiaomi Redmi Note 10 Pro
1:21h
Vivo says 30 minutes on the charger should bring the V21 5G from 0% to 63%. Our unit managed to get to 64% in that time, with a full charge requiring an extra 35min. We would say this is within margin of error and call the advertised numbers confirmed. Though we did manage to do a bit better on the older vivo V20, which has the same charger and battery capacity.
Speaker
The vivo V21 5G only has a single speaker at its disposal. That's kind of a bummer, seeing how some competitors from the likes of Xiaomi offer stereo setups in this price range.
The speaker on the V21 5G isn't particularly great either - it's merely OK. It only scored an average loudness rating in our standardized tests.
On a more positive note, it is not screechy, even at max volume and manages to deliver decently clear dialogue.
Use the Playback controls to listen to the phone sample recordings (best use headphones). We measure the average loudness of the speakers in LUFS. A lower absolute value means a louder sound. A look at the frequency response chart will tell you how far off the ideal "0db" flat line is the reproduction of the bass, treble, and mid frequencies. You can add more phones to compare how they differ. The scores and ratings are not comparable with our older loudspeaker test. Learn more about how we test here.
Very best phone i have highly recommended
Please solve the battery performance very low performance and back camera is not good AND FAST DRAINED please vivo need bigger update for this phone waste my money to buy this kind of phone VIVO V21 5G
Worse phone ever. Very low battery performance at a very high price. My regrets on buying this phone. Such a waste of money.