Weekly poll: Huawei P9 and P9 Plus - hot or not
George, 10 April, 2016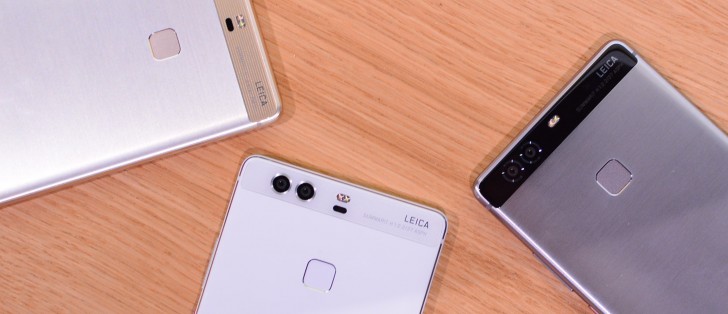 The phones everyone's talking about this week - Huawei P9 and its bigger and more capable bro, the P9 Plus. The headline in both of them are their dual cameras, but they're not one dimensional, the two of them.
Dual polls it is. The thing is the P9 Plus has everything the P9 does, and then some. Hot as the P9 may be, we fear the Plus might not get the attention it deserves, if they go at it together.
Starting with the P9 (manufacturers should probably think of monikers for the plain non-Plus-Max-edge models so us tech journos can have it easy), we're already getting the full package - an aluminum body, top-notch CPU, those two cameras, the blazing-fast fingerprint sensor on the back. What more can we ask for?
Yes, the matter of size - 5.2" is okay-ish, but more has to be better. In the case of the P9 Plus, 5.5 inches doesn't sound like a major bump, but there's the Mate 8 at 6", and a possible P9 Max in the future to think about, so Huawei's reasoning would be clear even at this point.
But there's more than diagonal at play here - the P9 Plus has Pressure Touch. You can't overlook the fact that the Mate S top model (itself a unicorn of a smartphone) has a 5.5-inch AMOLED display and so does the P9 Plus. Apparently Huawei is actually ready with the supply of those 3D-Touch-like panels and they will finally be hitting the streets.
There's also the added battery capacity - a smidge more than the increase of screen area needing to be lit up, though the entirely different technology makes these calculations debatable. And then, there is another feature that sets the Plus apart though - the stereo speakers.
So, are you with us on this one - is the P9 Plus the better Huawei flagship this season? Okay, that's not the actual question. Is the P9 Plus hot or not?
Related
sony dying nobody wants it.. they have great cameras only
I'm looking forward to the P9 plus.. Leica are world renowned for optics, 4gb ram and 64gb storage is excellent for future proofing. I know it's hasn't got a Snapdragon or Exynos processor, but the Kirin is manufactured using 16nm technology so how b...
Popular articles
Popular devices