Weekly poll results: flagship chipsets still matter, but most people don't need the latest one
Peter, 27 November 2022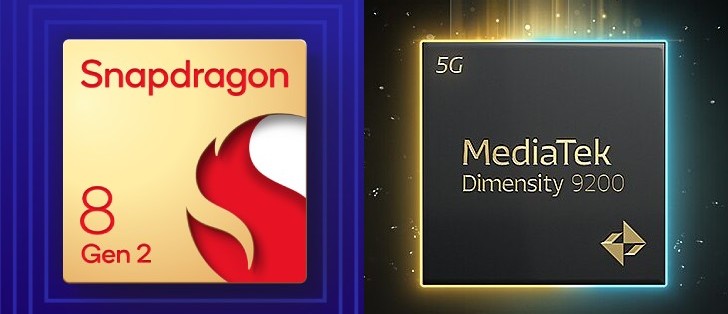 The result from last week's poll shows that more than half of our readers think flagship chipsets are an important consideration when picking out the next phone. Not everyone cares if it's the latest flagship chip, however. In fact, most prefer to get an older version as those tend to offer far better value for money.
It takes a while for mid-range chips to catch up to the CPU, GPU and ISP performance of a former top of the line chip. For example, a Snapdragon 855 powered phone from 2020 still has a faster GPU than a phone with the Snapdragon 778G. The 778G remains a popular choice that powers mid-rangers in the €400-€500 range. Meanwhile, a 2020 phone can be cheap as chips on the second hand market.
Several people in the comments mentioned going the second hand route. But that's not the only option, Qualcomm spruced up a few of its old hits and released the Snapdragon 860 and 870. The latter proved especially popular and has been featured on no less than 11 devices this year alone.
One way or another, nearly 40% of voters are happy to pick up a phone with an older flagship chipset. There are those who do want the latest version, but they make up less than 25%.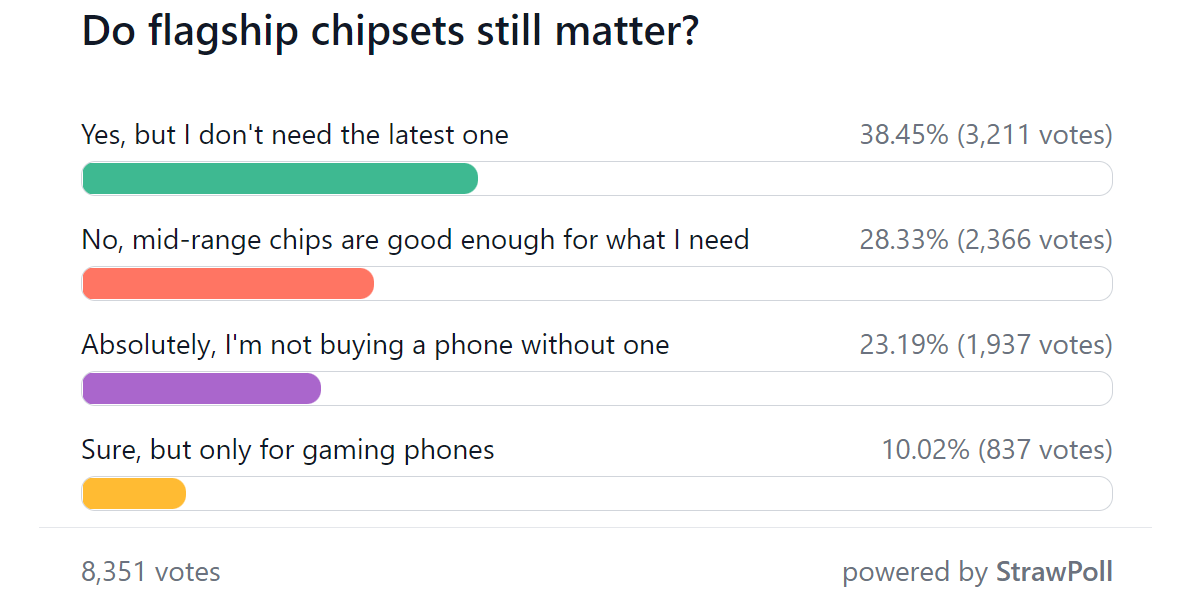 Then there are those who think that mid-range chips have reached "good enough" levels. They consider things like the screen, cameras, battery and so on more important. And they point out that sometimes there is a huge gap between peak performance and sustained performance.
There are two things that cause this. First is that some high-end chips run hot, this is true for desktop CPU and GPUs too. And while that is outside the control of (most) smartphone makers, the second issue is that some of them really skimp on the cooling, which makes the issue worse. The benchmark sections in our reviews include tests for thermal throttling, since benchmarks alone don't tell the whole story.
Cooling is usually prominently featured in the marketing for gaming phones. And as the poll shows that some – not many but some – see flagship chipsets as something that matters only for gaming phones. There the lackluster GPUs of some mid-range chips can really drag things down. 90Hz and 120Hz displays are quite common even in the lower price range, GPUs that can run games at 90fps or 120fps are rare even in the high end.
This week saw the introduction of the first Snapdragon 8 Gen 2 phone and the first Dimensity 9200 phones too – coincidentally, they are part of the same family (the vivo X90 series). So, new flagship chips are coming to raise the bar of performance even higher. There are new mid-range chips on the way too, if those are your preference.
Related
This is some interesting poll results Old flagship have flagship processor but also they run software Android versions that don't have as high system requirements as the more modern Android versions Another note worthy thing is a old ...
The improvements made each year mean they're able to last more into the future. Let's say a chipset from 2022 feels fast enough till 2027, another from 2023 feels fast enough till 2028, etc. I have yet to see people who use their phone regu...
Popular articles
Popular devices
Electric Vehicles