Weekly poll results: Huawei Mate 10 Pro gets more love
Peter, 29 October 2017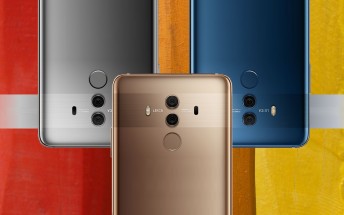 We asked you which Mate 10 is the right one for you and the result shows a preference but not quite certainty. The Huawei Mate 10 Pro edged out its sibling 36% vs. 28%.
At €800 it is one of the more affordable flagships and it offers a good spec sheet even if it's marred by some questionable omissions. Still, an 18:9 AMOLED screen with HDR10 support, a powerful Leica dual camera and a beefy 4,000mAh battery elevate the Mate 10 Pro. The durability of a metal body with waterproofing helps too.
Still, the vanilla Huawei Mate 10 drops €100 off the price and goes up to a QHD screen (HDR10-enabled LCD) and adds goodies like a microSD slot and 3.5mm headphone jack. You do lose the waterproofing and drop down to 4GB/64GB of memory.
Only just over 10% of people were still scratching their heads, wondering which Mate is the better one. And finally, a quarter of those who answered the poll are not so uncertain – they know they are getting something else.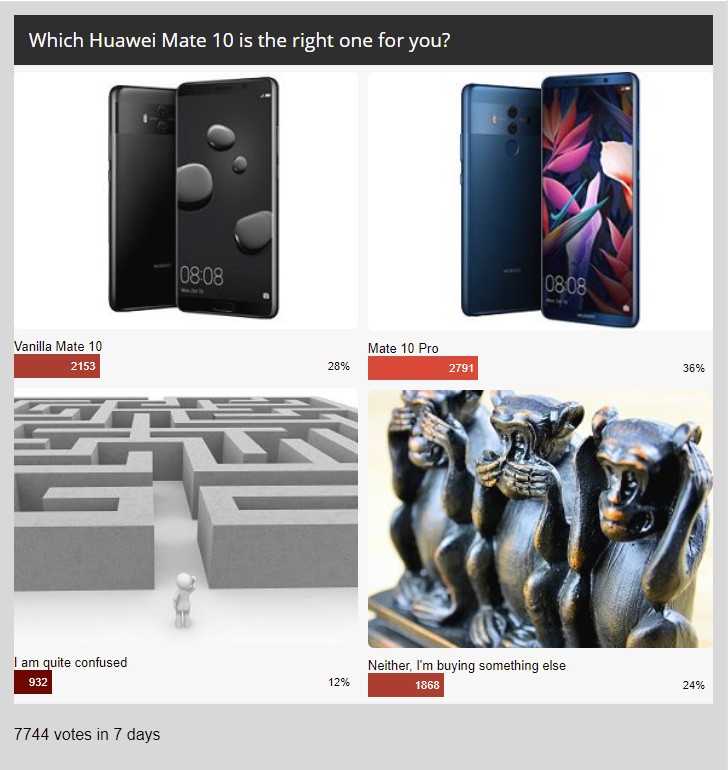 Related
Huawei people are tricky and canny if the pro had 3.5 mm Jack and expandable SD every one would have gone in for the pro. They intentionally dropped some pixils on the display and removed the head phones Jack to make way for the water proofing. They ...
A well laid-out reply with a lot of substance. You've given me a lot to think about.
Lol making up definitions now? You and your silly opinions.