Weekly poll results: Oppo Find X2 Pro sees a lot of love, the X2 not so much
Ro, 15 March 2020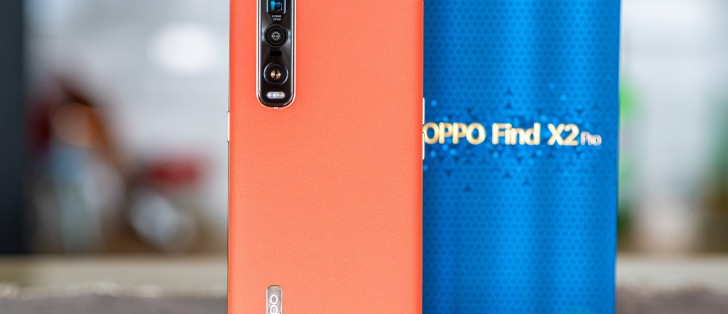 Last week Oppo finally announced the successor to the 2018 Oppo Find X. In fact, we now have two successors - the Find X2 and Find X2 Pro. As the name implies, the Pro model adds a couple of extra features on top of the vanilla and it's generally considered to be the proper flagship. And it's by far the better loved of the duo.
The results are clear - the X2 Pro has ten times the approval rate of the vanilla X2. Somewhat worryingly for Oppo the "too expensive" option end up the most popular. However the €200 upgrade that gives you better ultrawide and 5x periscope telephoto cameras along with higher IP rating and 512GB internal storage is clearly well worth it.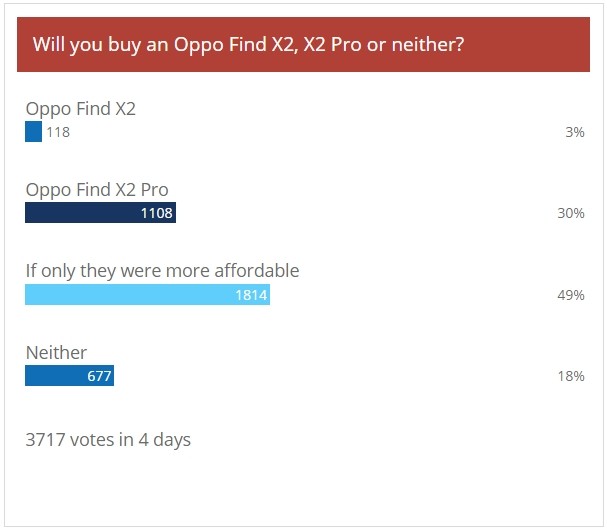 Looking at the comments many felt the Find X2 series design is a step back from the Find X body with its pop-up cameras and the full-screen front. Sure, a punch hole camera isn't anywhere as pretty, but the more efficient layout permitted by it has allowed Oppo to pack in all the sweet camera tech that makes the Find X2 what it is.
Other paint points mentioned were the lack of wireless charging and microSD card slot in the specs sheet. We are not sure how much of an issue the latter will be in real life though, seeing how you are getting at least 256GB of storage.
Either way, Oppo clearly got a lot of people interested and with the right marketing and perhaps a few strategically timed price cuts it might have a real winner on its hands.
Related
Anonymous
16 Mar 2020
Kxr
Unless a group of hackers specifically target you using the security hole or vulnerability (if it exists) which is not fixed through a security patch, you have nothing to worry about. The likelihood of such a thing happening is 0.00001%. So lack...
Anonymous
16 Mar 2020
Kxr
Exactly these iOS guys only have bragging rights of 5 years updates when in reality, they get latest Android features 5 years late. Some features never make it to iOS and these brand boys accept their fate like a prisoner accepts limited food choices...
Anonymous
16 Mar 2020
Kxr
No one bothers playing 4k video on smartphone. We watch it on our big screen TV. Poor ppl like you need to invest in a big screen TV for great 4k viewing experience. We already have 8k recording on smartphones. It's gonna get improved with t...
Popular articles
Popular devices
Electric Vehicles