Weekly poll results: ROG Phone II, Xperia 5 and Nokia 7.2 voted best at IFA2019
Victor, 14 September 2019
IFA saw a pretty diverse and colorful set of phone announcement this year. Everyone seems to be working on a mostly separate agenda, or at leas different enough to make for some really stand-out devices. In this week's poll we asked you to pick favourites and its official, as far as flagships go the Asus ROG Phone II proved to be an over-achiever in yet another category - fan love. One of the best and most tricked-out smartphone on paper, the gaming monster already managed to pass our rigorous review process with flying colors. And now it's pretty clear that Asus stumbled upon or rather meticulously crafted a surprisingly universally appealing formula. Either that or you're all extremely into mobile gaming on a pro level. Let's hope others are taking notes on just how likeable the ROG approach to different, versatile flagships can be.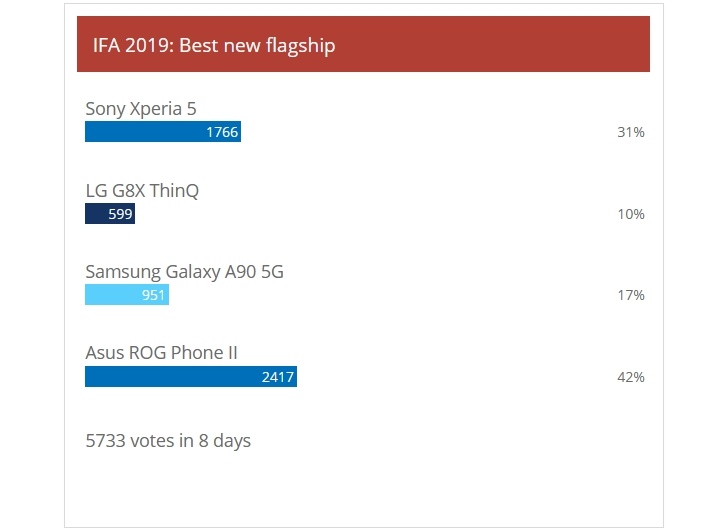 Speaking of not necessarily conforming with popular trends, the Sony Xperia 5 received plenty of love as well. With its compact form factor and intentionally shrunken-down package, it couldn't be more different than the ROG Phone II on the surface. Deep down, however, it's just as much of an outlier. This one, though, proving that the market for true flagship performance in a small form factor never really went away, it just got more and more neglected over the years. Perhaps another teachable moment for other manufacturers to pick up on.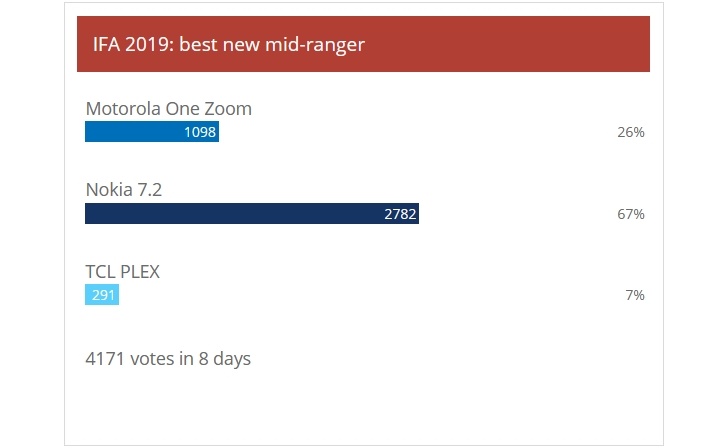 Moving on to the other colorful bunch we put forward for your consideration - the mid-ranger lot. We find HMD and the phoenyx Nokia brand winning hearths left and right yet again. Not necessarily the most powerful phone nor the best bang-for-buck in the specs department, yet the Nokia 7.2 has plenty of alternative allure going for it. Solid design, great build quality, a focus on a clean Android One experience and speedy updates. Another interesting formula that seems to be working well in its own way.
Related
Xperia 5 doesn't come with ugly notch. It has triple cameras setup with Eye tracking AF AE. It is compact than Xperia 1. The design is gorgeous without second thought.
Popular articles
Popular devices