Weekly poll results: battery life and waterproofing make a good wearable
Paul, 22 July 2018
Over the last few weeks we reflected upon the highlights that 2018 brought us so far in the wearables space, followed up by taking a look at the major upcoming releases. We capped this off by asking you what features you wanted in your smartwatches.
Two features vied for the number one spot. The usual culprit battery life was expected but seeing waterproofing rise up the rankings was a surprise.
So what battery duration is acceptable in our smartwatches? In our experience, those devices that reach about 10 days or more before having to be recharged are more likely to qualify.
More surprising was the second most popular feature, waterproofing. While an obvious requirement in order to take part in watersport activities, but seeing as 'multi-sport activities' sits at 8%, we suspect the simple ability to be worn when showering or taking a bath was responsible for the popularity of this feature.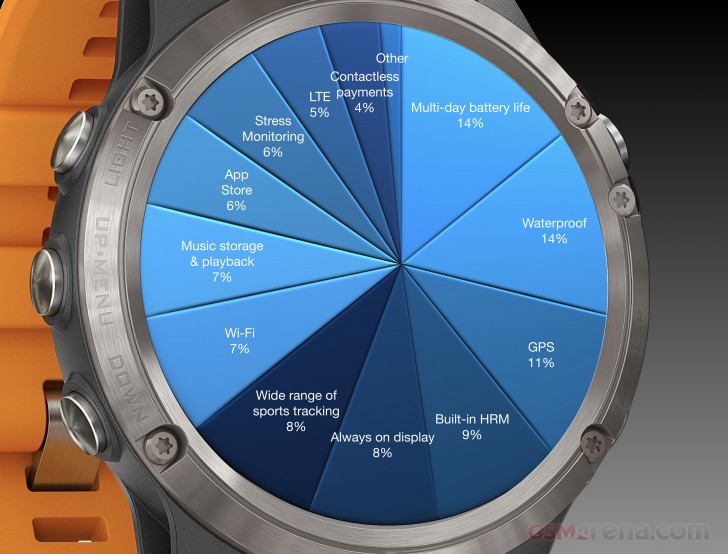 Fitness has proven to be one of the killer apps for smartwatches resulting in the popularity of GPS, Heart Rate Monitoring and a wide range of sports tracking features. Combined with the accelerometers and ABC (Altimeter, Barometer, Compass) sensors in our smartwatches we're able to capture a far more accurate picture of our overall wellbeing than ever before.
Next comes 'always on displays' and the cause of the oxymoron.
Displays are one of the biggest drains of battery life, hence why most high-quality color displays are 'off' by default and only activated when we perform that over exaggerated 'wrist flick'.
Smartwatches that have stellar battery life and always-on displays don't use AMOLED technology. They resort to utilizing battery efficient technologies such as sunlight-visible, transflective memory-in-pixel (MIP) displays for example. However, even the most hardened enthusiasts among us will confess that while usable, these result in a less than optimum experience.
The truism is that today you can't have a smartwatch with a high quality, always on display that has acceptable battery life - one day.
Notable mentions - During the poll, we gave you the ability to tell us what 'other' features you'd like. The most popular feature that you requested was for a camera. We hope this was for video calls and hopefully not taking actual photographs.
A notable mention has to go to the reader who wanted a 3.5mm stereo jack - prepare to remain disappointed!
Related
I get just over 2 days on my G3. Mostly using it for notifications, heart rate, clock. I have the voice part turned off (doesn't work anyway)
Let it be known, that Greg Lu was the one to prophecize the future!
Mi Band 3.. best option..cheap and good enough.
Popular articles
Popular devices