Weekly poll results: the Asus Zenfone 8 excites, Zenfone 8 Flip flops
Peter, 23 May 2021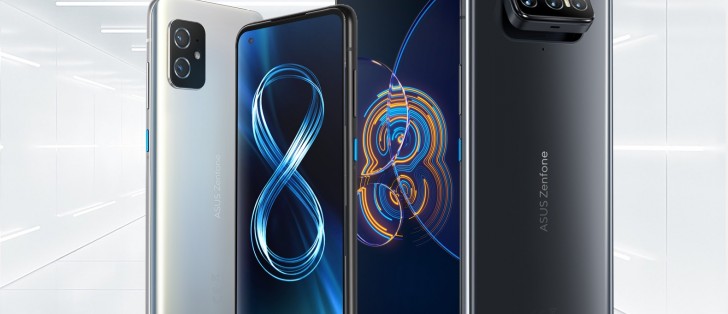 Asus caused a buzz in the smartphone world – something it hasn't done in quite a while. The Asus Zenfone 8 in particular lit up people's excitement with its petite design and reasonable price.
It was the clear favorite in last week's poll. It's not perfect, but it doesn't need to be, it just needs to be better than the other phones in its category and there just aren't many of them.
Save for the iPhone 12 mini, this is the smallest 5G flagship around. Sony's Xperia 5 III and Samsung's Galaxy S21 come close, but they are still bigger. And pricier. Though they do have telephoto cameras and larger batteries. The S21 also has wireless charging, while the Xperia adds a microSD slot (also, it and the Zenfone 8 are some of the few phones that still carry a 3.5 mm jack).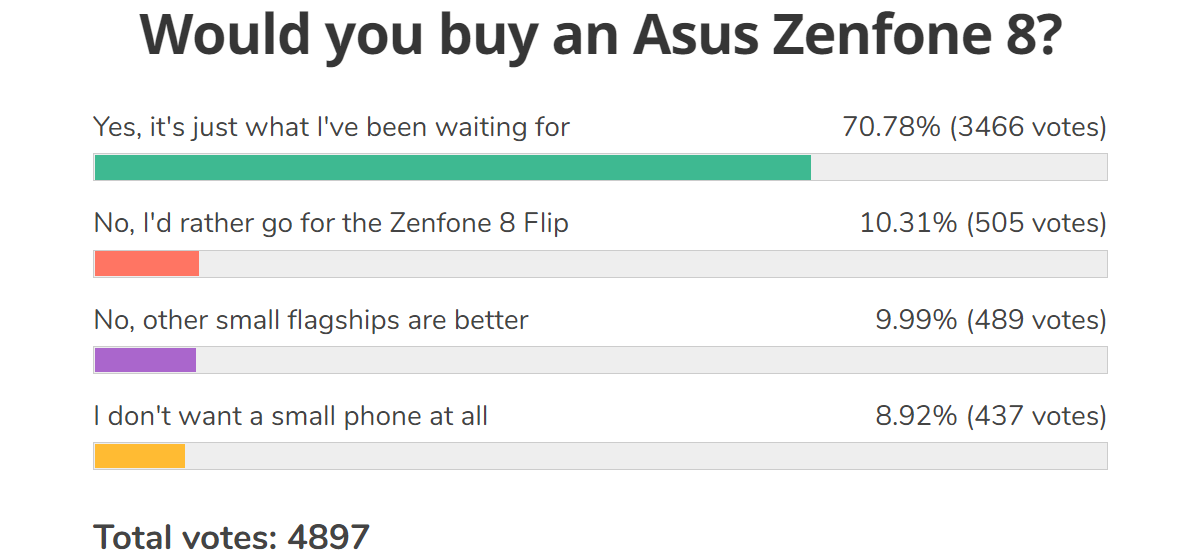 So, in this case "better" will vary by person. A phone that's comfy to use with one hand and close to stock Android 11 (with at least two major OS updates in its future) and high-end features for €600 sounds like dream for some.
That said, we will caution Asus execs that it's too early to pop the champagne. The iPhone 12 mini won a poll too, but sales didn't live up to expectations. Also, sales should improve once Asus expands the phone's availability beyond Europe and Taiwan (it's coming to the US soon, for example).
Moving over to the Asus Zenfone 8 Flip, the situation looks pretty dire. Most people either prefer the smaller model (which also has newer features) or think Asus missed the mark entirely. Very few are actually interested in the Flip.
It didn't even come up often in the conversation in the comments, other than to point out its lack of OIS (the 7 Pro from last year and the 8 both have it) and the lack of a 3.5 mm jack (the smaller 8 has it).

There's not much more to say here, a standout design – even if it stands out with something as simple as its size – causes more excitement than a recycled design with a new chipset.
Related
Nope, I am tired of people always trying to find any single missing information to try to prove they are right even against hard proofs, I hate not giving enough information, and if no one were to answer me I would in fact prefer it, most of my comme...
Dude, literally when all phones all the same and lack diversity, how do you want something else to thrive? Based on that logic, Telephoto, 3.5mm Jack and Bezels are niche... Of course not, there are tons of things that are highly requested that t...
Where are the widespread reports if the zenfone flip cameras failing? Oh wait, they don't exist.
Popular articles
Popular devices