Weekly poll results: the Microsoft Surface Duo excites, but many have reservations
Peter, 23 August 2020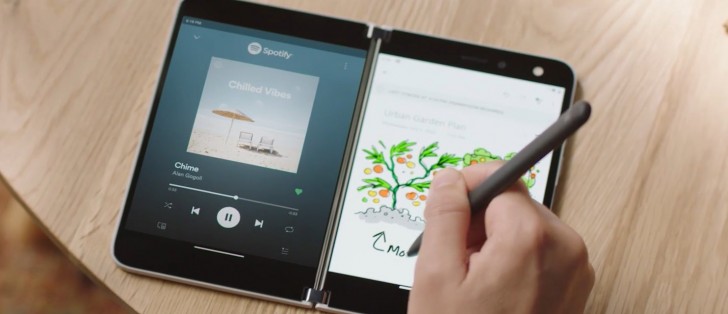 Last week's poll shows that the Microsoft Surface Duo excites power users – maybe not so much with its hardware, but with its promise of next-level multitasking instead. Despite the Surface branding, this doesn't run Windows, it's an Android phone, but Microsoft did lean on its decades of UI design expertise to create a fairly unique product.
Dual screen mobiles are nothing new. The Sony Tablet P is an early example of the form factor, the ZTE Axon M is more recent. There are even several LG and Asus phones that fall in this category with their second screen accessories.
However, none of these went further than the side-by-side multitasking that's included in Android (some do offer a gaming mode though). What Microsoft is proposing is more advanced cooperation between apps. It has worked with Google to develop the APIs and soon both Microsoft and Google apps will support the Surface Duo. Third party developers are invited as well.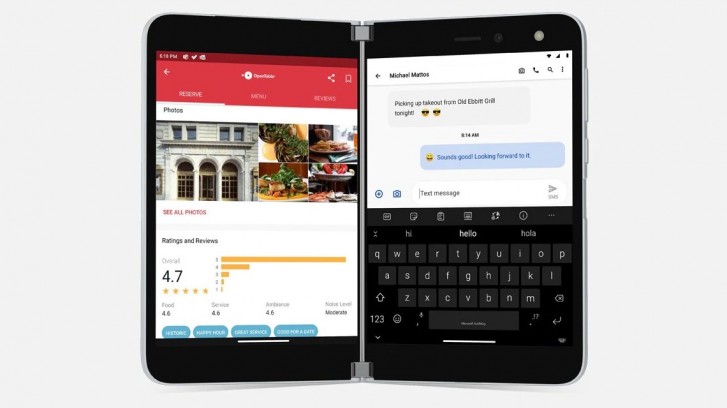 Most people who voted see great potential in that with about 18% calling it a productivity powerhouse. Another 28% agree, but don't think this is worth $1,400 and would rather wait for the price to come down. Yet more people (around 20%) are on the fence and will wait for reviews before making a decision.
Predictably, there's a large group who think that the Snapdragon 855 chipset and small 3,577 mAh battery don't cut it. Microsoft explained that with this first generation device it focused on getting the hinge and battery system right – since each half of the device is only 4.8 mm thick, there's not much room for a battery. For comparison, the Z Fold2 measures 6.9 mm when open.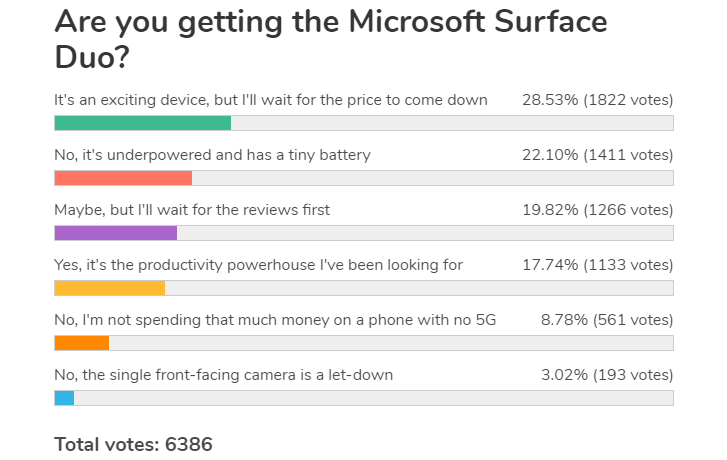 Microsoft knows that the battery capacity, lack of 5G and chunky bezels are not ideal. However, the company believes these issues can be resolved in future versions. If it pulls it off (and doesn't take too long to release the 2nd generation), the next poll may be even more positive.
However, considering that the Surface Duo project was first announced last October and the first model is set to go on sale this September, the 2nd generation could be just a distant dream for now.
Related
Good luck trying to use the dual screens on the Duo with little to no bezel. While I agree it looks a little outdated at first, when you actually hold the device you'll be happy to have the bezels. Watching videos and looking at pictures paint...
Battery is plenty big, I get a day+ out of it under moderate use. Plenty of ram as well, it has the same SOC and ram as my LG G8X and it handles two screens/apps perfectly. Also the 855 is still absolutely relevant. Just because the 865 exists doe...
I don't know what device you got, but my ATT Duo works great. I have experienced none of the issues all the major reviewers and customers have been complaining about. My device is snappy and fluid for me. Also the first post release update wi...
Popular articles
Popular devices