Weekly poll: Sony Xperia at CES 2018, hot or not?
Peter, 14 January 2018
Sony's Xperia XA line is home to some of the best mid-rangers, has been since it first hit the scene. That said, the third generation phones are much better than the ones that came before and are the highlight of CES 2018 for us (admittedly, there weren't that many phones unveiled).
The original XA had the narrowest body of all 5" phones. The Xperia XA2 has grown since then but in return it offers a sharper, slightly larger screen – 5.2" and 1080p. It carries over the Xperia X-quality camera, but adds 2160p video capture thanks to the new processor. Better video is only part of the reason we applaud the move away Helio chips to the Snapdragon 630.
The original XA Ultra phone is one of the few to add OIS to their selfie camera – a rare thing even among flagships. The Xperia XA2 Ultra improves on that with the addition of a second camera on the front for wide-angle selfies. The screen diagonal is still 6", we think that's a good thing – Ultras have always been large and any larger would be unwieldy.
The third generation fills in a gap in the XA series spec sheet – the fingerprint reader (works in the US too!). And this time Sony placed it on the back instead of the side. Also the batteries received a major boost in capacity.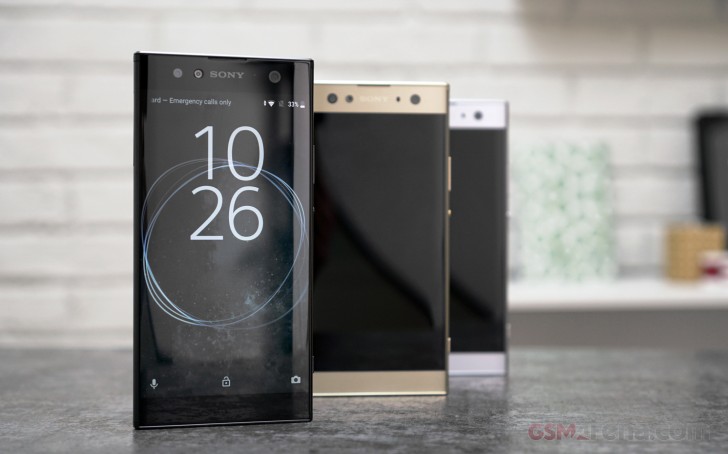 Sony bowed out of the low-end phone segment, but it is trying to offer some affordable phones with the newly-revived L series. The Xperia L2 improves on the first model with slightly better cameras, more battery and even a fingerprint reader. The phone is still focused on the essentials with its 5.5" 720p screen and quad-core processor.
We could go on talking about these three, but instead we'll point you to our hands-on review where we go into more detail. We'll take another look once these phones launch (we're about a month away from that), but for now we wanted to know – which one is your favorite.
Note: you can vote for multiple phones.
Sony's new phones from CES 2018, which one is your favorite
Related
from ugly to innovation hate?? for noobs info,, hd aptx is sponsored by sony to google for oreo hi res isnt for kids tbh waterproofing was shit but now its basic for flagships well haters always hate with new logics easy to say sony isn't ...
Don't make me laugh, nothing they did first, except 960fps, which is as useful as having two screens on your phone. 4k?? You serious? On a tiny phone 4k :DDD Sony is rubbish, nothing they do can match top dogs, enjoy your brand while you can, does no...
Popular articles
Popular devices
Electric Vehicles