Canalys: Western Europe PC market grows 3% in Q2 2021, Apple and Lenovo tablets on the rise
Enrique, 24 August 2021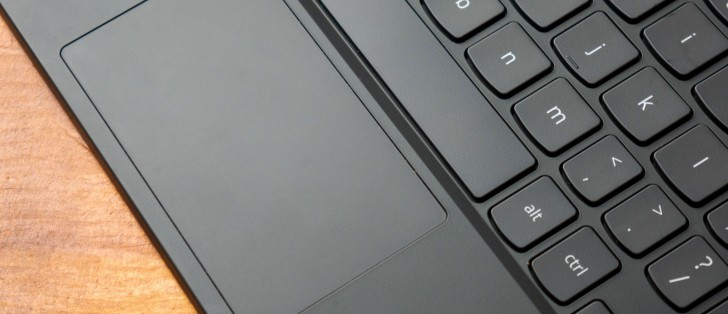 It's interesting to see how industries shifted following COVID-restrictions that called for permanent changes in the work and technology space. In the latest report from Canalys the case in Western EU shows growth slowing down in sales of PCs (desktops, notebooks and workstations) despite the high demand.
That growth of just 3% is compared to the initial spike of PC sales that followed initial COVID restrictions: Q2 of 2020 saw a 39% increase compared to Q2 2019. Analysts say that a modest 3% of growth YoY in Q2 2021 could have seen more growth if it were not for the component shortage.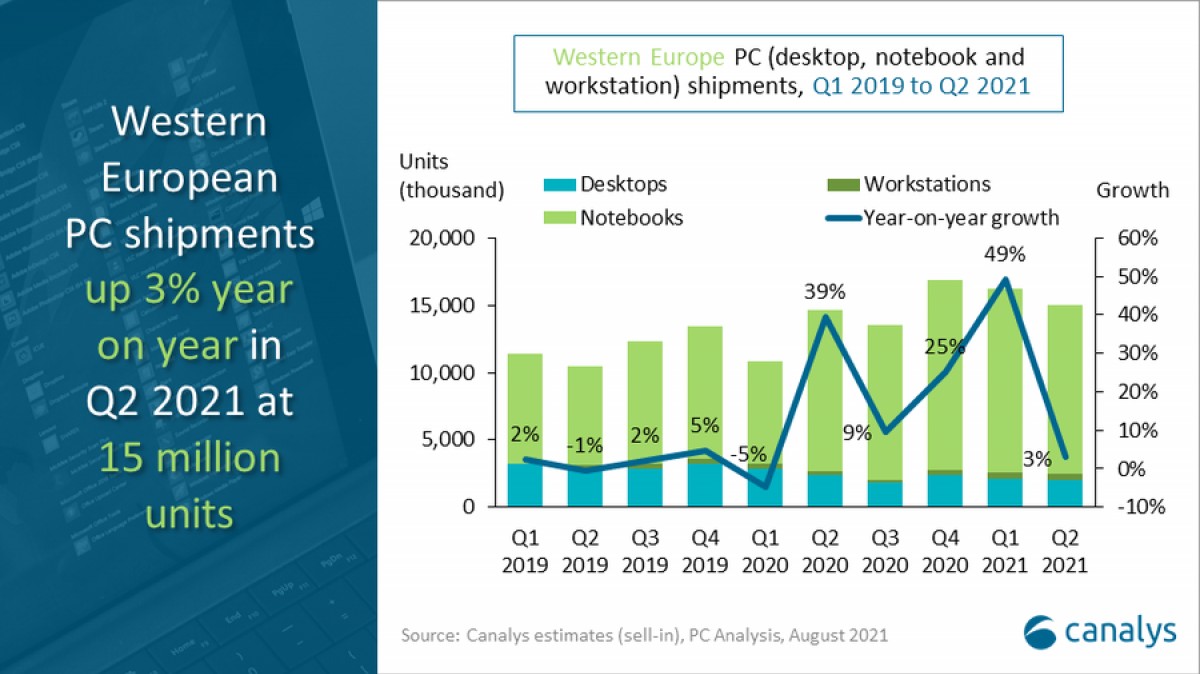 Demand is still strong. Western Europe has emerged into a post-COVID 'new normal', a rapidly digitizing world, as shown by the robust shipping numbers. Had supply issues been resolved, we could have seen even higher growth in the PC market." - Trang Pham, Research Analyst at Canalys
In Western Europe, PC sales for Q2 2021 reached 15 million units, the most of which were Lenovo devices, taking 27% market share with 4.1 million units shipped. HP came second with 3.7 million and 24% share, Dell took 14%, Acer 10%, and Apple grabbed 9% market share.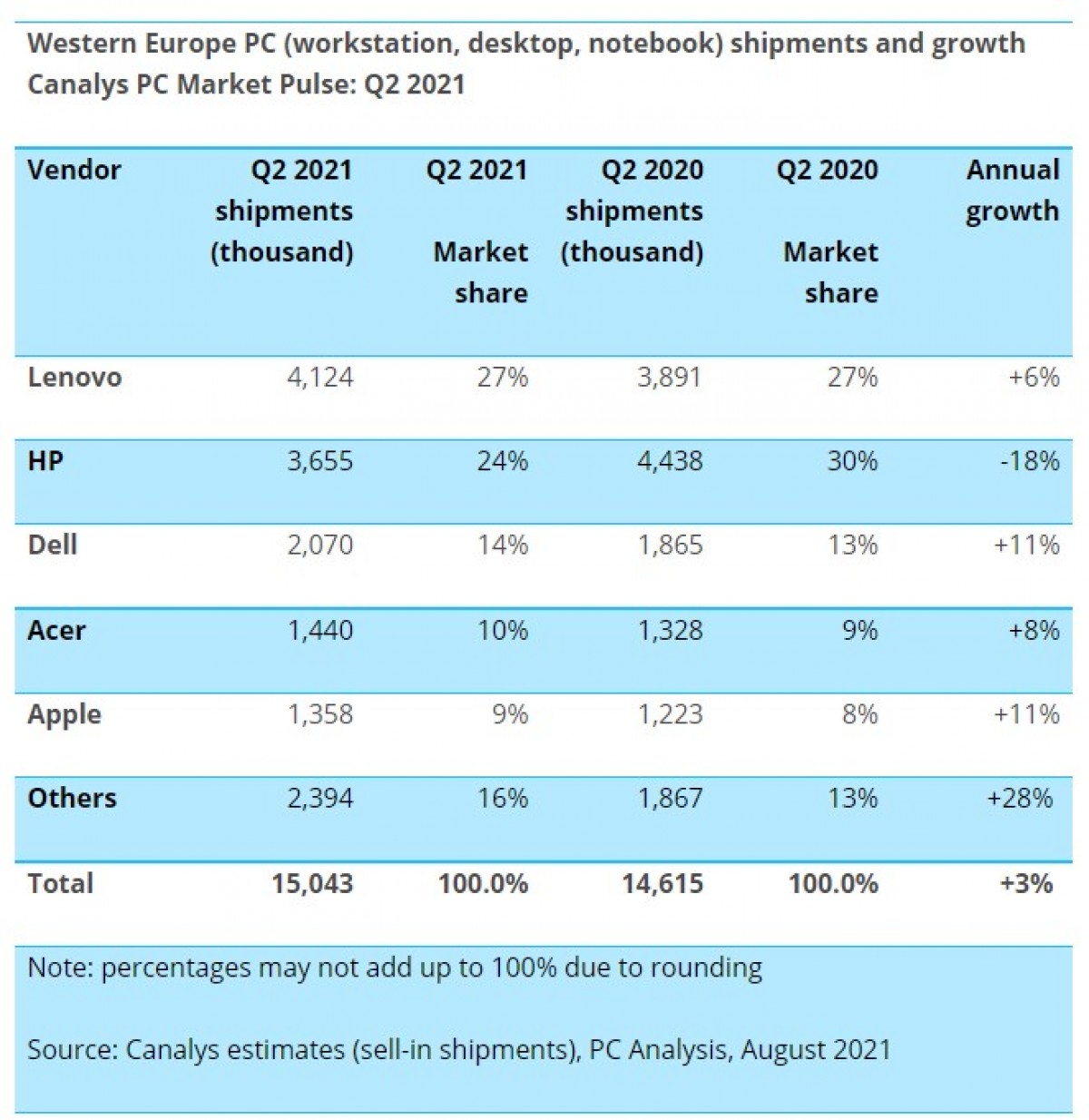 Canalys notes that Lenovo has led sales in Western EU for the past three consecutive quarters thanks to Lenovo's global leading market position, which gives it more bargaining power with suppliers and it is able to fill orders quicker than its competitors. HP, the previous leader in the market, couldn't keep up a good balance between EU and US which costed it the top spot.
Tablets are a cheaper alternative to PCs for remote working and learning and mostly popular among students with minimal tech requirements. Overall tablet shipments grew by 18% with 7.9 million units shipped.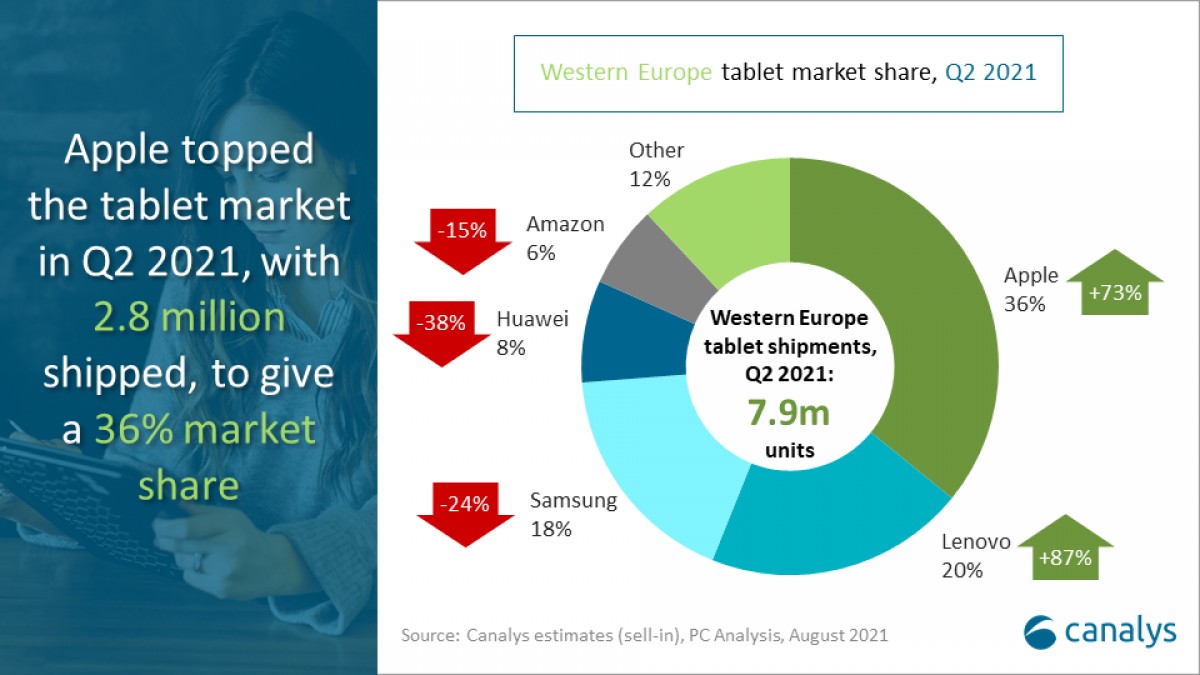 Tablet shipments for Q2 2021 look great for both Apple and Lenovo, each of which took 36% and 20% market share, respectively. Apple saw strong growth following the launch of its M1-powered iPad Pro with a 73% boost in shipments YoY while Lenovo saw 87% growth YoY. Lenovo capitalized on the gaps left by the Apple iPad's higher retail price points. All the meanwhile, the number three, four, and five tablet makers Samsung, Huawei, and Amazon, respectively, saw declining shipments across the board.
Related
Anonymous
27 Aug 2021
gm%
Android tablets on the rise
justsomeguy76
26 Aug 2021
gLN
I see yeah and i know that's very bad thats why i will be install SDD. I mainly use iphone for most entertainment and of course apps. The main reason why I have a PC is for specific games. Laptops notebooks and tablets are fine just not for me. ...
Anonymous
26 Aug 2021
UG4
It is not literal. But literally, comparing 5-8mins to instant on.. its still bad.. real bad. Who wants to wait to boot up a 500 - 1200 watt monster.. just to check a few emails.. or watch netflix?? Why not have a tablet or iPad that last for 1...
Popular articles
Popular devices
Electric Vehicles